Not Updated For Current Season
This guide has not yet been updated for the current season. Please keep this in mind while reading. You can see the most recently updated guides on the browse guides page
x
x

Did this guide help you? If so please give them a vote or leave a comment.
You can even win prizes by doing so!
I liked this Guide

I didn't like this Guide



Commenting is required to vote!

Thank You!
Your votes and comments encourage our guide authors to continue
creating helpful guides for the League of Legends community.
In this build I'm going to explain how to play with twitch properly.
When you want to play with Twitch there is some requirement:
Twitch
Some brains
The ability to last hit minnions in your lane when you don't go mid
The ability to gank someone and kill-steal if you need it, with your Expunge
The ability to have fun.

Twitch's passive ability. This does damage over a period of 6 seconds. The DoT does more damage per stack. Stacks up to 6.

Twitch's "Q" key is his stealth. This ability stealths Twitch for an amount of time. The amount of time stealthed is increased per skill level. Stay stealthed as long as you can for max attack speed bonus.

Twitch's "W" key. This is a slow, and is great ability for catching enemies. This uses a decent amount of mana, but the % of the slow is increased per stack of . Stack up your poison before you use Debilitating Poison to maximize the slow duration and percentage!
Expunge Twitch's "E" key. This is his bread and butter early game. This starts doing great damage when in ranks 3+. This ability does Magic Damage for each stack of. This is a great finisher spell. When you pop out to gank, stack up as many stacks of poison before you hit Expunge to maximize your damage!

Twitch's "R" key. This is Twitch's ulti, and this is Twitch's bread and butter mid and late game. This will mow down enemies that stand in front of you! With the new changes in the patch, Spray no longer gives Attack Speed, and now gives Attack Damage per rank. Many see it as a nerf, but I see it as a slight buff. The 'nerf' that people see requires you to build more Attack Speed items, but it grants AD, so taking down your enemies will be even more simpler. In my build, the Attack Speed sections offer the best possible AS items for Twitch, so keep reading on!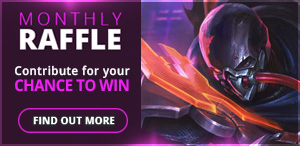 Twitch, because Eve is not good enough