Build Guide by baconbeast
Not Updated For Current Season
This guide has not yet been updated for the current season. Please keep this in mind while reading. You can see the most recently updated guides on the browse guides page.

x

Did this guide help you? If so please give them a vote or leave a comment.
You can even win prizes by doing so!
I liked this Guide

I didn't like this Guide



Commenting is required to vote!

Thank You!
Your votes and comments encourage our guide authors to continue
creating helpful guides for the League of Legends community.

Ranked #12 in
Middle Lane
Ability Sequence

1
4
5
7
8

2
14
15
17
18

3
9
10
12
13

6
11
16

Not Updated For Current Season
The masteries shown here are not yet updated for the current season, the guide author needs to set up the new masteries. As such, they will be different than the masteries you see in-game.
Masteries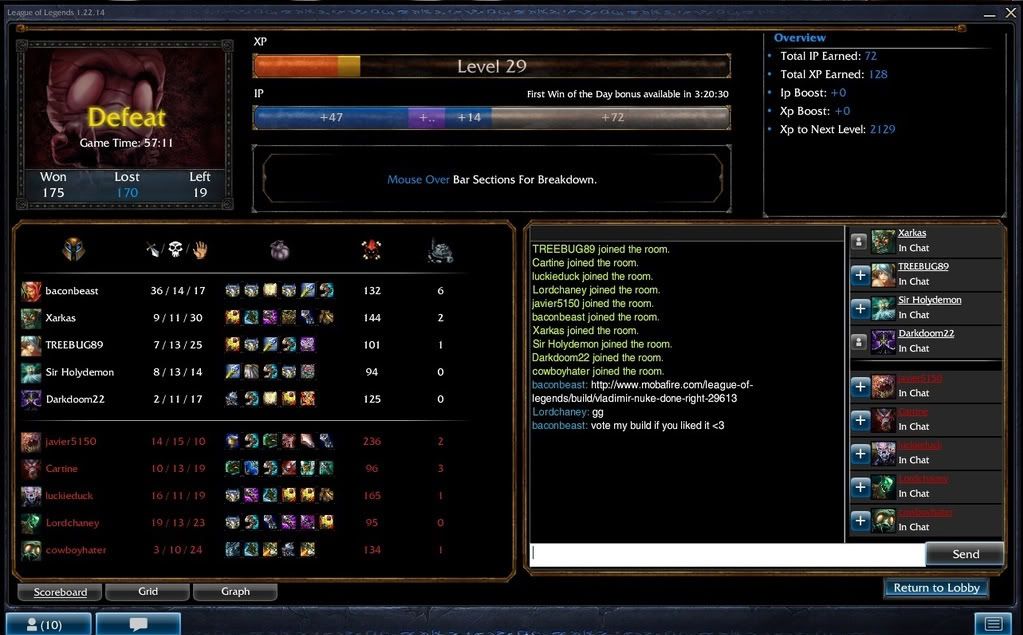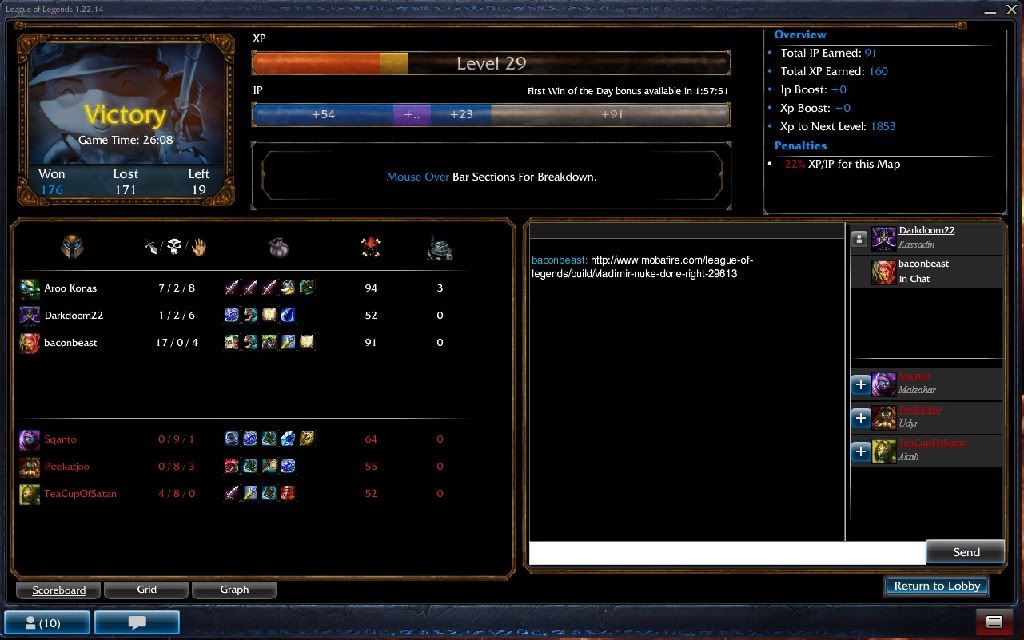 Introduction

This is my first real build so please be nice. I've seen alot of people playing off guides that just don't seem to cut it, so I decided to write my own. This is my favorite build and I do pretty good with it, hopefully this build will help you do some hurt in your games. Just remember, this guide is still under construction.



Skills
"Crimson Pact - Every 25 points of bonus health gives Vladimir 1 ability power and every 1 point of ability power gives Vladimir 2 bonus health (does not stack with itself)."
***So, all your AP turns into health, it is best to stack ap for your health, and not the other way around.


"Transfusion - Vladimir drains life from his target.
Vladimir drains the lifeforce of his target, dealing 70/115/160/205/250 (+0.6) magic damage and healing himself for 25% (+0.25% per ability power) of that amount."
Cost - No Cost
Range - 600
Cooldown - 12/10/8/6/3 seconds.
***This will come to be your most favorite ability, its great to harass and its great for health. You will want to level this up first, it is your most important ability. If you are at low health, safely last hit minions to regain health, its very effective.


Sanguine Pool - Vladimir sinks into a pool of blood becoming untargetable for 2.5 seconds. Additionally, enemies on the pool are slowed and Vladimir siphons life from them.
Vladimir sinks into a pool of blood for 2.5 seconds, becoming untargetable and slowing enemies above him by 50%.
Vladmir deals 80/135/190/245/300 (+ (15% of bonus Health)) magic damage over the duration and heals himself for 12.5% of that amount.
Cost - 20% of Current Health
Range - self - AoE
Cooldown - 26/23/20/17/14 seconds.
***I've seen alot of Vladimirs using this to initiate fights, keep in mind that it does cost 20% of your "Current" health. Its better to keep the cd till you are lower on health. This spell will also help you turret dive, when used it will clear the turrets focus on you. This is great for slowing people down for your team, using as a stall before your cds are back up, and getting out of sticky situations.


"Tides of Blood - Vladimir unleashes a torrent of blood, damaging surrounding enemies. Additionally, multiple Tides of Blood in a short period of time cause them to cost additional health and deal additional damage, and increases his healing and regeneration by 8%."
Vladimir unleashes a torrent of blood dealing 60/90/120/150/180 (+0.45) magic damage to nearby enemies.
Each cast gives him an Empowered stack (max 4), increasing his healing and regeneration by 8% each. Additionally, his next Tides of Blood deals 25% more damage and costs 50% more Health per stack.
Cost - 30/45/60/75/90 Health
Range - Area of Effect: 620
Cooldown - 4.5 seconds
***This should not be used at a low level, it costs far too much health to be effectively stacked. However, at a higher level, this ability is a must. In team fights, spam this whenever possible, or prepare it up to the 4th stack when a team fight is about to go down. This ability is also great for clearing out minions while getting your health back up.


Hemoplague - Vladimir infects an area with a virulent plague. Affected enemies take increased damage damage the units take and deals damage after a few seconds to infected enemies.
Vladimir infects the target area with a virulent plague. Affected enemies take 10/14/18% increased damage for 5 seconds.
After 5 seconds, infected enemies take 200/300/400 (+0.75) magic damage.
Cost - 15% of Current Health
Range - 700
Cooldown - 120 seconds
***Many people say this spell is really OP, it is quite useful. I'd recommend using it in team fights, so everyone gets the 18% buff on them, which can change a team fight dramatically. I've gotten tons of kills by using it on low health champions who are running away from me. This ability also will 'clean up' a team fight with that beautiful nuke at the end, I've easily came out with triple kills in a team fight, just from that ultimate.


Priority
->
->
->
Your Hemoplague used first, obviously for that nice damage debuff on your enemies, then transfusion, tides of blood, and here is the cool part. Sanguine pool around to spread a little bit of damage, but most importantly to be invulnerable til your abilities are off cooldown, rinse and repeat the priority list. If done right, you can walk out 3v1 with a triple kill. Remember though, before starting a fight and committing, try as hard as you can to lower their health with Transfusion. If you have ghost up (which you should try to save for fights) you can dance in and out of bushes, which clears their focus of you, so you can further stall til your cooldowns are up. If done right, they won't be able to touch you.
Summoner Spells
Ignite - Ignite is amazing for Vladimir, slap ignite/hemoplague on your enemy, and it reaps havoc.
Ghost - Ghost is pretty amazing with Vladimir, I use it to dance in and out of bushes in combat, which makes it very hard for your opponents to target you. Ghost can also be used right after Sanguine Pool for a quick escape.
Flash - If you'd rather this than ghost, no problem. Flash is still great, whether it be to escape, or to get a bit closer to that fleeing opponent.