League of Legends (LoL) Question:

Im searching for a Jungler who can be tanky and/or does dmg as well :)

Posted in Champions

5,264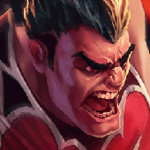 Im searching for a Jungler who can be tanky and/or does dmg as well :)
Hello everyone :)
Im looking for a new Jungler. I already got Gragas, Udyr and Kha-Zix.
I really love to play Gragas, but he is often banned, so im searching for another option.
Vi or Rengar was on my mind. I like them because you can either build tanky, go full glass-cannon or you can build the right mix.
Let me know what you think. Or if you got other options let me know :)
Thank you.
Answers (20)