Ashe Humor Guide by Zedera
Not Updated For Current Season
This guide has not yet been updated for the current season. Please keep this in mind while reading. You can see the most recently updated guides on the browse guides page.

x

Did this guide help you? If so please give them a vote or leave a comment.
You can even win prizes by doing so!
I liked this Guide

I didn't like this Guide



Commenting is required to vote!

Thank You!
Your votes and comments encourage our guide authors to continue
creating helpful guides for the League of Legends community.
Ability Sequence

1
7
13

2
6
8
12
14
18

3
5
9
11
15
17

4
10
16

Not Updated For Current Season
The masteries shown here are not yet updated for the current season, the guide author needs to set up the new masteries. As such, they will be different than the masteries you see in-game.
Masteries

Intro
Hello everyone! I am your host for today's show, in which we get to interview League of Legend's famous champion, Ashe! For those of you who don't know her, Ashe is the cold and deadly queen of one of the scattered tribes of Freljord, known to some as the Frost Archer due to her deadliness with the bow. What's that? How did I manage to survive that last interview with Katarina? What, you didn't think that was enough to kill me, did you? That's why I wear a helmet! Anyways, in this interview, we'll get to know our favorite Freljordian champion a little bit better, find out why she wears a hood, and maybe learn a few other things that we didn't know before. As you can tell from the runes above, Ashe is insightful, resilient, focused, and swift in more ways than one. Now, let me be the first to say that I'm excited to have this opportunity to talk to a real-life Legend, and I can't wait to get started... Anyways, without further ado, It's my pleasure to present to you....

ASHE!!!!!!!!!!
(Applause in the background)
Wow! I didn't expect you to show up in full queen regalia! Anyways, welcome to the show, Ashe! It's great to have you here!
Agreed.
Anyways, first things first. You're using the same text color as me. Change it.
I refuse.
...This is my talk show. Just go with it and change your color.
>.>


O-ok, I'll change colors... (she's so cold!)
Anyways, we move on to our first actual question of the day. Why do you wear a hood all the time in combat?
No comment.
Oh, come on, no need to be so cold, (hehe) just answer the question.
No comment.
Alright then. How about why you joined the League of Legends?
No comment.
Oh, come on, can't you at least answer that one?
No comment.
Jeez, so cold! Are you going to answer any of my questions?
Are you going to ask any questions worth answering?
Oh come on, I'm the one asking the questions here!
Ask better questions.
Alright. How about Tryndamere, eh? How's the marriage going there?
Fine.
Are you sure? No chance of a divorce there?
The stability of the marriage depends on the stability of the relationship between our tribes. Currently, divorce is out of the question.
Really? That's good to hear. So, when are the kids coming?
W-what?
(Yes, finally got her!) You know, the children. Don't tell me you guys are married just for fun now, are you?
The marriage is purely political. We haven't considered anything beyond the stability of our tribes as far as that is considered.
Oh. So you guys haven't even thought about having kids yet, have you?
That's what I just said, yes.
So, who inherits control over the tribes if you die?
He does.
And if he dies?
I do.
And if both of you die?
...We haven't thought that far yet.
Aha! Do you even know where kids come from?
....................No comment.

Hehehe, would you like me to enlighten you?
Would you like to move on now?

No, but honestly, I feel that this is a topic worth exploring!
>.>

Alright, alright, I'll move on now, jeez. Next question: you're wearing your queen regalia right now, but what's your favorite set to wear?
My usual outfit.
What, the one in all black with the hood?
Yes, that one.
Why?
No comment.
Oh come on, not this again. Can't you give me a straight answer, for the audience's sakes?
I just like it. Why are you so interested in that anyways?
Well, I'm not so interested in that one so much as I'm interested in your Woad getup.
...My Woad outfit? Which one is that?
The one that looks like this:
Oh...that one. What's so interesting about it?
Well, because it's...ahhh, so lovely....
>.> I see...well take a good look. It's the last you're going to get.
...Are you serious?
Yes.
...So you're never going to wear that outfit ever again?
Never.

....................

NOOOOOOOOOOOOOOOOOOOOOOOOOOOOOOOOOOOOOOOOOOOOOOOOOOOOOOOOOOOOOOOOOOOOOOOOOOOOOOOOOOOOOOOOOOOOOOOOOOOOOOOOOOOOOOOOOOOOOOOOOOOOOOOOOOOOOOOOOOOOOOOOOOOOOOOOOOOOOOOOOOOOOOOOOOOOOOOOOOOOOOOOOOOOOOOOOOOOOOOOOOOOOOOOOOOOOOOOOOOOOOOOO!!!!!!
Woad Ashe was one of the things that made life worth living!!! Now my life is forever ruined!!!
T_T
...I did not need to know that.
(sniffling) Dammit Ashe, why are you doing this to me?
No comment.
Oh, now you're back to that attitude again, huh? I hate you Ashe!
Fine by me. That outfit happens to be Tryndamere's favorite outfit for some reason, so I'll still wear it whenever we're alone together...
...Stop it, that's just making me hate you more.
I'm fine with that.
Jeez... Alright, let's just get this interview over with so I can go home and cry in a corner. Last question, and one I forgot to asked in the last interview. You've spent a lot of time in the League of Legends, perhaps more time than any other person out there. What have your learned from your experiences?
Don't miss.
...Well yeah, that's kinda obvious...
...And if you do miss, miss very well.
Huh? What do you mean by that?
One moment. You are aware that I'm the target of assassination from time to time, right?
Oh...yeah...kinda...
Duck.
Wha-?

AAAAAAAAUGH!!!!!
(Minions die)
...You saved me...I love you Ashe!!!
I didn't save you, I was merely protecting myself. And get your hands off of me.
Oh...Erm... (cough) Well...you were saying about missing very well?
Yes. It goes off of

Garen's principle of slicing through the man next to your target. Actually, here, let me show you. (tosses over an apple)
??? Oh...no no no, you've got to be joking.
No, really. Put that apple on your head!
O-ok...as long as you use a normal arrow to...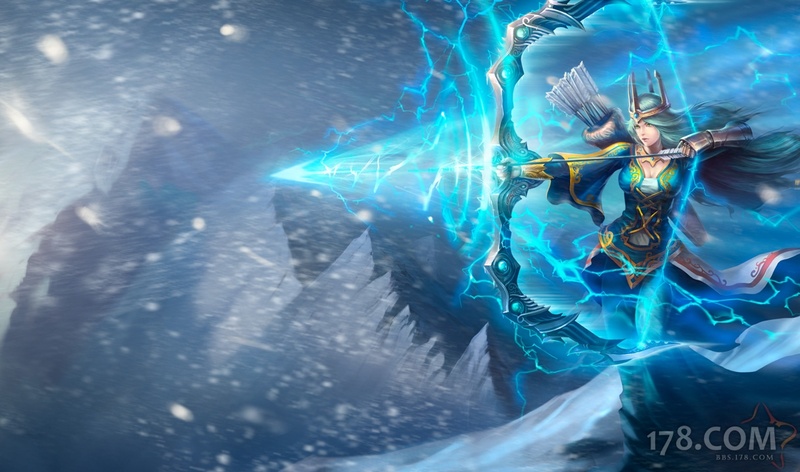 HOLY-!!! NO!!! GET ME OUT OF HERE!!! THAT'S WAY TOO BIG!!! NO!!! NO!!! NOOOOOOOOOOOOOOOOOO!!!!!!!!!!!!!

(Bits of apple rain down everywhere)

......................
(faints)
I missed.