Not Updated For Current Season
This guide has not yet been updated for the current season. Please keep this in mind while reading. You can see the most recently updated guides on the browse guides page
x
Twisted Fate Build Guide by MilkshakeGuru

Never lost a fair game... or played one (ADC Gold Farm TF)
x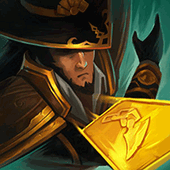 Did this guide help you? If so please give them a vote or leave a comment.
You can even win prizes by doing so!
I liked this Guide

I didn't like this Guide



Commenting is required to vote!

Thank You!
Your votes and comments encourage our guide authors to continue
creating helpful guides for the League of Legends community.
Runes:
It's all in the cards.
Precision
Press the Attack
Triumph
Legend: Alacrity
Coup de Grace
Inspiration
Magical Footwear
Future's Market
Bonus:
+10% Attack Speed
+9 Adaptive (5.4 AD or 9 AP)
+6 Armor

Spells:
Main Summoner Spells
Flash
Heal
Ability Order
Auto Attack TF
Loaded Dice
(PASSIVE)
Twisted Fate Passive Ability
Threats & Synergies
Threats
Synergies
Extreme
Major
Even
Minor
Tiny
Show All
Extreme Threats
Ideal Synergies
Kai'Sa
Kaisa is definitely one of few champions who can out snowball you. Beware of letting her shove you in and then roaming for kills. She might not be able to kill you early. But if she gets ahead by even a little it can be a huge problem.
Pyke
This is a GOLD FARMING BUILD. This man provides crazy CC and burst potential with you. And his ULT shares the Gold. What's not to like about him. Plus you are both pretty good roam champs. Nobody likes seeing a Pyke uncloak as a TF teleports next to you with a Gold card.
Synergies
Pyke
This is a GOLD FARMING BUILD. This man provides crazy CC and burst potential with you. And his ULT shares the Gold. What's not to like about him. Plus you are both pretty good roam champs. Nobody likes seeing a Pyke uncloak as a TF teleports next to you with a Gold card.
Champion Build Guide
The concept of the build is to create as much bonus gold generation as possible around Twisted Fates passive and to play it Bot/ADC. Thus out snowballing the other ADC. We accomplish this by selecting very specific items and runes. I guess you can say this build was born of me remembering the good old days of viable GPM(Gold Per Minute) Builds.

Factors
Wild Cards
Triumph
Magical Footwear
Futures Market
Cull
The Collector
Death from Below (Pyke Only)

All of these factors combined can cause you to snowball out of control in the blink of an eye. If you get ahead in lane then you power spike rapidly. If you get a little behind in game then you don't fall to far behind or you stay even. Remember that league of legends isn't won because of a good KDA. You can still give out 2 kills and be further ahead with your build if you farm up properly. Even if you have a bad lane phase you can come out on top winning all the team fights because of this build.
Pros
Hard CC with short CD.
Built in ATK Speed enhancer
Fourth auto does Hybrid Damage.
Ult is great for roaming
Ult is great for fighting stealth champs thus anti assassin
Good at 1v1 and team Fights

Cons
Short range without items
Lacks mobility without items
Requires front liners (healers/enchanters suck)
QSS exists
Mikaels Blessing exists
The concept is simple enough. You level E because it gives you ATK Speed and Magic Damage procs every 4 autos.

There is a few tips to consider here when playing ADC TF.
Most of the other ADCs in the game can not handle a level 1-5 fight with you.
You should be looking for opportunities to use E on the enemy laner when ever they walk up. Similar to how Jhin looks to land his 4th auto.

Use E + W Blue card to harass enemy laners or last hit the bigger canon minions for Gold
Use E + W Gold card to engage/disengage.
Use W Red Card to shove wave.
You last hit mostly with autos mixed with Blue and Red Card.
Use Blue Cards as often as possible when hitting a Tower.
Use Blue Cards to kill Herald/Dragon/Baron only when you feel safe to do so. You may need Gold Card if objectives are being contested. Teamfights happen.
Use Ult + W Gold Card to fight stealth champions in team fights or peel assassins off yourself.

Once you have The Collector you can use Q to pick up kills off low enemies.
Once you have Rapid FireCannon you can Gold Card people from much further away.
Press the attack: synergizes very well with the fact you are building a Kraken and leveling your E. It provides good burst early game.

Triumph: helps you stay alive. It also grants additional Gold. Which is really what we are taking it for here. Later on it synergizes with the fact you will be building The Collector.

Alacrity: is simple enough. ATK Speed if VERY important on this build. You can find sustain elsewhere in items.

Coup De Grace: synergizes with executing people with the collector. In most early game fights your opponent will most likely start off stunned due to your Gold card. By the time they can even start to fight back Coupe De Grace has already kicked in helping you secure victory.

Magical Footwear: It's free Gold in your pocket. Spend more time power spiking your damage with the items you need. Spend Less time building mobility. Your champion is also one of the best roamers in the entire game. You should be able to find a good Ult thus securing kills and lowering the time these boots appear in your inventory.

Futures Market: is extremely synergetic with Twisted Fates passive. When others back and can only get a couple of long swords you will back and get Noonquiver. If the enemy team zones you out of your early cs and you're a little behind ...don't worry you can still buy Noonquiver! Not only is it difficult to set you back with this rune it's hard to stop you from snowballing as well.
Cull: is the preferred starter item of choice here as the focus of this build is to get as much Gold in your bank account as possible. Twisted Fate surprisingly has really good early game auto damage when leveling E. He won't miss the stats from the Doran Blade in trades.

Kraken: is a extremely powerful item on TF when leveling E. It provides a boat load of ATK Speed. Every 3 autos you will be doing AD/true damage. Every 4 AD/Magic damage. Grants all other items ATK Speed which is VERY important for your build.

The Collector: is a must have secondary item when going for a Gold Farming build. You will be taking the Triumph rune. The Collector really starts to make the Gold stack up when both passives are in play and thus helps you power spike in the mid game. It helps you execute people who barely "escape" with Q as well. Which normally your Q on an AD auto based build is useless. It helps reach that 40% crit mark and comes with decent AD.

Rapid FireCannon: is very important for you to survive in team fights or get solo picks. People will often underestimate your damage. They don't realize they are a quick Flash/RapidGoldCard away from being caught out. You might find yourself using TF ult to land next to someone. In my experience they might try to flash. Rapid FireCannon helps with this issue. It definitely makes your team fighting experience much smoother being able to play around it.

Blade of the Ruined King: provides some sustain and some much needed kite potential. It also makes you incredible at dueling. You should be ulting and trying to jump on solo people often. This makes the job so much easier. The damage is amazing as well.

Bloodthirster: is my preferred choice for a final item. It makes TF much more tanky when stacked with Blade of the Ruined King. It caps you off at 80% Crit. 32% Lifesteal. And a solid +215 AD total from items. Dueling you is madness.

Guardian Angel: is good for when you think "if only I had a better way to survive that burst" and the Bloodthirster isn't doing the job.

Mercurial Scimitar: is a decent option if they have heavy hard CC and are smart enough to focus you or you can't stop people from jumping on your back line so you have to peel for yourself.

Lord Dominik: might be worth it to help kill those Anti AD tanks.

Mortal Reminder: honestly it's better if you have a enchanter support who can give you Grievous with Chemtech Putrifier. You lose some decent damage for building it.
First you need to pick Cull or Doran Blade. Cull is the Ideal choice. Blade is for fighting people like Tristana who CAN out trade you if you lack the stats.

An Ideal first back is having 1200+ Gold in your pocket. If you are being out poked by a Xerath/Brand/Caitlyn you can do the Anti Poke First Back listed above to help you farm. You are looking to rush Noonquiver + Dagger if possible. Then rush to build a full Kraken but if you can grab that early Dagger as well after Noonquiver you can use it to make your Berserker's Greaves later on down the road. And the extra Dagger ATK Speed works really well on TF early.


After you complete a Kraken I suggest buying a Cloak of Agility as soon as possible. Then complete your Berserker's Greaves. Rushing Cloak will give you 35% crit chance. This is a decent mini power spike. You should also be looking to use your ULT to gank mid lane or help your jungler around the time you buy Kraken.

From there complete The Collector. Then buy a Zeal. Turn that into a Rapid Firecannon. Then secure a Vamp Scepter. Turn that into a Blade of the Ruined King. Ideally I'd grab the BF sword for the Bloodthirster next. But if I couldn't then i'd grab the Cloak of Agility. Good Luck!
This is my first guide and I want to come back to it and make it more complete. This should definitely get everyone started on playing ADC TF though. I will admit I am not the highest ranked player. But I did put in 60+ games of this in normals with a 58% winrate. Both playing with friends on coms and most of them solo.

I just started my ranked journey for the first time in 2 years and so far I have a 56% winrate playing ADC TF. So it goes without saying I am really having fun with the build. And I hope you give it a shot and have fun as well. Check me out on stat tracking sites to see how i'm doing. If others find a way to maybe improve the build or want to offer suggestions leave it in the comments down below!