Protector
x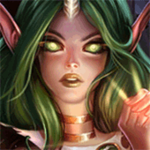 Did this guide help you? If so please give them a vote or leave a comment.
You can even win prizes by doing so!
I liked this Guide

I didn't like this Guide



Commenting is required to vote!

Thank You!
Your votes and comments encourage our guide authors to continue
creating helpful guides for the League of Legends community.
Runes:
Resolve
Guardian
Demolish
Second Wind
Revitalize
Precision
Overheal
Coup de Grace
Bonus:
+9 Adaptive (5.4 AD or 9 AP)
+9 Adaptive (5.4 AD or 9 AP)
+6 Armor

Spells:
Exhaust
Flash
Recommended Items
Champion Build Guide
Since she's Support/ADC, I thought it would be best to try to sustain her ability to heal and do damage, since she does scale up to more damage late game from her passive...[ as long as you collect the souls. ]

( Soul Farming )
Make sure to be around the dragons if possible, they drop up to 3 souls per dragon kill.
_Only from Allies killing it, NOT ENEMY_

Every cannon Minion and Monster in the Jungle.
_No you DONT have to kill the Cannon Minion to get the soul to drop_ Same with the Monsters_

When you use your Q to hit an enemy, they create a black mist in their body. Just auto the enemy with the mist in them once to grab the Soul that was created.
Heal, Main Source of Damage
Her Q enables her to hit[Through units to damage Targets.]

Its more like an ADC attack, so if your not Familiar with [Point and Click] abilities, i recommend trying to use her Q in a Beginner Game first before playing her in PvP.

Her Q not only Damages Enemies, its also really good at healing.
To use her Q properly.
You can heal off of anything you hit your Q on. ANYTHING.
Examples on what to heal off of.


Teammates And Enemies themselves...Enemy/Ally Minions....Monsters in jungle....Dragons....Towers....And even Wards.

Her Q also creates a mist in the enemy once hit, just dont forget to auto them or hit them again to take the soul from their moving bodies.
Delay on Root, not a problem.
Her W is a Root, a delay, slow-ish root.
Once it hits a target, it takes a few seconds before it Actually takes Affect.
Her root is different from others. because of the Delay in rooting, you can intentionally aim it at a minion and stun the enemy if they are using minions to block you.

the more Appropriate way to use her root on the other hand would have to be to target either ADC or support. if they arent smart enough to stay away from each other then they both turn into goners on rooting together.
Hide your Allies, Speed booster.
Your E [Hides your Allies and Gives them a speed boost]
until the mist is gone. You are Also Shrouded in mist, and both become [untargetable.]

Their is one condition to the shroud though for both you and your ally.
Senna can still get [Skill shot at.]
The enemy can try to aim at the white dot in the mist, which is you in the eyes of their eyes.

As for your Ally,they only become Untargetable when they [stop attacking the enemy.]

As for the last info, the Allies Identities are hidden to the enemies. so you could play mind games and have up to 3 of your allies with you running around you,and they wouldn't know which one to aim at.
Ultimate Sniper, Protector, Healer.
Her R....the cast time for her ultimate is not instant. Another Ability i recommend testing out on Beginner first.

Her ultimate is a global ult. That means she can hit from anywhere on the Whole map.

Heal Allies in close call battles from anywhere. But only do so when your certain they could win team fights...other wise you'd be wasting your ultimate. dont try to save a team mate that doesn't have a chance at winning a fight. its always a bad call.

Her Ultimate also applies a shield to allies once hit by it.

Their is a range outside the Line, giving off [sustained damage to outer enemies] and [stronger damage for the ones inside the black mist] of the ult. same applies to the [allies inside the black mist] of the Ult.