Not Updated For Current Season
This guide has not yet been updated for the current season. Please keep this in mind while reading. You can see the most recently updated guides on the browse guides page
x
Lulu Build Guide by yaemitskiuwu

Whimsical Lulu Guide
x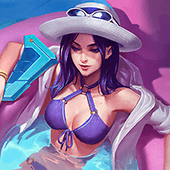 Did this guide help you? If so please give them a vote or leave a comment.
You can even win prizes by doing so!
I liked this Guide

I didn't like this Guide



Commenting is required to vote!

Thank You!
Your votes and comments encourage our guide authors to continue
creating helpful guides for the League of Legends community.
Runes:
Aery Lulu
Sorcery
Summon Aery
Manaflow Band
Transcendence
Waterwalking
Inspiration
Biscuit Delivery
Cosmic Insight
Bonus:
+8 ability haste
+8 Magic Resist
+8 Magic Resist

Spells:
Go-To Spells
Flash
Heal
Ability Order
vs enchanter/AP supports
Pix, Faerie Companion
(PASSIVE)
Lulu Passive Ability
Threats & Synergies
Threats
Synergies
Extreme
Major
Even
Minor
Tiny
Show All
Extreme Threats
Ideal Synergies
Pyke
Good Pykes will cheese you level one an advance ward is necessary. He's on Extreme because he is an assassin too. Has high one shot potential and can build items that ignores your shield
Draven
LEAGUE OF DRAVEEEN!! Lulu and Draven can easily 2v8 games. Draven deals a lot of damage but can die easily, with Lulu on his side he can't die and will be able to delete everyone fastly. (hello Mr.Mobu :>>)
Synergies
Draven
LEAGUE OF DRAVEEEN!! Lulu and Draven can easily 2v8 games. Draven deals a lot of damage but can die easily, with Lulu on his side he can't die and will be able to delete everyone fastly. (hello Mr.Mobu :>>)
Champion Build Guide
Hello!
I am
Yae Mitski
a Platinum support main. I have a huge champion pool but Lulu is the one the I use the most. She helped me climb from Silver 3 to Platinum 3 in less than two months. I started playing season 10 but I didn't really played ranked back then, I just spammed normal games to have fun. I started playing Lulu just this season and her kit fits my playstyle. I am self taught and all my builds were based on my own experience and experiments. Looking forward to reaching Masters next season.
Are you tired of enemy supports going all in level 2 and you can't do much because you need 3 skills to fully function? Are you tired of not winning 2v3s when enemy jungler ganked at Level 3? If yes, Lulu is for you. Versatile also. You can play passively or aggressively. She has a really nice kit that can fit into any team comp. She is beginner friendly and is a good champ top start with if you wanna learn the support role. She's just a good champ in general and I think she is in the meta because of the champion's performance in Worlds. She is powerful yet only few people are scared of her so she's rarely banned. :>>
Lulu is an enchanter support that was released back in 2012. Her kit composed of shielding, a new type of crowd control, a slowing projectile, and one of the most powerful ultimate in game.
Skills:
PIX, FAERIE COMPANION (Passive)
Pix fires magical bolts of energy whenever the champion he's following attacks another enemy unit. These bolts are homing, but can be intercepted by other units.
GLITTERLANCE (Q Ability)
Pix and Lulu each fire a bolt of magical energy that damages and heavily slows all enemies it hits.
WHIMSY (W Ability)
If cast on an ally, grants them Attack Speed and Movement Speed for a short time. If cast on an enemy, turns them into an adorable critter that can't attack or cast spells.
HELP, PIX! (E Ability)
If cast on an ally, commands Pix to jump to an ally and shield them. He then follows them and aids their attacks. If cast on an enemy, commands Pix to jump to an enemy and damage them. He then follows them and grants you vision of that enemy.
WILD GROWTH (Ultimate Ability/R)
Lulu enlarges an ally, knocking nearby enemies into the air and granting the ally a large amount of bonus health. For the next few seconds, that ally gains an aura that slows nearby enemies.
Ability Priorities:
Maxing E is my favorite because of how good her shield is and it can also extend your Q range through it. It is completely up to you and your playstyle on what abilities you want to max first. I suggest rushing your W ability to lessen the cooldown when you are against engage supports. Maxing Q doesn't work for me because I often focus on keeping my ADC alive more than dealing damage and poking the enemy. I do poke too but not that aggressively so no need to max my Q.
Runes:
Your runes should be adjusted based on the enemy composition or based on the level of comfort it gives you while using it. I have yet to try other runes but Guardian and Aery are the ones that works well for me.
Items:
It's just the same with runes but with more option this time. I personally use Moonstone because I feel great about it's healing. You can use any other support Mythics but I'd rather priorities the 3 ones that build bandleglass mirror for the ability haste and mana regen. Moonstone>Shurelya>Imperial. That's how I'd rank those but it might change after I try out different stuffs with her next season. I always go Ardent after getting my boots and mythic because bonus attack speed benefits Lulu too. It's completely optional but if you want to help with peeling then Ardent is a must have item. With boots I have three option. Merc, Ionian, and Plated. It depends on who's the biggest threat for me so I'll have more survivability. The rest of the items are optional and you can also build some defense items. They are a bit expensive for no reason at all so it will be really hard to obtain when your team is behind.
Laning (Spellthief):
I usually go spellthief when I am against melee supports that can easily be poked. 1 Lulu auto attack = 40 gold because of her passive. You can always get ahead in gold vs enemy support through hitting them. I prefer spellthief over relic shield because of the mana regeneration but in some matchups I really can't earn as much gold because I can't poke enemy unless I use 2 skills that cost a lot of mana (E+Q combo) and it puts me and my ADC at risk because I might need that E ability but it's on cooldown. Spellthief is fine anytime but it just works better when you outrange your enemy. You can get the wards faster that way but you can easily get behind if the enemy just dodge your skillshot or avoid being in your range.
Laning(Relic Shield):
I go relic shield when I'm against fellow enchanter supports and AP supports. It gives HP regen and it also helps with you ADC's cs if they are being zoned. The only downside will be the mana problem. You have to go back to baser more often because relic shield doesn't give mana at all.
Roaming: The best time to roam is when your ADC pushed the wave and went back but you can't since you are not able to buy anything yet. I usually go mid or place some wards in the enemy jungle to gather information. Try to roam when the enemy support is roaming too to make the fights even. If you get first blood and enemy are playing way too passively it is a good sign that you should roam. In rare occasions that my ADC gets double kill in botlane I immediately purchase control wards and get sweeping lens. This early roams aren't usually expected so it's almost a guarantee that your team will get a kill with your help. If anything goes wrong just go back to lane and babysit.
Mid Game:
By this time you already have 3 charges of wards and a mythic. It is a good time to ward and deward dangerous areas but make sure that the possible threats are far from you. Small fights may occur in dragon pit or herald pit, make sure you are present for more chance of securing the objective. Warding the area in advance is also advisable.
Late Game:
The only thing you have to keep in mind in Late Games are making no mistakes at all. One wrong shielding and the game will turn against you. Do not solo anymore. Even if you are just a support you are way too important to die before a fight even start.
Warding Tips:
It is okay to early ward if you get a feeling that the enemy might cheese you. If not save your ward when the enemy jungler is no where to be seen at all. Control wards are worth your 75 gold. Buy them as much as you can and don't be scared to change their locations.
Lulu doesn't have many skins but for me Pajama Guardian is the cutest one. Space Groove is okay, the comparison of splash art and in game model makes me feel sad about it. Don't get me started on the Prestige edition because it is not worth your money at all. It is Space Groove Lulu piss yellow Chroma. Pool Party is really cute but I am not a fan of summer skins. It would be really nice if Lulu is part of the new skinline Cafe Cuties.
I'm sorry if the Guide is not as long as you expect it to be. I am learning too. I can assure you that I am going to make some revisions and edit out some parts, I might add some new builds because of the new items this pre-season. I wish you learn more about Lulu through this guide and get some good results. Also check out my Morgana Guide. It was my first ever guide so it was a bit short and unedited. I'm looking forward to making more guides soon. You can comment down suggestions here and please vote. Thank you guys so much!