League of Legends (LoL) Question:

"Health On Talon?"

Posted in Champions | Tags: Frozen Mallet Talon The Black Cleaver Titanic Hydra

4,806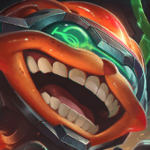 "Health On Talon?"
Hey this is just something I was considering after reading some comments on the Talon page on the LoL Wiki. The questions are for anyone to answer, but I was hoping that Vapora the Master Talon guy would answer too.
Anyway, so I was playing a few games with Talon since he was on free rotation this week. And in one game I got pretty fed, but their team had a lot of targeted true damage (Cho'gath, Darius, & Olaf all on the same team :p) and staying alive was kinda difficult. So instead of building R-Hydra, I kinda went into T-Hydra. It was kinda awkward getting used to that active, but I already had the other core items (Mobis, YGB & LW) and it didn't really mess up the 1-shot combos I did on their Ashe.
After that, instead of building IE, I had built Frozen Mallet & finished TBC for an endgame build. It was an "impromptu bruiser Talon" build I had going on, but it worked in that game & we ended up winning after their team threw the lead that my team gave them after my teammates threw the lead I got early game (Gotta love low ELO throws!)
Anyway, back on the subject. This guy on the wiki did some calculations comparing R-Hydra with T-Hydra on a typical Talon build:
Quoted:
after calculation . I think titanic hydra on talon is a good idea.

From this combo after E : AA>Q>W>R>Hydra(you can add more AA)


Ravenous

108+80+30+40+75+40 = 108 + 293 = 401 ad

Q = 200+1.3*293 = 581

W = 260+1.2*293 = 612

R = 440+1.5*293 = 880

Cri = 1003 change35%

Active Hydra = 401

Final dmg = 3877 cri

= 3276 not cri


Titanic

Hp=2950

108+80+30+40+40+50 = 108 + 267 = 375

Q = 200+1.3*267 = 574

W = 260+1.2*267 = 580

R = 440+1.5*267 = 840

Cri = 938

Active = 375+295+40 = 710

bonus on hit = 30+5 = 35 (2 hit on full combo)

Final Dmg = 4087 cri

= 3529 no cri


This still not calculate from armor pen and % bonus from E and mastery but you can see his Dmg from Titanic still better than hydra.and he get more tankier too!. Only down side is before he got BC .Titanic will deal less dmg than ravenouse but not much.(less 40 dmg on active , less 4 dmg per aa on full build and level 18)

So the big question here would be... Items that give HP & AD should or should not be situational items for Talon? TBC is already a yes, but I was wondering about the other items like TH, TF, FM, etc. What do you guys think?
Answers (2)