Blitzcrank Build Guide by SpillTheTeaSis

😄FUN Blitzcrank Build | S12 | Ez Bot Lane Win
x
Did this guide help you? If so please give them a vote or leave a comment.
You can even win prizes by doing so!
I liked this Guide

I didn't like this Guide



Commenting is required to vote!

Thank You!
Your votes and comments encourage our guide authors to continue
creating helpful guides for the League of Legends community.
Runes:
Main Runes:
Precision
Lethal Tempo
Presence of Mind
Legend: Alacrity
Last Stand
Sorcery
Transcendence
Gathering Storm
Bonus:
+10% Attack Speed
+9 Adaptive (5.4 AD or 9 AP)
+6 Armor

Spells:
ALWAYS
Flash
Ignite
Items
I Take This:
Champion Build Guide
Hello, y'all. So I'm pretty new at this but I had a couple of amazing games with this troll build and I decided to share it with you.
It all started when I was getting ready to play Xin Zhao mid and made this rune page.
A friend of mine got assigned the Support role and was really bitter about it, so he asked me to switch lanes and champs. I ended up agreeing and when I realized that I had the wrong runes for Blitz support, it was already too late.

So then I decided to play troll-ly. It worked. I tried it more times. It worked. So here I am, and here you are.

How I play this:

Usually, start with an invade on the enemy jungle (always top side), so whether it's on the blue buff or the red buff, it doesn't matter. This is when it's pretty crucial that your team gets the first kill and you get an assist.
After the invade, while my ADC goes to their lane to start farming, I walk to the mid lane and harass my teammate's opponent. This is when you and your mid laner should try to kill the enemy mid laner, or at least get them to use their summs.
After that, walk to your bot lane and play regularly, as if you're playing a normal game of Blitzcrank support.

This early game start is super important and crucial. It shapes the whole match, so take that in mind.

Hope you enjoy the guide/build/idea!
Take care <3
Core:
Duskblade: Good damage (scales with E ability), passive CDR (which is good for everything on Blitz), invisibility.
---
Frozen Heart: Armor, great mana, damage reduction.
---
Axiom Arc: SO SO good! great for CDR on R ability - Will do BIG BOY damage in the late game.

Optional:
These are obviously items for a full lethality big boy damage with E scaling build.
---
Collector: CRIT + EXECUTE
---
Serpent's Fange: SHIELD REDUCTION
---
Youmuu: DAMAGE + MOVE SPEED
---
Edge of Night: DAMAGE + HP + SHIELD (a bit more defensive, would not recommend)
---
Umbral: DAMAGE + WARD VISION (never ever take this)

Defensive/When Losing:
Abyssal Mask: Take for MR + damage boost for team mages/AP champs.
---
Thornmail: Take for anti-heal + armor.
---
Randuin: Take for damage reduction + aerial slow + crit change reduction.
---
Redemption: Take for extra healing and sustain for the team in battle. I see no reason for taking this.
---
Gargoyle: Just awesome defensive item. Makes you big + extra armor and MR.

Boots:
Mobility: Best option when ahead in the game.
---
Swiftness: Pretty much the equivalent of the mobility boots, still prefer mobies tho.
---
Lucidity: Good for the whole CDR scheme, but less useful when chasing or trying to start fights.
---
Mercs: Take only when losing
---
Steelcaps: Same as mercs.
Lethal Tempo: Good attack speed. Take in mind that you will be the frontman in the fight. You must AA a bunch, while still using your abilities and spells. This will eventually proc your LT and believe me, you will be UNSTOPPABLE!
---
Presence of Mind: Good for Mana restoration on takedowns.
---
Alacrity: Helps with the attack speed and the LT procs.
---
Last Stand: Do to your being the frontman of every fight, you will mostly be in situations where your HP is lower than your enemies'.
---
---
Transcendence: More scaling CDR.
---
Gathering Storm: Scaling AD/AP bonuses.
---
---
10% AS
9 Adaptive
6 Armor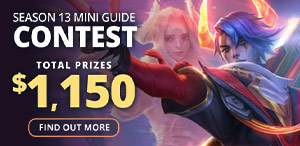 SpillTheTeaSis
Blitzcrank Guide
😄FUN Blitzcrank Build | S12 | Ez Bot Lane Win