Not Updated For Current Season
This guide has not yet been updated for the current season. Please keep this in mind while reading. You can see the most recently updated guides on the browse guides page
x
Rengar Build Guide by H4xDefender

KOREAN JUNGLE RENGAR (Very Brief)
x
Did this guide help you? If so please give them a vote or leave a comment.
You can even win prizes by doing so!
I liked this Guide

I didn't like this Guide



Commenting is required to vote!

Thank You!
Your votes and comments encourage our guide authors to continue
creating helpful guides for the League of Legends community.
Don't question it. I did at one point. Then I became enlightened after trying it.
NOTE: While I saw this originally in OGN from Kakao, since I can't get his rune page or masteries I improvised, and this is what I felt worked best.
tl;dr Cap CDR early. Spam spells. Destroy people with absurd base damages. Spam snares.
You don't need to worry about missing skillshots either, since you literally need to only hit a target with snare when you are right next to them and then resnare them for your team to kill them. You are also tank rengar so you cannot be bursted.


Step 2: Activate ult and jump on target.

Step 3: Land snare.

Step 4: Cycle through regular abilities.

Step 5: Resnare target since you will have 5 ferocity again.

Step 6: Wail on target until dead.

Step 7: Go back to jungle and farm until your ult is up again, which will be soon due to how much CDR you get early.

Rengar
leap works out of stealth to make sure you never miss snares. You can snare while in midair.
Always get

Battle Roar
off on as many targets as possible. If you get a 5 man

Battle Roar
you are unkillable.
When getting chased make sure you spam

Bola Strike
backwards to build ferocity.

Battle Roar
grants you resists even if you do not hit anyone, but if you hit nobody you do not get ferocity.

Savagery
is no longer consumed on towers, but you can still use it as an auto attack reset, kind of like

Renekton
's

Ruthless Predator
.

Thrill of the Hunt
alerts enemies to your presence slightly out of your jump range. Keep this in mind at all times when ulting.
Almost always start with the ward version of
Bonetooth Necklace
. Once you are about to start grouping sell it for the sweeper version. You retain your stacks.

Savagery
deals 2 damage to wards.
Empowered

Battle Roar
heals you more when you are low hp.
When running you generally want to prioritize empowered

Bola Strike
over empowered

Battle Roar
. The exception to this is if you know you will be taking fatal damage if you don't heal immediately.
You can still jump 0.5 seconds after leaving brush.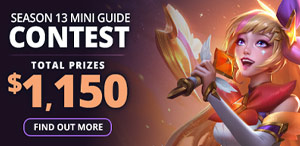 KOREAN JUNGLE RENGAR (Very Brief)