Not Updated For Current Season
This guide has not yet been updated for the current season. Please keep this in mind while reading. You can see the most recently updated guides on the browse guides page
x

Tahm Kench Damage Soaking Support
x
Did this guide help you? If so please give them a vote or leave a comment.
You can even win prizes by doing so!
I liked this Guide

I didn't like this Guide



Commenting is required to vote!

Thank You!
Your votes and comments encourage our guide authors to continue
creating helpful guides for the League of Legends community.
If any of you care to read this part i thank you for taking a look at a rookie build like mine. I am a league player going on 4 years now and i am a level 30 NA player by the name of SateliteMadness. i have been a support main for 2 years now and have played almost every game in that time in a support role. I dont play ranked often so if you look me up and see unranked it is not a typo but i am way better than many people in my elo since i played really bad to start off my account and had no clue what elo,mmr and all that even was nor did i know ranked existed(again this was years ago) and picked up later in my career if you can call it that.
anyway i am no rookie and in fact if you played with me you would know i am great at adapting to my lane partner and i always put them ahead of myself, i play with diamonds who tell me my support is some of their favorites so please, look at this build and let me help you and inturn you help me by making me a better build maker and then i can help you better. after all we are supports here to help each other, lets go make league a better place ya...!!!!


BTW this build was a quick layout made by me to continue as i learn about this champion so it will become way nicer and richer in content, i have 4 games as tahm and 3 are big wins where i carried the late game so i do know what im talking about but i will learn more soon as it is my summer break and i have lots of time to kill with tahm support ;)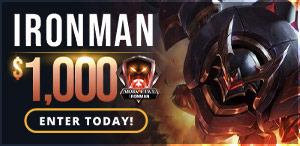 SateliteMadness
Tahm Kench Guide
Tahm Kench Damage Soaking Support