This build has been archived and is for historical display only
This build has been archived by the author. They are no longer supporting nor updating this build and it may have become outdated. As such, voting and commenting have been disabled and it no longer appears in regular search results.
We recommend you take a look at this author's other builds.
x
Not Updated For Current Season
This guide has not yet been updated for the current season. Please keep this in mind while reading. You can see the most recently updated guides on the browse guides page
x
Teemo Build Guide by Onwego317

The Life of a True To hit Crit Teemo
x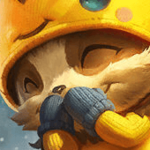 Did this guide help you? If so please give them a vote or leave a comment.
You can even win prizes by doing so!
I liked this Guide

I didn't like this Guide



Commenting is required to vote!

Thank You!
Your votes and comments encourage our guide authors to continue
creating helpful guides for the League of Legends community.
Runes:
Heal Yourself Teemo
Domination
Electrocute
Taste of Blood
Eyeball Collection
Ravenous Hunter
Sorcery
Absolute Focus
Gathering Storm
Bonus:
+9 Adaptive (5.4 AD or 9 AP)
+9 Adaptive (5.4 AD or 9 AP)
+6 Armor

Spells:
Typical Spells
Flash
Ignite
Recommended Items
Ability Order
Typical ability order
Guerrilla Warfare
(PASSIVE)
Teemo Passive Ability
Threats & Synergies
Threats
Synergies
Extreme
Major
Even
Minor
Tiny
Show All
Extreme Threats
Ideal Synergies
Aatrox
He is a pain to deal with if you are using this build as you are a to hit teemo. Best advise I can give is to learn to anticipate and side step. Sometimes a more passive early build with grieves or boots of your choice help you dodge his abilities. Allowing for you to poke and peel. -
Jinx
Supporting Jinx is without a doubt one of my favorites times to support. Jinx can offer me peel in a [inch allowing me to be more aggressive with my poking. (Depending on their support) A typical lane phase with Jinx usually rewards us both with multiple kils before taking the lane.
Synergies
Jinx
Supporting Jinx is without a doubt one of my favorites times to support. Jinx can offer me peel in a [inch allowing me to be more aggressive with my poking. (Depending on their support) A typical lane phase with Jinx usually rewards us both with multiple kils before taking the lane.
Champion Build Guide

Hello everyone and welcome!!!

Through these Chapters one will find their perspective of the "Hated" Teemo, to be misguided. This lovable guardian has had a very bad opinion set upon him since his creation. It is here that you shall learn he is more a positive role player to the balance of all things "League of Legends". Let us start in the beginning wher emost of you find yourselves either behind or on the opposing side of this great and powerful creature of cunning.

It is here the story begins. First perceived as only a top laner he has had plenty of time to spread the word of his menacing ways. Against him many find it hard to maneuver into a position to assault the little fellow. Even his opposing jungle warriors have a hard time as well, in assisting their top lane champion.
That being say, Teemo needs to wear down his opponent before going all in. Poke them and let your poison settle into their veins. Keep them weak by utilizing your blinding dart. allowing wave minions to defeat your minions whenever possible. This allows your minions to press the tower in the distance ahead. Line the river and bushes with vision wards. When you he has grown in strength. Teemo will most certainly build a curtain of poisonous mushrooms along the river bed. This allows for him to not only see his enemies coming. But, also gives him an edge in the event he needs to retreat to the safety of his tower defenses.
Some times teemo will face champions that enjoy hiding in the grass along the edge of his lane. Pouncing outward in attempts to either slay his minion army or even strike out at himself. For those enemies a control ward is favored along with strategically placed poisonous mushrooms within those bushes. He isn't a tanky little fellow. Yet he tends to face some heavy armored individuals. So cunning and stealth plays to his favor. Building magical penetration early makes him a very formidable adversary to many. He would build not only his penetration abilities but his own armor and magic resist as well. Slowly and precisely winning over his lane and being able to roam assistance to other lanes.

This Lovable yet not so timid creature tends to enjoy using the arts of teleportation. He uses them often in the line of defense. keeping a keen eye on his surroundings and an even keener eye on his map. He tends to fast travel to locations where his team may not be aware of danger. Selflessly, he advances to the needs of his defenses. Swarming the path with those not so friendly poisonous shrooms. Saving the lane with a very strong defensive line of his purest abilities. The latter to this tale is his keen ability to read his visual opponents and use his teleport to advance his very own armies into the fray. Pushing waves upon waves of minions closer to the nexus. All the while his teammates are either defending, putting lane pressure elsewhere or even slaying a mighty dragon. There is even the times he has pushed to levels of pure critical and unbelievable speeds. while his team slays a very powerful baron.
The So-Called Trolling of the Mid Lane
I hear this ever so often. Teemo Mid is such a troll. Please, could the haters step back and witness perfection even in times of struggle for once. It is true Teemo is weak against magic in his youth. But that can be countered with proper runes & masteries. Play alittle more passive for the champions that burst damage. More so aggressive very early. Lvl 1 & 2 are the best times to bring the health of a mid laner to bare. Use it to your advantage to control the amount of gold you receive. More so, the lack of gold your opponent receives. That being said, when your minions are assaulting the tower. The time has arrived to either return to base and return lane even stronger. Better yet check your surroundings and move ever so cautiously towards an allies lane. Sneaking into position to assist in the demise of your enemies.

Yes, Yes it is true Teemo support is so VIABLE. Like the enormous Teemo head smiling at you at this very moment. Teemo is a very effective support. Cunning and stealth along with his versatile skills allow him to pressure out his opponents. while, at the same time allowing his AD Carry to strengthen his coffers. In skirmishes a good teemo knows one thing and one thing only. Blind that enemy AD Carry!!!! He can poke the oppsoing support down and use his shrooms to ensure no one sneaks in behind him and his ally. Also, used to keep those pesky champions from hiding along the edge of lane in the bushes. So, please spare the hate for the real foes and not your teemo teammates.
Who knows maybe, just maybe their jungler will come in to attack and you can pull out your ace of

on all of them with the help of your poisonous shrooms and ability to blind your foes.
The Final Chapter....or is it?
I hope you enjoyed and found some insight to better ways to play teemo with this guide. I rather enjoyed trying to make it seem like a story rather than just blanket instructions. I play Teemo a lot. I mean A LOT. More so than anyone I have come across. One thing I have noticed and would surely extend in knowledge to you. If you are going to play teemo on a regular basis. You need to have some rather "Thick Skin" He has such a bad rap in the realm of League of Legends. Many of your own teammates not truly understanding his ability to change the game in your favor. Would, rather grief you while you try to win your game than try themselves. Junglers, will ignore you and your requests. I have seen on so many occasions where other lanes will literally drop the ball and feed deep into the double digit deaths. Only to have your team blame Teemo just for being Teemo in their match. Forget the 20+ deaths bot lane handed the other team. Forget the jungler who purposely ignored and refused to work with you on any level. it is and I sadly believe will always be TEEMO's fault for losses in games. Unless, while using my guide, you climb through the dredged lower elo. Bring the name of Teemo back to the upper realms of the ranked. Let the world see that it is not TEEMO to hate but Teemo to EMBRACE!!!!!
With that I thank you sincerely, for taking the time to read my writings and witness my life as Teemo. Through Teemo's eyes I have reached the Top 100 mastery levels

in North America. Take this guide and go forth through all the servers and bring change to the perception of this lovable little fella.