Not Updated For Current Season
This guide has not yet been updated for the current season. Please keep this in mind while reading. You can see the most recently updated guides on the browse guides page
x
Nunu & Willump Build Guide by insanebuilds
Top/Jungle Assassin Nunu
x

Did this guide help you? If so please give them a vote or leave a comment.
You can even win prizes by doing so!
I liked this Guide

I didn't like this Guide



Commenting is required to vote!

Thank You!
Your votes and comments encourage our guide authors to continue
creating helpful guides for the League of Legends community.
Spells:
Teleport
Ignite
This Nunu build is for someone who just wants to have fun with Nunu, however that doesn't mean this build can't be effective. Normally you would run Sup or AP on Nunu, but a combo of AP and AD can work really well together sometimes. This Nunu is built a similar but a little different way towards normal katarina builds, with the exception of The Bloodthirster.


This build gives Nunu 630.5 AP (counting the extra 30% from Deathcap's passive). Additionally, you get 105 AD and 20% +10 from Gunblade and The Bloodthirster, not to mention the spell vamp. Obviously, this isn't that much, but Lich Bane's passive allow A lot of damage to be dealt for your first hit after firing your E. You also get a small amount of attack speed from the Berserkers Greaves, which I chose over Sorcerers Shoes due to lack of attack speed. Remember to always Blood Boil when entering combat!


Before Engaging, Activate your Blood Boil ability to gain bonus attack speed necessary for combat. I originally thought of putting Blade of the Ruined King on this build, but since blood boil already grants attack speed, I decided more AD was necessary.

Don't be afraid to engage. Unless you are going against another assassin, you shouldn't be too scared of engaging. Remember that you will be doing heavy amounts of damage thanks to Lich Bane when you engage, and if you strike first on full health you get additional health from The Bloodthirster's Bloody shield.

If you must, replace Zhonya's with a second Deathcap, or DFG if that's your thing, however DFG's passive is pointless with this Nunu, and the Armor from Zhonya's is best for combat when taking on a fighter or assassin is necessary, and the extra AP from Deathcap is less needed.

Don't be afraid to ult! Hit them with E, and ult if you need to secure a kill on a more threatening enemy. People Overestimate Nunu's ult's reload time, and end up not using it.

DO NOT FALL BEHIND IN FARM. You can probably tell that this build is extremely based around items. This build falls apart when key things such as Lich Bane and The Bloodthirster are not present when the late game begins. You will not be too effective. This set is unstoppable late game, but early game can only protect the lane and farm. Get lots of CS!

Early game, try to use your E the most as if you were a Mage, and don't enter combat if you're against an opposing fighter, tank, or assassin. On the rare chance an idiot decides to go top mage, fight them early game. However, late game (after you get the bloodthirster), always use the E + Lich Bane damage combo. Sometimes however you can engage physical combat without the bloodthirster, if your opponent has fallen behind in farm or is not a high AD, or is just a bad counter.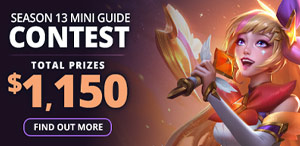 insanebuilds
Nunu & Willump Guide
Top/Jungle Assassin Nunu