Not Updated For Current Season
This guide has not yet been updated for the current season. Please keep this in mind while reading. You can see the most recently updated guides on the browse guides page
x
Urgot Build Guide by Karnan

Urgot of House Zaun, God of Executions, By Karnan.
x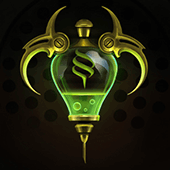 Did this guide help you? If so please give them a vote or leave a comment.
You can even win prizes by doing so!
I liked this Guide

I didn't like this Guide



Commenting is required to vote!

Thank You!
Your votes and comments encourage our guide authors to continue
creating helpful guides for the League of Legends community.
Runes:
Vs fast traders.
Sorcery
Summon Aery
Manaflow Band
Absolute Focus
Scorch
Precision
Legend: Tenacity
Triumph
Bonus:
+9 Adaptive (5.4 AD or 9 AP)
+9 Adaptive (5.4 AD or 9 AP)
+8 Magic Resist

Spells:
Flash
Teleport
Items
Summon Aery runepage.
Conqueror runepage.
Aftershock.
Ability Order
Max order and early skills.
Echoing Flames
(PASSIVE)
Urgot Passive Ability
Threats & Synergies
Threats
Synergies
Extreme
Major
Even
Minor
Tiny
Show All
Extreme Threats
Ideal Synergies
Darius
Scary fucker. Since Urgot has the worst of the worst ranges of ranged champions, Darius can hook you in your auto range. Nasty stuff. If you are gonna fight Darius you wanna bait out his hook and his Q. Make it look as if you are going for a creep and then just leave it. taking damage for a minion ain't worth it. You outscale him hard as the game goes on so just sit tight and take what you can.
Karma
Strong synergy for you. Urgots liability is that he is as slow as a snail. Karma speed removes that and allows you to run around the battlefield as a racer car. If she builds ardent for you that's just icing on the cake.
Synergies
Karma
Strong synergy for you. Urgots liability is that he is as slow as a snail. Karma speed removes that and allows you to run around the battlefield as a racer car. If she builds ardent for you that's just icing on the cake.
Champion Build Guide
Hi, my names Karnan and I am a Urgot one trick who reached Masters playing ONLY Urgot and a few autofilled picks. I have never before been a one trick type person and always got bored playing champions more than 3 times in a row. I played Urgot a few times back in the days before the rework but the ADC style wasn't my thing. I prefer bulky champions who thrives in the thick of it. I started playing the game somewhere around season 1 and it has been my ''main'' game since. I have been playing it on and off from times, certain seasons was just hard to enjoy and some others were better. I think the Urgot rework sparked a new enjoyment for me in the game. I liked his kit the moment I saw the spotlight, a simple kit yet very different from the current champions. While I think most other players didn't find anything really good about him at his release, I picked him up as soon as available. I immedietly found enjoyment playing him and before I even knew it I had kinda become a one trick. I enjoyed playing the champion so much I just stopped playing other stuff. I haven't lost my interest in the champion ever since.
My highest winrate with the champion was 61% in 380 games in season 8. Prior to the Urgot rework my highest elo achieved was Diamond 2 playing every role. I reached Diamond 1 playing only Urgot in season 8 and I reached Masters playing only urgot in season 9.
Account for season 8:
https://euw.op.gg/summoner/userName=Tasty+morsels
(Used to be Emperor Urgot)
Account for season 9:
https://euw.op.gg/summoner/userName=Karnan
I peaked at top 5 Urgot EUW and top 17 worldwide according to LeagueOfGraphs. Of course I take that website with a grain salt and I don't consider myself a big thing but I still like to say I achieved something for my efforts!
I'm always open to help people improve with the champion, I play on the EUW server only and you can reach me most easily through the client or on the Urgot subbreddit:
https://old.reddit.com/r/UrgotMains/
where I go under the nick ''URGODOTP''.
The first thing to understand when playing the champion is that he doesn't fall in line with the other bruisers. I am more so inclined to not call him a bruiser since he can't take advantage of Sterak's or Titanic Hydra. The prefered word of role I'd like to describe Urgot as is ''Disruptor''. He is a champion that causes havoc and chaos in teamfights, where a fight can look lost, Urgot can easily turn it on it's head. Your ultimate is vital to your teamfight capability. The strong point of the R is not the execute itself, but the fear. Getting a 3-4 man fear of in a teamfight is crazy strong. The enemies will likely lose their focus on who to kill and that is where your team bounces back. I categorize Urgot as such since he can't be a stronger bruiser than bruisers who build Steraks can. Your survivability can't come from an item with a huge shield, but rather how you perform with Urgots kit.

Urgot is a ranged champion, but doesn't really play like one. Urgot being a ranged champion is a strength but mostly a weakness I'd say. Urgot can not 1v2 or 1v3 like a Darius or Mordekaiser can during lane. Your strength comes from your plays alone, if you **** up, you got nothing to rely on to salvage those mistakes. Urgot has the worst range amongst ranged champions aswell linked with Rakan. Most melee matchups can perform their abilities on you if you try to poke with your autos. The champion doesn't make you strong, you make the champion strong.
Runes has always been a variation for me on this champion. I have never felt that Urgot has a keystone that is crucial or increases his strength tenfolds. I know of the Arcane Comet times, but that was mostly due to his Q being to strong. Spellbook was something taken since Urgot couldn't find strength in other keystones.

I have played with every single keystone for Urgot and tried to valuate the strength of each one. Yes I have played with the Guardian keystone in toplane.

Going in to season 10 I had hoped that the reworked conqueror would satisfy my choices. But alas it was nerfed for the abusive strength other ranged champions had. With the nerf of healing I don't find Conqueror to be that strong unless going in to the heavy late game. Press the attack and Fleet Footwork will gives tons more value through out the early to mid game.

I will be combining three different picks of runes going in to season 10. As seen earlier, I find picking runes based on matchups is stronger and more suitable for Urgot. Make sure to read the notes on the runes I listed earlier.
PROS:
Safe pick, can hold his own in most blind picks.
Easy learning curve.
Useful in most situations.
Sustained damage.

CONS:
Ranged champion, can't use Steraks or Titanic Hydra.
No strong keystone.
Lowest attack range of ranged champions.
Has 3 abilities that can miss.
Low mobility.
Low item variety.
Should you pick up Urgot? Both yes and no. If you are not a top lane player and you don't play alot of those bulky champions, Urgot is easy to learn and even if you don't know what you are doing you can still be useful just toggling your W on.

If you range between Iron-Platinum he is a strong pick and can easily destroy people who don't know how to counter him properly. If you range in Diamond+ he is gonna get considerably harder to perform with and you will find it way harder to carry a team with him.
This is my personal take on the champion and I don't think anyone should follow a guide blindly. Maybe it helps a few people out and if it does that's good enough for me. This is how I will play the champion going in to season 10 and I won't change anything until I see any news in patch notes etc.