Not Updated For Current Season
This guide has not yet been updated for the current season. Please keep this in mind while reading. You can see the most recently updated guides on the browse guides page
x
Warwick Build Guide by Sanhulks

[10.7] OTP WW |Do you smell that?|LIVE NOW twitch.tv/SanHulk
x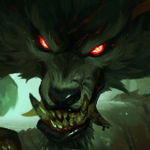 Did this guide help you? If so please give them a vote or leave a comment.
You can even win prizes by doing so!
I liked this Guide

I didn't like this Guide



Commenting is required to vote!

Thank You!
Your votes and comments encourage our guide authors to continue
creating helpful guides for the League of Legends community.
Runes:
My Option [1]
Precision
Press the Attack
Triumph
Legend: Alacrity
Last Stand
Domination
Eyeball Collection
Relentless Hunter
Bonus:
+10% Attack Speed
+9 Adaptive (5.4 AD or 9 AP)
+6 Armor

Spells:
Flash
Smite
Threats & Synergies
Threats
Synergies
Extreme
Major
Even
Minor
Tiny
Show All
Extreme Threats
Ideal Synergies
Nunu & Willump
CHAMPION MATCH UP. WARWICK 45 % WR VS ✅NUNU 54 % WR✅
Nami
Synergies
Nami
Champion Build Guide
About me 🐺
Hi, I'm SanHulk and welcome to my guide Warwick. I've been playing League of Legends since Season 2 and have been involved in the jungle.
I'm a Spanish
TWITCH
streamer who wants to show the world his level with Warwick becoming the best in EUWest and you can see me doing it at
www.twitch.tv/Sanhulks
If u wanna check my Warwick Rank, now im 198 EuW,890 WORLD visite:
SANHULK WW RANK
Introduction
Their statistics are already scary: the first jungle in win rate, the fifth in play rate and the third in ban rate. Excellent mobility, lots of cc's, easy to clear the jungle, the ability to do only drags, good resistance and a mixed damage against which it is difficult to build protection. Let's go with the wolf.
My S10 Statics
If u wanna stalk me MY OP.GG
Win Rate:
60.00%
Play Rate:
100%
Ban Rate:
0.23%
Playerbase Average Games Played:
5.70
Gold Earned:
10712
Kills:
7.8
Deaths:
5.9
Assists:
9.7
Damage Dealt:
12514
Damage Taken:
33727
Minions Killed:
6.3 CS
Spells

Crushing is non-negotiable for a jungle, otherwise it gains less experience in the jungle and gets left behind.
Flash is a necessary spell for almost every champion, and Warwick is no exception. Phantom is an alternative, but Flash is much more versatile. It will allow us to suddenly appear behind enemies to terrify them with the Primal Howl and facilitate ganking, as well as steal dragons and barons when we don't have Infinite Pressure or an explosive pineapple to enter or prefer to reserve it for entering with flash and exiting with R, or the other way around.
Order of skills

I do not recommend altering this order. In the first level it is not very significant to raise the Q Jaws of the Beast or the W Blood Hunt, but you clear the first camp more or less as fast, only with more life.

In any case, after level 3 it is non-negotiable to raise the W. It is our main tool to enter the lines, apart from that it will also help us in the cleaning since it increases progressively the attack speed against monsters below 50%. Raising the Q WILL NOT REDUCE OUR COOLING, we will only gain some healing and some base damage, but it is much better to have an ability that allows us to reach our enemies.

The Q has several characteristics that must always be taken into account. If we hold it towards a target, as soon as we can reach it we will move behind it. Also, this will allow us to chase the enemy even if he flashes or uses a displacement, which will make him spend resources uselessly. Finally, as long as we are behind our target we will be unstoppable for a very short period.

Finally, the Primeval Howl E is our only CC up to level 6. As I mentioned before, usually when we win over an enemy we can use the E and flash behind them to terrorize them and leave them exposed. Remember that a laner's flash is worth more than the one in the jungle. Also, this ability will increase our resistance to damage while channeling, including tower damage, but not actual damage. This is something to keep in mind when we decide to dive.

Needless to say, we will raise the Infinite Pressure R whenever we can, i.e. to levels 6, 11, and 16. It is a straight line that will increase in range according to our movement speed. To be more precise, its range is equal to 2.5 times our speed of movement. In addition, we will be unstoppable during the jump. For example, if we are hit by a Blitzcrank hook during the jump, it will not drag us. We can use the R in a defensive way (i.e. to run away). It has less CD than Flash, so it is profitable to use it from time to time to escape through a wall or to get away from the enemy.

The passive, insatiable Thirst will cause our basic attacks, like Warwick's other skills, to deal additional magic damage. In addition, when our life span drops below 50%, we will heal the same damage we inflict, which will keep us at least half alive when we mock. If life drops below 25%, healing triples. This is one of the aspects that makes Warwick a very respectable 1 vs 1 opponent.
Route (Blue side)
For jungle with Warwick I almost always start in the bot lane, it doesn't matter if it's the Red or the Blue. We don't have a very important limitation of mana or life, so we can do it without worrying. Also, having two partners helping us at the first camp will save us time.
In case of playing on the blue side (i.e. with the bot lane on the Red) the route will normally be Red > Lobos > Blue > Gank top. If the enemy's top is punching too much, we can enter through the river bush simply by activating the W Blood Hunt, chasing it on the way to the tower, activating the E Primeval Howl when we are getting close, catching it by keeping the Q The jaws of the beast and reactivating the E. This will cause us to get behind him, and the terror of the E will force him to move in the opposite direction to his tower and he will be exposed against our top. Remember that keeping the Q will allow us to chase the enemy even if he flashes or uses a scroll.
If the enemy is not pushy enough we can do the same maneuver but entering from behind him, that is, bordering the Nashor. In case we can't win, we won't waste time. We simply go back to our jungle, take the Dodger and the Gromp. If we have achieved a kill or assist, we will surely have for the Tiamat(this should ALWAYS be the first item). If not, we can go make the knives. In case we have very little life, we go to base and buy what we can.
Once we have the Tiamat, it will be much faster for us to clean up camps like the Krugs or the Picuchillos, so we will go and take that area of our jungle. At this point we'll have to be aware of where the enemy jungle can win and try to prevent it, or try to win another line. If the enemy bot has poor mobility, it's a piece of cake. In case we see the enemy jungle in top or with little life and the enemy mid and bot allow us, we will run to catch the dragon. We won't even need to carry Red or Blue, although we will suffer a little less if we do. It is advisable to warn the enemy blue before starting it to detect the enemy jungle and abort the dragon before it is too late. Passive will keep us alive in the meantime.
In the mid and late game, it is likely that we will be the only (or the best) champion of our team to start team fights, since we have a terror that affects the area ( Primeval Howl) and a suppression ( Infinite Pressure) that we will have to reserve almost exclusively for the ADC or the enemy mage.
Route (Red side)
Things don't change much, we take our Blue, Gromp and Lobos, although now we have two options. If we suspect that the enemy's jungle will start at the Net and then go to their Blue or simply not pass through the bot river, we can take the bold decision to make the mythical dragon at level 3. If we don't see it very clearly or know that our top will pass a horrible early, we will follow the same route we mentioned before. We take Red and we win a top. In case we can't do it, we keep on bluffing or try to visit mid.
When we can buy the Tiamat we will go back to base and do exactly the same as we said before, keep on bluffing, be aware of where the enemy jungle can win and try to prevent it, or try to win another line if we see a good opportunity.
In the mid and late game, it is likely that we will be the only (or the best) champion of our team to start team fights, since we have a terror that affects the area ( Primeval Howl) and a suppression ( Infinite Pressure) that we will have to reserve almost exclusively for the ADC or the enemy mage.
OTP WW Tips

- If you're short on life, go to a jungle camp and throw Q + Smite, in that order. The Q will heal you more for having little life, and the Smite's healing is flat.

- When starting the dragon, start with a basic attack and keep the Q before it rises. This will make you unstoppable and won't make you back down.

- The R will make you unstoppable during the jump, but not when you reach an enemy. Make sure the enemy team spends their CC before you jump at them, so they can't interrupt you.

- The best way to catch a lone enemy is to throw the R and immediately maintain Q, as they often flash when the suppression ends.

- The R + E combo has a peculiar behavior. Activating the E and then hitting an enemy with the R will automatically reactivate the E, causing terror to nearby enemies. But this will NOT prolong the CC against the suppressed enemy, as the R lasts longer than the terror. Therefore, to kill a single enemy we will use R without the E, but to initiate a team combat the most common thing will be to use R + E when they are together to terrorize the enemy team.

- The W has a very high cooling, which will be halved when we are not using it passively. Still, it is important to have it available at all times. It's important to note that it can only be activated out of combat, so try not to take any damage when you want to activate it.

- Insisting on cooling the W, we will have to be very careful with where and when we activate it, as it will only lead us to the nearest enemy at the time of activation. It is common that if we activate it in the jungle, for example, to gankear mid, we detect the enemy jungle or support that had gone to wardear and we will annoy the gank. Besides, we have to take into account that the range is not unlimited, and if there is no one around we will have wasted it.

- These tips are already more general because they are useful playing in any line or role, but taking into account that we are the jungle, we will also have to watch the neutral targets. Putting a Control Guardian in the place I illustrate below will make it not visible from the river, which will make us have permanent vision of the dragon unless the enemy team tries to do it. Likewise, we can hide it behind the Nashor's head to make it harder to see and remove. Sometimes they won't even know it's there.