Katarina Build Guide by Nyrolol

[12.14] Nyro's RANK 1 KATA EUW 1000LP Challenger FULL Guide
x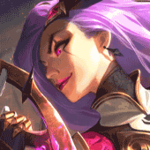 Did this guide help you? If so please give them a vote or leave a comment.
You can even win prizes by doing so!
I liked this Guide

I didn't like this Guide



Commenting is required to vote!

Thank You!
Your votes and comments encourage our guide authors to continue
creating helpful guides for the League of Legends community.
Runes:
Conqueror + Domination
Precision
Conqueror
Triumph
Legend: Tenacity
Coup de Grace
Domination
Sudden Impact
Relentless Hunter
Bonus:
+9 Adaptive (5.4 AD or 9 AP)
+9 Adaptive (5.4 AD or 9 AP)
+15-140 HP (lvls 1-18)

Spells:
Exhaust
Ignite
Recommended Items
Ability Order
Conqueror KRAKEN/DIVINE
Voracity
(PASSIVE)
Katarina Passive Ability
Champion Build Guide
yo, I am Nyro, a EUW Challenger Katarina OTP, sitting around 1060LP+ and peaking Rank 16.
I've been maining her since the rework and over the years have become the best Katarina on EUW. Katarina has the most diverse buildpaths and a build for almost any scenario and this Guide will help you choose the right one

I stream regularly on Twitch, so if you have any question, feel free to ask.

Important: Most of the time I dont pick specific Build/Runes against my lane opponent, but rather take the whole enemy comp into consideration
Ignite is your core Summoner Spell and will not be exchanged.
Exhaust Ignite

Most of the time i run it with Exhaust. The damage reduction is insane and makes you way stronger 1v1, especially using it defensive to not die. The slow allows you to also hit your daggers/ult way easier. Also provides you great kill pressure at lvl 3. The downside is that you have to be more careful against enemy ganks.
Flash Ignite

Flash is overall fine, since it almost always has value, especially if you build full AP. I pick it over exhaust vs mages or general longranges, where I cant utilise exhaust.
Ghost Ignite

Ghost is great for sticking to enemies, only with Tank build.
Cleanse Ignite

Cleanse is a very good against Lissandra, TF and Zoe.
Main Runepage: Conquerer
| | | | |
| --- | --- | --- | --- |
| | | | Conqueror is the best Rune for every build. It provides you with a great earlygame, especially if you go AD early. Its very good in Skirmishes and Teamfights where Katarina shines. |
| | | | |
| --- | --- | --- | --- |
| | | | I always prefer the HP rune for scaling. I only go MR vs AP MID/JGL and Armor vs Full armor enemies |
Secondary Runes. Divine / Rocketbelt
Secondary Runes. Sunfire/Frostfire or Hard Lane
Conditioning If you go for Sunfire/Frostfire and your lane is free.
Second Wind If you're strugglig vs poke (Viktor,Azir...).
Bone Plating If you're struggling against all in (Renek,Zed,Sett)
I will go trough the Builds explaining when to build it.
---
Starting Items

Doran's Shield

Build Doran's Shield if you want a safe lane, especially into ranged matchups and poke. Most of the time its the best option, because Katarina's early is horrible and going even is a win for us.

Doran's Blade

Build Doran's Blade if you want to have more early strength, works with AD and AP Builds, especially into melee matchups. Katarina's adaptive will become AD, so you are strong with Conqueror stacked. Here you want to play for lvl 3/4 kill/pressure or a jungle skirmish.

Long Sword

Build Long Sword for the same reason as Doran's Blade, but if you can build it into Items like Blade of the Ruined King or Divine Sunderer

Dark Seal

Build Dark Seal and Refillable Potion if your lane is easily sustainable.


This list is subjective to my elo. If you are very confident, you can run Doran's Blade against the bottom row, and if you are not confident at all, you can run Doran's Shield against every Matchup



---




Boots

Sorcerer's Shoes

Sorcerer's Shoes are most of the time the best Boots for Katarina, since all her abilitys do Magic Damage. Sorc's are insane with other M-Pen items so always buy it with Hextech Rocketbelt. With Divine Sunderer you also buy it most of the time. With Sunfire Aegis / Frostfire Gauntlet only if you dont need the other boots.




Plated Steelcaps

Build Plated Steelcaps only with non-AP Mythics like Sunfire Aegis / Frostfire Gauntlet or even Divine Sunderer if they are full AD or have a lot of Autoattackers.




Mercury's Treads

Build Mercury's Treads only with non-AP Mythics like Sunfire Aegis / Frostfire Gauntlet or even Divine Sunderer if they have a lot AP damage and CC.




---




Full Item Builds





(S TIER) Full AP Rocketbelt

When to build?

You should build FULL AP if you are against squishy targets, preferably no/low amount of direct or aoe CC, also dont build it if they can stack MR. This Build is very straight forward and IF you can build it, it will be insanly strong in Teamfights.
An example comp would be Gangplank - Graves - Ahri - Ezreal - Karma

Shadowflame >

If enemies build don't MR



Void Staff >

If enemies build MR





---





(S TIER) AP Divine Sunderer

optional 3rd item

When to build?

You should build Divine if you are against Fighters/Brusiers/Tanks, who you will never be able to 1 shot(also against Renata W etc) and CC. Early AD + Sheen is an Insane start and spikes very hard once completed. The key is to play around your divine procs, your damage is way more spread out and you are not reliant on hitting your daggers, also CC/Cancels aren't much of an issue anymore, since your damage doesnt come from you R. Also good for 1v1's.
An example comp would be Aatrox - Lee Sin - Sylas - Sivir - Nautilus


Shadowflame >

if you are snowballing and enemies dont buy MR


Zhonya's Hourglass > against specific champs like Zed
Wit's End >

against full AP





(S TIER) AD Divine Sunderer

optional

When to build?

same as above, but if you have a lot of AP in your team and you need AD damage. Stronger early than AP variant, worse teamfighting/late.
An example comp would be Aatrox - Lee Sin - Sylas - Sivir - Nautilus

---






(S TIER) AP Sunfire/Frostfire




When to build?

This build is insane vs full damage / 1 Shot comp (especially Magic Penetration / Lethality champions), since most of these champs have 1 combo and thrive off 1 shotting you, which they can't anymore. Also its very good vs full CC comps. Building the Mythic first vs very hard lanes is also very good, Assassin's like Qiyana or LeBlanc, Burst Mages like Annie or Vex or Bruisers like Renekton cant abuse you anymore with it. You can take way more fights and the big point of this build is Mejai's Soulstealer since you basically never die and you get your missing damage back. For Sunfire Aegis you want long extended fights, where you can proc the Immolate passive, so it's also good vs Bruisers/Tanks.
Don't build it if they have a lot of %HP Damage, Botrk/Divine users or tank killers.
An example comp would be Irelia - Fiddlesticks - Vex - Lucian - Nami

Important! :

Sunfire Aegis / Frostfire Gauntlet >

Build Mythic first against very hard lanes.



Sunfire Aegis >

for long extended fights / CC, else you go

Frostfire Gauntlet



---

(S TIER) AD Botrk into Sunfire/Frostfire








When to build?

Blade of the Ruined King is the best early game item for Katarina. I love building it if I realy want to win lane/early and just perma fight vs champs that counter me like Kassadin's Q and MR passive, Yasuo's Windwall or vs champs that usually interrupt my R or run me down like Yone or Sylas. The Same concept for Sunfire/Frostfire applies as above, its just the best Mythic for Botrk.
An example comp would be Camille - Viego - Kassadin - Twitch - Lulu


Sunfire Aegis >

for long extended fights / CC, else you go

Frostfire Gauntlet

Wit's End >

against full AP


Nashor's Tooth >

If you are snowballing




---

(A TIER) Riftmaker





When to build?

This build is good if you want to go AP and you are against Bruisers/Tanks. Normally I would prefer Divine Sunderer over Riftmaker in that scenario, since its better against Tanks & has a better early / 1v1, but this built is way better in long teamfights or if you want Nashor's first.
An example comp would be Camille - Viego - Yone - Ezreal - Renata Glasc


Shadowflame >

if you are snowballing and they dont build MR


Zhonya's Hourglass > If you need it against champs like Zed