Yone Build Guide by TrinityForceYasuo

EUW Grandmaster Yone Top Lane Season 13 Patch 13.13 Skillcapped Coach
x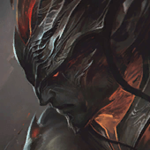 Did this guide help you? If so please give them a vote or leave a comment.
You can even win prizes by doing so!
I liked this Guide

I didn't like this Guide



Commenting is required to vote!

Thank You!
Your votes and comments encourage our guide authors to continue
creating helpful guides for the League of Legends community.
Runes:
Precision
Lethal Tempo
Triumph
Legend: Alacrity
Last Stand
Resolve
Bone Plating
Revitalize
Bonus:
+10% Attack Speed
+9 Adaptive (5.4 AD or 9 AP)
+6 Armor

Spells:
Top/mid Lane
Flash
Ignite
Threats & Synergies
Threats
Synergies
Extreme
Major
Even
Minor
Tiny
Show All
Extreme Threats
Ideal Synergies
Akshan
Respect early on -> Stay healthy -> Level 3+ you can go for E+Q3+AA+W and go back to E for a quick trade -> Level 6 to secure your R, knock him up with Q3. To block his R go behind your minions/tower -> Be careful when you are behind your minions because his boomerang extends the more targets it hits -> When he walks up to poke you with AA you can use your W while walking back to tank some damage
Gnar
Synergies
Gnar
Champion Build Guide
Hello everyone! My name is John ''ForgivenBlade'', I'm a Yasuo/Yone main from EUNE currently playing only on EUW.

I play yasuo from the first day he got released. My peak is GrandMaster 653 LP with a 58% winrate only Yasuo/Yone. I started playing league from the age of 11.

Why I chose Yone as my champion? I think he is a really fun but needs a a bit more time to put into him to become fun. He has a lot of outplay potential, mindgames and there is pretty much always something to improve with him no matter how good you are. There are always little details you can improve on with the champion.

I'm also streaming on https://www.twitch.tv/forgivenblade and I also coach. You can come and ask me anything about the game or Yone specific stuff. I will happily answer. The stream is in 3 languages which are Greek,Bulgarian and English. I try to mix it up to have people from all over the world interacting in my stream and trying to feel comfortable when the join to watch!

I have a youtube channel too, I will upload some plays and different tips and tricks about Yasuo/Yone + full gameplay of how to laning phase against specific match ups: https://www.youtube.com/channel/UCTWbRHIHS8boYf745Y7KTxA?view_as=subscriber
I would recommend just to freeze for the majority of the matchups. Let the enemy overstep and then go for an extended trade depending on the enemy champion of course. Freezing also helps you build a cs lead, keep you safe from ganks and set up potential ganks for your jungler. Try to bait out your enemy's abilities and play around their main abilities cooldowns. That would be the best time to go for a short trade and slowly but surely set them up for an all-in. As a last thing try to adapt to your enemies dodging pattern, throw few Qs and notice how he dodges and later on you will be better hitting your Q's.
Late Game/Teamfights/Split Push
Late game/Split pushing: When laning phase is over. Try to adapt on the enemy's team comp. If they have a lot of CC you probably gonna be useless in the teamfights, so start split pushing get 1 or 2 enemies to stop you and this way you can give an opportunity to your teammates to force an objective, make a teamfight with member advantage or just push another lane without the enemy team being able to stop them so its a win-win situation for your team overall. You can also get some good fights if the set up is good, you catch someone off guard or off position etc. 1 big R can make the whole fight with a good follow up from your teammates. Stack up Q3 from camps as much as you can (if it is safe). Just learn how to split, while splitting pay a lot of attention to the minimap and have the blue trinket and place it to a good place where you think the enemies will most likely cross to come and try to stop you...Oh and also hope your team won't get caught in case no one comes to stop you.

-Teamfights: Try to hold your Q3 (can stack it up from camps) as long as possible and look for better opportunities to knock up more people+R, because that can change the whole teamfight or even game outcome. Don't rush your E/Q3/R too. Learn to fight at the appropiate times. Using Q3 from fog of war will make it easier to make a pick etc.

Use your E to check places where you got no vision at - To get cs/push waves - Can use your E as a tool to chase someone or win enough time for your teammates to come and help you out in case you are in a bad spot.
Q:

-Do NOT rush it
- Q3 is in 2 parts: First part is your champion knocking targets up and second is the wind.
- Before killing a wave get your Q3 stacked up on the last minion/s alive
- Your Q Flash timing when you have low attack speed matters. There are 2 ways to do it: 1) Q+F immediately which gives time to your opponent to react 2) Q+F wait a bit for your Q animation to go off then F. This give no time for reaction. The more attack speed you get the more irelevent this becomes
- You can Q Flash to reposition your knock up. While casting Q3 you GOTTA flash on top of your target to get the knock up.
- Can ignore CC
- Right before your E ends you can use Q3-> Get on top of your target and pull of an extra AA even though your E bar is gone
- Ideally have Q3 charged up before E and also right before you go back to your E

W:

- You can W flash
- Learn the angle of your W to hit only the minions that you want to and not the whole wave when looking to thin out a wave for a freeze
- The more targets you got the bigger the shield is.

E:

- Can be used to check risky areas with no vision
- Can pull waves for freeze
- Can get plates safely
- Can win time/delay for abilities to come from cooldown or for teammates to catch up to us for help
- Can cancel/ignore CC
- 90% of the time start a fight/trade with E and 100% of the time start teamfights with E
- Can be used a kiting/chasing/time winning tool because of the movement speed that it gives you
- Can be dodge to dodge abilities
- Get close to Inhi and go back to fountain with E when you are 10 gold away from buying the item you need. If you are going towards mid lane stay somewhere inbetween inhi and nexus towersDDDDDDDDDDq

R:

- Ignores/Cancels CC
- Can be used to extend the distance covered when used inside walls
- Ult starts from the TOP of your character so when you standing on top of someone R is going to hit
- Can extend your E duration
- Escape/Engage tool