Ivern Build Guide by Hscalzy

Favorite Color is Spring GODLIKE IVERN GUIDE + EXPERIMENTAL BUILD
x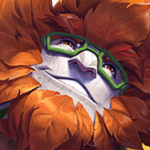 Did this guide help you? If so please give them a vote or leave a comment.
You can even win prizes by doing so!
I liked this Guide

I didn't like this Guide



Commenting is required to vote!

Thank You!
Your votes and comments encourage our guide authors to continue
creating helpful guides for the League of Legends community.
Runes:
Basic Jungle Runes
Sorcery
Summon Aery
Nimbus Cloak
Transcendence
Waterwalking
Domination
Eyeball Collection
Relentless Hunter
Bonus:
+8 ability haste
+9 Adaptive (5.4 AD or 9 AP)
+6 Armor

Spells:
99% of the time
Chilling Smite
Flash
Ability Order
Ability Leveling
Friend of the Forest
(PASSIVE)
Ivern Passive Ability
Threats & Synergies
Threats
Synergies
Extreme
Major
Even
Minor
Tiny
Show All
Extreme Threats
Ideal Synergies
Zeri
Steals shields and is too fast and difficult to root
Yone
I do not need to explain how op this is.
Synergies
Yone
I do not need to explain how op this is.
Champion Build Guide
1. First option which is my most used is to start by setting wolves, blue, then gromp, followed by smiting red, setting raps, then collecting all of these, choosing to either take blue side crab or path back top, finish raptors, then take red side crab. Smite whichever crab you will be taking.

2. FULL CLEAR! Start by setting red, raptors, wolves, then smite gromp BEFORE SETTING BLUE! Walk back up to collect raptors and red, then go to krugs and wait for smite to insta take them. Then walk back botside to collect wolves and blue and boom, level 4 ivern. Downside to this is it takes 3:10 and you will not have a smite charge left.

3. LEVEL 2 GANK. First thing to know is if you are redside, it it best to level two gank bot. If blueside, level two gank top. Mid is an option for either side.

Start wolves, set wolves, blue, gromp, walk up and smite red, and set raps. Now you can level two gank by walking into the enemies jungle and get a great angle behind the enemy, forcing a flash or kill. BE SURE YOUR TEAM WANTS THE GANK OR YOU MIGHT DIE AND GET FLAMED ALL GAME #FEELSBADMAN
PRE 6

Ganking on Ivern is crucial to helping your team snowball and funnel. What I have learned is that Ivern's Q ability is all of his gank pressure, this means if you waste it, the gank will probably fail.

The best strategy pre-six is to get a good angle to walk from behind or directly at the enemy, put E on yourself and try to land the E slow on the target. Slowing them makes it INSANELY easier to land Q because they will be close to you and slowed. Sometimes even just the pressure of the Q will cause enemies to keep juking around looking like fools, making it better to not use it at all until they start running!

Lesson here; HOLD Q UNTIL TIMING IS JUST RIGHT !

POST 6

Ganking with Daisy is op. It just is. Right when you spawn in Daisy she gets a lot of movement speed, so simply wait until the angle is good, summon daisy right before the enemies can see you ganking, have daisy charge RIGHT at the target. Make sure to apply your E to Daisy, timing it so when Daisy gets close enough it will burst and slow the target. This will GUARANTEE Daisy to land her knockup, guaranteeing you to land an easy Q. Easy peasy, you have now tilted someone by not allowing them to move! Now use Daisy to take the objective that you have just created priority for.
OBJECTIVE TAKING STRATEGIES
DRAGONS

Ivern can easily solo dragon with Daisy, but it takes a while, so getting help and prio is necessary. Make sure to use bushes to block off vision into the pit from the outside, and to give you your empowered autos on the dragon. Have Daisy tank, keep shielding Daisy, and try not to miss smite ;)

RIFT HERALD

You can take rift herald similarly to dragon, but have Daisy angled on the opposite side of the herald as you. This will make it so you will not have to try to hit the eye because it is focused on Daisy, making its back face you!

Also, you can take herald over the wall with Daisy. This is the safest way to do it if you are on the correct side of the map for it. Simple poition Daisy towers the entrance of the pit, sandwiching the Herald between Daisy and the wall. Sit in a bush hitting his eye, and Q over when he is low to smite and grab the Rift Eye. GJ!

BARON

You are NOT soloing baron. Get your team, play the map correctly, win a fight, bait enemies bot, whatever you need to do to fight the objective with your team. Definitely use bushes and control wards to deny vision of pit, and use Daisy to zone curious enemies. Daisy is an OP zoning ult. Boom. Baron secured.

Now that you have secured four dragons, two heralds, an elder dragon, and Baron Nashor, you can type /all JG DIFFERENCE.
[*]
Right when game starts, I always ping team and walk down to the bush from midlane. i start Q and often will claim a first blood for the team :3 you want to either 5 or 6 camp clear depending on if you want to level 2 gank a lane (which I normally do)

pre six you are pretty weak solo, but is still very good at 2v2s in the top lane and mid because of the shields and cc! Keep ganking and maybe hit a cheeky insta smite on the enemies raptor camp and boom, you'll be 6.
This part of the game is really whatever you want to make it. You should have in your head by now which member on your team is the most likely to carry (vayne, yone, other 1v9s) and you want to begin funneling. Summon daisy right before you gank to use the added movement speed, e daisy and charge at the enemy. the E slow will hit the enemies if you time it correctly, making it very easy for daisy to knockup, and for you to root! With Daisy, Ivern actually has incredible 1v1 potential if you learn how to bodyblock with daisy and zone well! Look to capture dragons and rift heralds when you have priority, or when you see the jungle far away on the map and want to punish him. Also, if you are on the red side (i think) of the map, you can take rift herald over the wall with daisy, being extremely safe. Before you'll know it, late game is here!
Now that you are in late game, you have your mythic, putrifier, boots, and probably ardent or waterflow staff, you just want to play every fight for your team. See whos doing the most on the team and will carry the fight, have daisy peel for them and shield them primarily. Obviously, if your 12/0 Vayne isn't being targetting, dont shield them, shield the frontlining sett or maokai. Shielding melee champs is actually optimal because it makes it more likely the damage and slow will land on enemies ;) FUNNEL UNTIL YOU WIN!
If anyone wants some tips and tricks on many things like taking rift over wall or how to level 2 gank properly or how to path efficiently, ask me on my stream !