Not Updated For Current Season
This guide has not yet been updated for the current season. Please keep this in mind while reading. You can see the most recently updated guides on the browse guides page
x
Maokai Build Guide by Furnimal

Maokai Support - Toss your way to victory (GUIDE IN PROGRESS
x

Did this guide help you? If so please give them a vote or leave a comment.
You can even win prizes by doing so!
I liked this Guide

I didn't like this Guide



Commenting is required to vote!

Thank You!
Your votes and comments encourage our guide authors to continue
creating helpful guides for the League of Legends community.
Spells:
Flash
Exhaust
Hello, this is the first ever guide I've written and first ever build I've publicised. (please be kind) I find Maokai support to be an enjoyable support to play and can have some potential viability if played correctly. (at least, not in overly-competitive play)
Key: Light colour = strong +/-, dark = mild +/-
Pro's
Excellent vision control owing to Sapling Toss
Great Health/Mana sustain
Can reduce damage dealt to allies with ult
Can provide a tank to the team
Passive can build very easily early game to allow high HP sustainability
Con's
Offers less early game defence to allies, relies on good positioning and vision control
Less health early game and less MR making high-poke AP supports a big threat
Has been nerfed recently
Root from Twisted Advance doesn't last long
Very little to no poking capabilities
Talisman of Ascension

The Ancient Coin start is not typical of tanks (who tend to go Relic Shield.) However, the Ancient Coin provides the mana regen which Maokai is reliant on. The healing which the Coin provides outweighs the health regen and leaves the Coin as a superior starting item in my opinion. The Talisman itself provides nice lane movement owing to the passive from the Raptor Cloak (part of the reason I argue Boots of Swiftness over Mobility) and is a highly useful items for escaping and chasing. With the short cooldown of the active (reduced with Ruby Sightstone) it can also be an easy way of obtaining assists now that Sapling Toss doesn't damage upon landing.


Locket of the Iron Solari, Redemption + Ruby Sightstone

I'm placing these 3 items in one owing to the self-explanatory nature. You need a Sightstone for wards (Saplings can't do everything) and with having at least 3 active item cooldown's, Ruby Sightstone is essential. Locket + Redemption build is completely broken, there's no reason any tank support wouldn't consider these 2 items.


Boots of Swiftness

I argue for these for 2 distinct reasons:
One - the Raptor Cloak passive grants the fast out of combat lane movement which one would consider from Mobility, granted it doesn't merge with the jungle, but I've just never felt the need for it.
Two - More importantly, you need in combat movement. Maokai's ultimate is useful for 2 reasons, it can help other front-liners and help defend back-liners from assassins. You need to be able to move swiftly around these 2 lanes if need be. Switness also allows some forgiveness if you follow a dangerous Twisted Advance and go too deep into their lines by still allowing you some escape potential.


Banshee's Veil

Most viable item against heavy AP, take this in those situations. Grants more HP also and if there's AP there's abilities so a spellshield is nice also.


Randuin's Omen

Take this if there's heavy AD which revolves around Crit, the extra health isn't anything to cry over also. Frozen Heart is a much more superior item for AD if it is not Crit focused.


Frozen Heart

Use this if there's heavy AD which either focuses around Lethality or Armor Pen (or just AD, but not likely to have 0 pen or leth unless nubs) the extra mana isn't too necessary but the extra 20% CDR (allowing you to reach full CDR) is useful.


Zz'Rot Portal

Use this against highly mixed damage as it grants both. You already have the Raptor Passive, however, Zz'rot Portal's active does grant extra lane pushing power which is useful for any late split push or tower defence.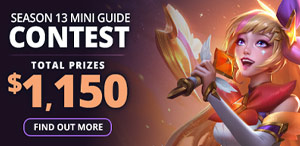 Maokai Support - Toss your way to victory (GUIDE IN PROGRESS