Sejuani Build Guide by Cosmech
This build has been archived and is for historical display only.
PLEASE NOTE: This build has been archived by the author. They are no longer supporting nor updating this build and it may have become outdated. As such, voting and commenting have been disabled and it no longer appears in regular search results.
Not Updated For Current Season
This guide has not yet been updated for the current season. Please keep this in mind while reading. You can see the most recently updated guides on the browse guides page.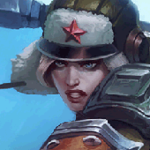 x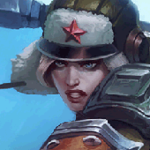 Did this guide help you? If so please give them a vote or leave a comment.
You can even win prizes by doing so!
I liked this Guide

I didn't like this Guide



Commenting is required to vote!

Thank You!
Your votes and comments encourage our guide authors to continue
creating helpful guides for the League of Legends community.
Ability Sequence

1
9
10
12
13

2
14
15
17
18

3
4
5
7
8

6
11
16

Not Updated For Current Season
The masteries shown here are not yet updated for the current season, the guide author needs to set up the new masteries. As such, they will be different than the masteries you see in-game.
Masteries
---


Hi everyone, I'm CosMech, and this is my Sejuani Support Guide for S4. This is my first guide and i'm new to BBCode. So I would appreciate any and all feedback that you guys may provide. Sejuani Is an amazing and underrated support choice i find, she is one of the most unique supports i have played with a well round kit choice through progression. Then there's that Five Man Stun! Glacial Prison, always fun to stun then hit them with a knock up once they run.

However Ladies and Gentlemen i do wish you would view this as my first guide before hitting that downvote button and give this guide a chance.
So lets start this guide!
---




+

Excellent Late Game Tank.


+

Great Engage and Target Lockdown.


+

Reliable in Teamfights.


+

One of the Best Ult Initiates. Glacial Prison


+

Ult isn't Easily Dodged when Grouped.


+

Prevents Escapes.


Sejuani Has some great abilities at her use for many reasons, firstly her ult acts as a great Crowd Control, thus you can follow up with a Flail of the Northern Winds & Permafrost combo and catching stragglers with Arctic Assault only to Flail of the Northern Winds again. Her late game tank combined with a little ability power can prove devastating. Early game she can take the hits from an enemy ADC.




-

Mana Hungry


-

No Heal.


-

Squishy Early Against AP Supports.


-

A Missed Ult Is Costly.


-

Can k/s with Flail of the Northern Winds.


-

Bad Duelist if Alone.


Being a caster champion, Sejuani is subject to cooldowns and mana starvation. Her power comes with her health, therefore she is weak early game. Her damage is poor overall, making her a bad solo team member. She can't often roam alone and when landing phase ends farming becomes an issue with such low damage.


---
Sejuani needs some help with early defenses. So we take two points in Block and Enchanted Armor . This allows us to take those extra hits from skill shots to save our ADC.
Next we can take a point in Unyielding , just for that extra buffness.
Following this the three points in Veteran Scars scales with our Health so a huge help.
For your next points i take Juggernaut , Hardiness & Reinforced Armor .
The aim here is make Sejuani as strong late game in accordance to scaling with our health and armor values. With Reinforced Armor we can stop the critical strikes from many ADC.
Now why not more in the Defense tree?
This is due to we still need sustainability and gold income. Even with our trinkets it is still better to have some gold income than rely on trinkets alone.
Now we can focus on our Utility, first off Phasewalker is an obvious choice, as you only get limited time to recall and be back at that turret. With Fleet of Foot i like having the speed boost for more time back at lane. Though if you are really spamming your skills then it's best to take Meditation . You could probably split it but there's not much point.
Summoner's Insight , gives us that ever ready Exhaust, Ignite, Flash, depending on our choice.
Alchemist , is a benefit in the fact early game you will be buying a few pots + you have the added mana regen.
Next we have our gold income. Greed , Scavenger , Wealth . All of these give a great gold increase when laning, allowing us to stay in lane till we have the right gold for our next backs. More lane presence = more gold = stronger recipe items. Second to last Intelligence . Adding more CDR and activated item CDR brings more to the table in terms of engages and team strength.
Finally we have Inspiration , i take this with Sejuani as her farming ability is poor and to gain that extra experience when you fall behind is a massive boost.
---
Runes

Greater Quintessence of Armor


3


Greater Mark of Health


9


Greater Seal of Armor


9


Greater Glyph of Magic Resist


9
---
Flash

. This can be our escape and engage. Using

Flash

can sometimes surprise team fight situations. Flashing in from range and then use

Glacial Prison

to trap them all. Though you can use

Flash

,

Arctic Assault

to close even bigger gaps. Remember it can always be an escape.

Exhaust

. This is our main summoner spell as supports. This always works well to cause high damage from your ADC, as well causing slow effects. Usually i will use this after i start an engage with

Arctic Assault

.

Ignite

. Now ignite is newer to some supports and some teams don't like it for fears of kill stealing. Though i tend to use this to deter situations. I.E

Caitlyn

&

Thresh

combo i will let my ADC peel them a bit. I can then engage with

Arctic Assault

and

Ignite

on

Thresh

this causes him to deter due to it peels him further. This tactic doesn't always work but most of the time people fall for it.

check if their support has mana pots as it counters Ignite effects.
---