Not Updated For Current Season
This guide has not yet been updated for the current season. Please keep this in mind while reading. You can see the most recently updated guides on the browse guides page
x

The sleepy guide to jax Basic
x

Did this guide help you? If so please give them a vote or leave a comment.
You can even win prizes by doing so!
I liked this Guide

I didn't like this Guide



Commenting is required to vote!

Thank You!
Your votes and comments encourage our guide authors to continue
creating helpful guides for the League of Legends community.
Jax is a very versatile player with multiple game-play strategies. He is best in top lane as a heavy bruiser. However, because of his versatility in attacks, he also makes a great jungler. He can normally fend off most DPSers in game. His grandmasters might makes him more dangerous with high AD and AP.


after a successful leap strike, you can hit empower to instantly hit the opponent again for an extreme amount of main damage, and adding and extra point to your relentless assault
hit counter and wait until just b4 it goes off, leap strike enemy to hit and stun enemy b4 they can hit back afterwards u can instantly hit empower to add one more stack to relentless assault
let your enemy reach your turret, then activate counter strike. this stuns the enemy. then after counter wears off, use exhaust keeping him under the turret, then leap strike if he gets away from turret, this allows an early game kill.

Notice if you are going against a long range character like ashe, then you are at a great advantage with your gap close, leap strike. this makes long range characters rue jax in mid game because his leap strike hits for both AD + a portion of AP equaling your hardest hit, when merged with empower, this attack gets even more insane, and it keeps long range enemies close, (especially when they don't want to be)
When up against a tank like Dr. Mundo, let him take the offensive and get behind your minions. then exhaust him and begin hitting him. because he is behind your minions, he has to run around them to get away, while all it takes for you is a simple leap strike to stay on top of, and kill him.
When up against another Jax, the trick is simple, wait until he activates counter strike for you to activate yours. You dodge his counter strike, and then he takes the full brunt of yours and he gets stunned too.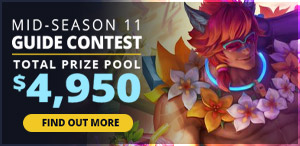 The sleepy guide to jax Basic