Top Poppy Build And A Guide Kinda
By Striker658 | Updated on

January 22, 2019
x
Did this guide help you? If so please give them a vote or leave a comment.
You can even win prizes by doing so!
I liked this Guide

I didn't like this Guide



Commenting is required to vote!

Thank You!
Your votes and comments encourage our guide authors to continue
creating helpful guides for the League of Legends community.
Choose Champion Build:
Ad Poppy is a Thing
Runes:
Resolve


Grasp of the Undying

Bone Plating

Conditioning

Overgrowth
Precision


Triumph

Coup de Grace
Threats & Synergies

Threats

Synergies
Extreme
Major
Even
Minor
Tiny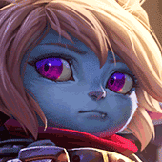 Show All

Extreme Threats
Ideal Synergies


Iron Ambassador
Passive INNATE: Poppy periodically throws her buckler with her next basic attack, which then falls near her target, where it remains for up to 4 seconds. If the buckler kills its target, it bounces back to Poppy automatically. Enemies can step on the buckler to destroy it. The buckler grants 350 bonus range and 20 - 180 (based on level) bonus magic damage. When Poppy picks up the buckler, she herself for 15 / 17.5 / 20% maximum health for 3 seconds.
If the Enemy is on low HP if you really wanted to you could

Flash
and use your

Iron Ambassador
to kill them even if they are under tower you will live but don't do it if you are on low HP as well

Hammer Shock
ACTIVE: Poppy smashes the ground in front of her, dealing physical damage to all enemies hit.The impacted ground becomes unstable, Slow icon slowing enemies standing on it before erupting after 1 second, dealing the same physical damage to all enemies hit.

Steadfast Presence
PASSIVE - STUBBORN TO A FAULT: Poppy's total armor and total magic resistance are both increased by 10%, doubled to 20% when she falls below 40% maximum health.
ACTIVE: Poppy gains 30% bonus movement speed for 2.5 seconds and generates a barrier around her for the duration, causing all enemies who dash within to be Knockdown icon knocked down and dealt magic damage. Steadfast Presence can only block a single dash per enemy per cast.

Heroic Charge
ACTIVE: Poppy dashes to the target enemy, dealing them physical damage and Airborne icon carrying them along with her for up to 300 units. If they collide with terrain, she deals them the same physical damage again and Stun icon stuns them.
Good tip try not to push Enemy Champions out of the way like from a

Thresh
hook or a

Yasuo
tornado

Keeper's Verdict
FIRST CAST: Poppy channels for up to 4 seconds, retaining the ability to move but Slow icon slowing herself by 15% for the duration. Keeper's Verdict's cooldown is set to 30 seconds if its channel is canceled.
SECOND CAST: Poppy smashes the ground, sending out a shockwave that travels in the target direction. When it hits an enemy champion, a massive hammer erupts, dealing physical damage to all enemies around it. Enemies impacted by the hammer are Airborne icon knocked back an incredible distance towards their fountain. Releasing the ability instantly cancels the channel, dealing 50% reduced damage and Airborne icon knocking up all enemies around Poppy for 0.75 seconds.

Poppy
's can use her E

to Stun Enemy Champions into walls and then Q

to do more damage and if they have any Jumps, Dashes or Leaps you can use her W

to stop them and then use your E and Q combo again if you need to kill them and if you have your R

you just push it once to stun them and kill them with it or do your Q and E combo again when they land

Grasp Of The Undying
Every 4s your next attack on a champion deals bonus damage, heals you, and permanently increases your health.
Very good Rune on

Poppy
especially with her E

Heroic Charge
and Q

Hammer Shock
combo.

Bone Plating
After taking damage from an enemy champion, their next three spells or attacks against you deal 20-50 less damage (at levels 1-18).
Really helpful when you are fighting especially in a 1v1.

Conditioning
After 10 min, gain +8 Armor and +8 Magic Resist and increase your Armor and Magic Resist by 5%.
This makes you even more tanky than normal after 10 mins and with your W

Steadfast Presence
.

Overgrowth
PASSIVE: Every 8 monsters or enemy minions that die near you permanently increase your base and bonus health by 0.2%.
where can you go wrong with this

Triumph
Takedowns restore 12% of your missing health and grant an additional 20 gold.
Good rune when the Enemy's team jg ganks you and your on half hp or low hp if you kill one of them you will get hp back and gold.

Coup De Grace
Deal more damage to low health enemy champions.
Really good if you want to do that

Flash

Iron Ambassador
move i said earlier when they are on low hp