This build has been archived and is for historical display only
This build has been archived by the author. They are no longer supporting nor updating this build and it may have become outdated. As such, voting and commenting have been disabled and it no longer appears in regular search results.
We recommend you take a look at this author's other builds.
x
Not Updated For Current Season
This guide has not yet been updated for the current season. Please keep this in mind while reading. You can see the most recently updated guides on the browse guides page
x
Ornn Build Guide by AndREX512

[10.2] top tank Ornn guide "Ornn builds things"
x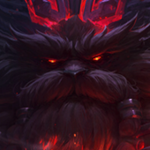 Did this guide help you? If so please give them a vote or leave a comment.
You can even win prizes by doing so!
I liked this Guide

I didn't like this Guide



Commenting is required to vote!

Thank You!
Your votes and comments encourage our guide authors to continue
creating helpful guides for the League of Legends community.
Runes:
standard
Resolve
Grasp of the Undying
Demolish
Bone Plating
Overgrowth
Inspiration
Biscuit Delivery
Time Warp Tonic
Bonus:
+8 ability haste
+6 Armor
+6 Armor

Spells:
Flash
Teleport
Threats & Synergies
Threats
Synergies
Extreme
Major
Even
Minor
Tiny
Show All
Extreme Threats
Ideal Synergies
Vayne
insane amount of true damage. in the early game she will shot you down in no time so play very safe.
Yasuo
you have 2 knock up in your kit so yasuo can use his R easily
Synergies
Yasuo
you have 2 knock up in your kit so yasuo can use his R easily
Champion Build Guide
Why you shuold play ornn?

Ornn
is a great tank whit a lot of CC, resistence, and damage(in most of my games whit ornn i deal more damage then the bruiser). While playing ornn you don't have to recall to buy items (but not consumable) thanks to his passive so playing it gives a great advantage. Even if you are losing the lane Ornn will be usefull: the last part of his passive can give your allies an upgraded item for free, that means that your allies gains free stat
Hi i'm andREX512 form the EUW server, i'm just a 16 year old italian guy who likes a lot playing LoL in the top lane whit ornn, i'm a onetrick ornn player but i'm not so strong, i just wanted to share the way i play my main.

P.S. if you find some error please help me and write a comment so i can fix it.
P.P.S. this is my first guide i make so don't expect anything of special in the layout, that require some programming skill that I don't have.
PROS
-a lot of CC
-great tankiness
-shop from anywhere
-upgraded items for his team
CONS
-hard to master
-can easilly get poked down
-early mana issues
-can't 1v9
main runes 1: standard for more damage and pushing

Grasp of the Undying
is the keystone you will use the most: it synergizes very well whit the
brittle
of W and R, healing you for a ton of life and dealing that damage that no one expect.

Demolish
help a lot when pushing in all the game: in the early game whit the plate you gain extra gold and in the late you can split push fastly

Bone Plating
give more tankiness, very usefull for the early trades

Overgrowth
allow you to gain a ton of health and is the only rune you can choose because

Revitalize
and

Unflinching
are useless for ornn, very usefull in the endgame when you have stacked it
main runes 2: you take this rune to freeze the lane and cs under tower

Aftershock
is the keystone that you will use in matchup where you can't proc the grasp

Font of Life
: you won't push but in the teamfight you will be more usefull

Conditioning
is useful because you won't trade but you can gain free ar and mr
secondary

Biscuit Delivery
very useful in the early game for his free heal

Time Warp Tonic
synergiezes well whit the corrupting potion and the biscuit giving more health for the trades

Corrupting Potion
is just the best starting item for ornn, synergizes whit

Time Warp Tonic
and is very usefull for early trades

Sunfire Aegis
is the item you will be building the most time as first item: good stat, upgreadable in

Forgefire Cape
and his passive help whit cs

Abyssal Mask
is the standard second item, gives the mana you need in the early game, upgradable in

Infernal Mask
for more free stat

Frostfire Gauntlet
is the first item if against an all ad team, followed by the

Sunfire Aegis
, his passive work very well whit

Grasp of the Undying
+
brittle
and it is upgreadable in

Frozen Fist
for better stat

Locket of the Iron Solari
is the item that you will build the less, is the masterwork(

Circlet of the Iron Solari
) as a second item if against an all ap team; there is no other reason to build it

Warmog's Armor
i just love his passieve, it gives you so much life regen out of combat that you won't have to recall for the rest of the game

Gargoyle Stoneplate
his active duble the health during a fight and gives good stat

Thornmail
if the enemy carry and is a champ like

Ashe
you shuold buy this

Randuin's Omen
if the enemy carry is crit dependent like

Yasuo
buy this

Spirit Visage
if the enemy carry is an ap like

Ahri
buy this

Adaptive Helm
if the enemy carry is an ap like

Vel'Koz
buy this

Living Forge
is

Ornn
passive an is what makes ornn ornn. gives 10% of ar/mr from all item, allow him to build masterwork and item from anywhere

Volcanic Rupture
is Ornn Q: great to farm, combo whit E and slow the enemy. second to max

Bellows Breath
is Ornn W: great to farm and his hits best basic ablity: synergiezes whit grasp and gives CC and damage; a lot of damage for a tank. First to max

Searing Charge
is Ornn E: combo whit q for an area of knocking up CC, is also a good way to escape from gank. last to max

Call of the Forge God
is ornn R: is the most diffcult ability to master, has two activation: the first gives brittle to the target, the second knock up enemy, best tool in teamfight.
Brittle
is an status effect that makes enemy take more damage form ornn AA and stunning them for an very short lenght of time