[11.24b] Menace To LoL Corki
x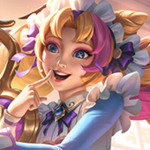 Did this guide help you? If so please give them a vote or leave a comment.
You can even win prizes by doing so!
I liked this Guide

I didn't like this Guide



Commenting is required to vote!

Thank You!
Your votes and comments encourage our guide authors to continue
creating helpful guides for the League of Legends community.
Runes:
Coin Collector Corki
Inspiration
First Strike
Perfect Timing
Biscuit Delivery
Cosmic Insight
Precision
Legend: Alacrity
Last Stand
Bonus:
+10% Attack Speed
+9 Adaptive (5.4 AD or 9 AP)
+6 Armor

Spells:
Standard Runes
Flash
Ignite
Recommended Items
Ability Order
Standard Ability Max
Hextech Munitions
(PASSIVE)
Corki Passive Ability
Threats & Synergies
Threats
Synergies
Extreme
Major
Even
Minor
Tiny
Show All
Extreme Threats
Ideal Synergies
Yone
he's already an annoying matchup for most people, but now that he's received a buff in 11.18 he'll be a little harder to kill, along with his healing and shieldbow. I'd prefer perma banning Yone for now until we can be sure he's not going to be OP again. Well im back in 11.24 and yeah he's still a perma ban. sucks to suck I guess.
Malphite
His ultimate combined with your Package W makes for one of the deadliest damage combos I've ever experienced. an AP malphite + Package W will delete everyone that isn't a FULL tank. A well timed combination of these abilities is unstoppable.
Synergies
Malphite
His ultimate combined with your Package W makes for one of the deadliest damage combos I've ever experienced. an AP malphite + Package W will delete everyone that isn't a FULL tank. A well timed combination of these abilities is unstoppable.
Champion Build Guide
This build is great for teamfights and disrupting objectives. You get great damage late and can use that to catch enemies off guard. Most of your damage in the mid to late game will be poke and keeping the enemies at a distance. The better you are at landing rockets, the better this build is because Horizon procs will make all your abilities especially dangerous.
Insane Late Game Potential
- Corki's late game damage with this build is so gross, and makes it extremely difficult to beat if he has even a slight lead. Any squishy or mage just gets blown up immediately with your quick combos and you can kite tanks to death in a few combos as long as they aren't a 4 move speed item Garen flashing on top of you.
Amazing Objective Control
- Corki's W along with this build make for an extremely deadly fire trail that you can use to block off baron and dragon pits, zone enemies so they can't run away, or just delay them so you can take an inhib, or finish baron and get out.
MONEY
- With Cull and First Strike you get that MONEY. We want our items as soon as possible to try and push through early game so it's great to have cull and First Strike.
Weak Early Game
- Corki has a really bad early game, and there's a decent amount of matchups where he can struggle to find a lead or stay even. His mana costs are pretty high and he lacks proper damage until mid game.
Trinity Force as a mythic right now isn't in too good of a spot due to the nerfs they had to put through to stop Yorick from wafflestomping the meta. On corki though, it's still useful and gives a great combination of stats to increase his survivability and damage while still giving him a sheen to abuse. You get kiting potential with the added movement speed, Bonus attack damage, and enough ability haste to make his cooldowns manageable.
Sorc shoes are the best boots for Corki because even though a lot of your scalings are more AD focused you're still dealing magic damage. These boots plus Void Staff(which we'll get to soon) will give good Magic Pen while still letting you build AD for the best combination of damage elements.
Manamune is one of the best items on Corki as a whole because he has massive mana issues up to late game and manamune is going to be a lot more useful for general stat gain and mana retention than Seraphs Embrace. You also get an added 15 ability haste that stacks nicely into late game. This item is a must buy if you plan on playing Corki.
Horizon Focus is amazing for Corki's AP item lineup because it gives some of the highest base AP from an item and the Horizon passive activates on Ultimate and on Package W. With a well placed Package W you will have added damage on the W burn and everyone hit by it takes bonus damage for 5 seconds. Meaning you have 5 seconds in that fight to blow people up or run them out of the area. When it comes to objectives being able to disrupt or even take control of dragons and barons is incredibly useful for late game.
Void Staff is the 2nd Magic Pen item and the best item for late game damage. Since you'll be building a lot of AD early on, people will be more obliged to get armor, but when you get to late game none of it matters as your entire kit deals magic damage and by the time they start getting MR you will have Void Staff and it'll be hard to catch up. The added AP damage also builds into your kit since you still have AP scalings. Finally, it's a great gold efficient item as it costs less than most late game AP items and will open up a lot of damage for you.
Figure if we're loading up on magic pen we might as well go with the other side of the coin. Seryldas Grudge is an incredible item on corki as his rockets can slow from distance and make it a lot easier to kite with him. Being able to kite easier is great as corki because your W costs 100 mana per cast and with how much you're gonna be spamming R and Q you can't really take that cost unless absolutely necessary.
Alternate Item - Wit's End
Wit's End is going to be an amazing item against AP comps because the attack speed. on-hit damage, and AD still give value to corkis kit and the build itself. It's also an efficient item for getting full build and can be abused early by itself because of it's on-hit uses. It hits well late game and is great for making mages and AP supports more manageable into the phase of the match where they begin to fall off.
Early Game is going to be your best time to build your gold and let your farming keep you ahead. Depending on the matchup you can change your playstyle to either scale up to mid game or force your opponent into tough trades early. Regardless it's best to get tear and get it stacked up as soon as possible.
Mid game will be a great time to start disrupting objectives and to start getting kills on the squishier champions if they try to over extend or force bad fights. At this point you should have fully stacked manamune or gotten close, and have Triforce. These items will keep you relevant for most of mid game but it's still important to keep your gold up so you can get to Void Staff before the enemy catches on to your game plan.
Late game will be spent farming in between fights, and then being an annoying ******* every dragon, baron, and teamfight. No matter if you're behind, ahead, or even, you'll be able to keep the enemies on their toes as long as you can place your Ws well. It's best to target the squishies and force them away from the beefier people that'll be easier for your team to beat down. Even if you dont directly hit anyone, the W trail left behind burns hard enough to keep them from walking through it blindly.
In Conclusion, this build can work as an aggressive roaming Corki or a scaling late game menace Corki. You'll always be good for disrupting objectives and setting up your teamates to clean up any champions that you hit with package. As long as you're good at hitting skillshots and placing your package well you will have success in fights and control.
[11.24b] Menace To LoL Corki