Teamfight Tactics Guide by Hust17
[9.15] TFT Build Guide - Wild/Sorc/Shape/Demon/Dragon
By Hust17 | Updated on

August 1, 2019
x
Did this guide help you? If so please give them a vote or leave a comment.
You can even win prizes by doing so!
I liked this Guide

I didn't like this Guide



Commenting is required to vote!

Thank You!
Your votes and comments encourage our guide authors to continue
creating helpful guides for the League of Legends community.
Teamfight Tactics Guide
***9.16: Waiting to see if Jayce can work in build, potentially for Elise. If it's possible Jayce can work into a full Shapeshifter/Sorc or Shapeshifter/Wild build I will make a separate guide.***

***9.15: Demon buff nerfed, Dragon buff nerfed, Shyvana nerfed, Morgana nerfed, Stattik Shiv nerfed(dropped from item build list).***

***This is TFT, you cannot write a guide that fulfills every game scenario. That said, I have had a lot of success actually searching and forcing this deck which is why I would like to share it.
There is a popular deck that is very similar to this but subs our Elise for a Lulu and adds a Veigar mid game in order to go for the Sorcerer6 buff in late game. In my opinion, the shapeshifter variant of the deck is safer, harder to counter, and stronger late game.
This deck was designed in 9.14 and remains very strong in 9.15 as of today. I will be adding more detail pertaining to drafts past the first round as well. Cheers!***

Early game when going for this build is all about patience.
Ahri is our carry until mid game and scales well, so priority will be getting her an item first if we can. Warwick is also a solid second option to put items on early game, and in my opinion Nidalee and then Elise should be lowest on your priority list to itemize as Nidalee falls off quite hard late game and Elise is mostly there for her kit.
Worst case scenario you cannot get Ahri until very late in early game or even into mid game. If this is the case all is not lost, you just need to hold onto some of your items in wait for our mid game carry. You can put up to two items on the Warwick if this is the case.

Best grabs on first draft in order of priority:
Ahri with Needlessly Large Rod, Recurve Bow, or Tear of the Goddess
Warwick with Tear of the Goddess, Chain Vest, or Giant's Belt

If none of your characters are available WITH THESE BUFFS, don't fret, choose an item over a character.

Best first items in order of priority:
Recurve Bow
Needlessly Large Rod
Tear of the Goddess
Chain Vest
Giant's Belt
Negatron Cloak

You will almost guaranteed be able to acquire 3/4 of these starters by the time you have 4 spaces available. Don't worry about losing your first round of battles, especially since patch 9.15 reduced early damage taken.
DO NOT rush to spend money on extra character slots. Once you hit Krugs then you can spend I believe it's 4g exactly for your extra slot.
It's alright to double up your characters early to save money and fill out your empty slot. Warwick does especially well early with the stacks of Wild attack speed.
Another good option to fill out your fifth slot early is adding a Varus or even a Lulu.
Just play slow and wait for your cards while building up your bonus gold to at least +3.


Elise
(Shapeshifter / Demon)

Nidalee
(Wild / Shapeshifter)

Mid Game - Wild/Shape/Demon

As you can see, this build has only 2 essential champions in the mid game, thus allowing you to save gold for our late game champions as well as maximizing our early game champion levels, specifically Ahri and Warwick.
Ideally we should have our bonus gold up to +5 by now and should not drop below it until late game.
At this point in the game we are desperately trying to acquire a Shyvana as soon as possible! She will be our mid game carry and carries her strength over to late game. Acquiring Shyvana will also give us the Shapeshifter buff on top of our lower level Wild buff. We will now be focussing on getting at least one full item on Shyvana as quickly as possible.
Our other priority in mid game is Morgana. Her kit is phenomenal and adding her to the roster will give us the Demon buff mana burn. Even though the Demon buff was nerfed in 9.15, it is still exceptionally strong in this build. You will notice that by mid game our battles are quite long so preventing the enemy champions from spamming their ultimates is essential to survival.

Active Buffs by Mid Game:
Wild2
Shapeshifter3
Demon2

Morgana
(Sorcerer / Demon)

Shyvana
(Shapeshifter / Dragon)

Late Game - Wild/Shape/Sorc/Demon/Dragon

Late game our #1 priority is GNAR! Getting Gnar into our lineup is a massive boost from the Wild4 buff for all teammates. He is one of the most powerful late game champions in the game with a kit that fits perfectly into our build.
Second priority but not to be forgotten is Aurelian Sol. He is very important in getting our Ahri carry a damage spike, while also providing the Dragon buff for our other carry, Shyvana.
Honestly, by this point your team is full and you should be looking to maximize your card levels and get the most beneficial items onto your highest level/best carry champions. Swain is a fantastic add here but not entirely necessary. If you have the cards coming to you, and you have the gold banked up by the time there are only a few players left in the game, then you can look to pop to level 9 to add Swain. The only other possibility of adding Swain for cheap is to get an extra character slot from a double spatula item. This isn't a bad choice at all.
However, that said, grind Gnar and A Sol to level 2 as quickly as possible and itemize Gnar for your late game carry.

Active Buffs by Late Game:
Wild4
Shapeshifter3
Sorcerer3
Dragon2
Demon2

Gnar
(Wild / Shapeshifter / Yordle)

Aurelion Sol
(Sorcerer / Dragon)

Swain
(Shapeshifter / Demon / Imperia)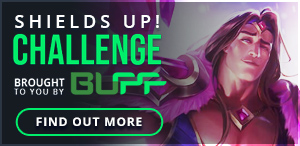 [9.15] TFT Build Guide - Wild/Sorc/Shape/Demon/Dragon