Skarner Build Guide by metalhydra273

Challenger Skarner Guide Updated for Season 12, My Way
x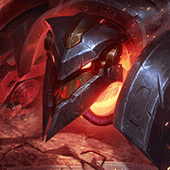 Did this guide help you? If so please give them a vote or leave a comment.
You can even win prizes by doing so!
I liked this Guide

I didn't like this Guide



Commenting is required to vote!

Thank You!
Your votes and comments encourage our guide authors to continue
creating helpful guides for the League of Legends community.
Runes:
Gotta go fast
Domination
Predator
Cheap Shot
Eyeball Collection
Relentless Hunter
Sorcery
Nimbus Cloak
Celerity
Bonus:
+10% Attack Speed
+9 Adaptive (5.4 AD or 9 AP)
+15-140 HP (lvls 1-18)

Spells:
Flash
Chilling Smite
Flash
Ability Order
Ability Order
Threats & Synergies
Threats
Synergies
Extreme
Major
Even
Minor
Tiny
Show All
Extreme Threats
Ideal Synergies
Olaf
Even when not meta, Olaf is the hardest counter to Skarner directly by far. His ult and the threat of it mitigats anything you have to offer and he stomps you 1v1. If you face him hope you have a team that can deal with him as he falls off late. If you manage to wait out his ult or if he wastes it, he should have a hard time if you pick him off with your own ult, but you're usually better off just searching for other targets unless it's a prime situation and you know it's down. Watch out for possible invades throughout the game, and try to keep him from getting the early need he wants to 1v9 the game.
Thresh
Thresh provides a lot of cc to back you up, but what highlights him is the combo potential with his lantern, as you can grab it while ulting. If you have a friend who plays thresh, try it out, it's a lot of fun and can make for some awesome picks.
Synergies
Thresh
Thresh provides a lot of cc to back you up, but what highlights him is the combo potential with his lantern, as you can grab it while ulting. If you have a friend who plays thresh, try it out, it's a lot of fun and can make for some awesome picks.
Build Disclaimer (Isn't chemtank just better?)
The way I've structured my build is meant to make the best of all worlds. While it's lackluster from behind when you're lacking gold, this build scales well and should function as long as your relatively even. The sheen mythics give you a reasonable amount of damage and burst potential, while the rest of my build is tailored to survivability. The stats and passives from them are all made to good use by Skarner, aside from the catch potential given by chemtank. To make up for this, Predator is used to open up room for a different mythic. With its recent buff, your speed comes out immediately and can result in quick turns and chase downs. My build offers solid damage, great chase with Predator and Deadman's, and survivability and potentially additional damage with my remaining flex item options.
Red -> Raptors -> Krugs -> Back -> Blue -> Scuttle -> Gromp -> Wolves
I use a strategy that sacrifices a bit of full clear time in order to pick up predator boots early. Starting Red and pathing to Krugs opens a window where I can perform a level 3 gank immediately after (more relevant on red side than blue side, but possible on both) if the enemy is pushing in early. If you decide to gank, be aware of the potential timing the enemy jungler has to take away your camps, especially if it fails. Try to make a good judgement of where they are and their ability to invade, as well as the success rate and importance of the gank. If your top laner is weak side, like a tank for example, it's probably not worth ganking unless it's completely free. After backing for predator boots, go to blue and secure scuttle crab afterwards. At level one, I always try to encourage my team to take the spire opposite of where I'm starting, as spire on the side I start is riskier to walk in to and not something I'm going to be utilizing early unless I can go from Red to enemy Blue, while the other spire being captured allows me room to secure the scuttle crab without wasting time capturing it and dissuading the enemy from walking into my territory. If there is no available gank after scuttle crab, resume back to a full clear, as by the time you finish wolves your red side camps will be back up.
You pick Skarner for the usefulness of his ult and space pressure. You want to force the enemy to respect you or suffer the consequences. Look for openings and mispositions by the enemy. Skarner is one of, if not, the best champion in the game at punishing individual mistakes. Especially if you have flash, know your timing to go in, or follow up on your team's own engage by locking down the enemy's most dangerous member. Ulting is very situational and requires game awareness my words alone can't teach you. The more you play, the better understanding of when and where to ult you'll have. When you don't have ult or have already used it, your role in teamfights is to make the best of your e and maximize your lock down potential. Skarner wants to make opportunities for his own teammates and is generally not very useful outside of that role, so you will be looking for a hit and run style of play as face tanking isn't a strong point of playing the champion. If you've played udyr before it's pretty similar: run in, use your cc and stuns, back off when finished and play with your team.
Skarner's spire give him a lot of pressure for your team to play around. The threat of your ult makes it difficult for the enemy team to jump in on your if they don't have planned counter measures. As a result, you should be looking to force the enemy to come in by getting to objectives first. If you don't, then you'll have to find a way to make a hole yourself; however, not every enemy team comp will give you that opportunity. Consider the win-con of the game and how important objectives are to your team and how your team can play around them. Skarner's spires help him do objectives relatively quickly, so keep good tracking and look to stack dragons early if your team gives you the prio to do so.
QSS and spellshield items provide a failsafe for the enemy that prevents you from ulting them raw. Spellshields can be dealt with by your e or a ranged spell from your team assuming you can't get close enough to pop it with q, but from there on you play it as normal. For QSS specifically, if you must ult someone who has the item, always make sure you have them marked with e first. This means that if you ult them you can guarantee a stun regardless. While it's annoying you can no longer rely on just the flash-ult combo, you can use e to force them to eat some cc, and this can and will make the difference in some of the games you play.
I began playing League of Legends in March, 2013 and eventually found my main in Skarner about midway through the year. Outside of a hiatus in 2014, I've been playing Skarner ever since, having played all 3 iterations of Skarner with his reworks. Through the years I have slowly climbed through the ranks before hitting a breakthrough in 2018. Eventually I just got good enough to reach Master, and I even hit Challenger that year before falling off after only lasting a few days there. Since then, I've finish Grandmaster in the last 2 years and was looking to do so again until having a great month in October and being in position to maybe make a run for Challenger in the final week. about 200 lp later, and I managed to finish Challenger for the first time ever. I'm currently a manager/coach for my college's team, and I feel like a lot of what I've learned in the past few years can be attributed with my involvement in our program, as a lot of what I learned prior was from pure experience, and only now am I picking up on the truly advanced level of thinking that's helped me get to where I am today. It's been a long journey in the near 9 years I've played and yet, the journey is just beginning. With Skarner's announced rework I'm currently on a timer to really put myself out there, so I'm hoping to take advantage of reaching Challenger by taking streaming more seriously this summer. For this stopgap, I have updated the guide for Season 12 and have begun grinding throughout most of June, and potentially sparingly throughout the remainder of the year, so if you're interested in watching me get to work, you can find me on twitch at
https://www.twitch.tv/metalhydra273.
WIth all that said, I'd like to thank each and every one of you for supporting me both before and now by reading this guide. You can also thank fellow Skarner enthusiast Merthos for creating the banners for me. Thanks for reading!