Twitch Build Guide by Giulio Tripi

[NEW META BREAKING STRAT] NO MYTHIC BUILD INSANE EASY TO CLIMB WITH! (13.6)
x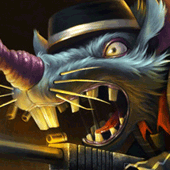 Did this guide help you? If so please give them a vote or leave a comment.
You can even win prizes by doing so!
I liked this Guide

I didn't like this Guide



Commenting is required to vote!

Thank You!
Your votes and comments encourage our guide authors to continue
creating helpful guides for the League of Legends community.
Recommended Items
Runes:
Runes
Precision
Lethal Tempo
Triumph
Legend: Alacrity
Coup de Grace
Domination
Eyeball Collection
Ultimate Hunter
Bonus:
+10% Attack Speed
+9 Adaptive (5.4 AD or 9 AP)
+15-140 HP (lvls 1-18)

Spells:
REQUIRED SPELLS
Cleanse
Flash
Items
Standard full build example
Threats & Synergies
Threats
Synergies
Extreme
Major
Even
Minor
Tiny
Show All
Extreme Threats
Ideal Synergies
Rengar
Milio
Synergies
Milio
Champion Build Guide
Are you bored to not get kills, being under tower for 40 minutes and lose cause of your team? is Adc life too hard? Your midlane is 0/10/0? Your jungler is not helping you and the support is very bad? no problem my friend. The build is meant to reach the power-spike of your character earlier than your opponent, playing following this guide, you will notice that your opponent will be always focussed on finishing his first item,
the elusive scam Mythic Items

Galeforce

Immortal Shieldbow

Kraken Slayer
while you already done 3 items. All this cause you will rush as your first item

The Collector
. Throw in the trashbin all those guides reccomending you to build mythic, to waste precious money and minutes, flat, boring, slow gameplay. Pro players plays with pros, and they are boring, you not, so its useless to follow the challenger guide meant to play with challenger players. Below GM you must adapt, you are alone, and this guide, is higly reccomended if you want to have fun and also climb very high.
Your first objective in the game is to build

Serrated Dirk
every single game you must start with

Long Sword
.

Serrated Dirk
will give you the first damage boost in early, you must play very aggressive, poke costantly with your E

Contaminate
but do not neglect farming. You must reach your first real power-spike

The Collector
once this item is done, doesn't matter if you are under levels, when you coming back in the lane, try to pick a secure kill going invisible with your Q

Ambush
and R

Spray and Pray
you must target the most killable one, so avoid tanks, you can also try to dive. If everything went right now you must have

Berserker's Greaves
and

Phantom Dancer
if you have those items, you want to kill your opponents in lane and instant push the lane, crashing the wave to enemy tower, to try picking good kills in MID or TOP following your jungler or even alone if you are well-minded. Like that you are winning the Botlane, the jungle, the mid and even the top if you feel incredible to go so far. At this point you have

Infinity Edge
here you are, we can say, full build. You must end the game. Next item is

Lord Dominik's Regards
as it is a tank meta likely and last but not least

Anathema's Chains
this last item is an optional, if in the enemy team there is the typical insane smurf oneshotting you or annoying you a lot, use the active of this item on him and he become a very aggressive super minion. If in the enemy team there is too many shields and the enemy adc is so scared and boring to build

Immortal Shieldbow
you can change

Anathema's Chains
with

Serpent's Fang
if they heals too much and nobody is building anti heal you must change

Lord Dominik's Regards
with

Mortal Reminder
in very extreme circumstances.
Toxic behaviour and the untrust of your teammates
Ah yes, i see...Your teammates won't be happy to see you building this, they will spam ping your "The Collector" as first item, what to do then? mute them. They have no clue, their only study title was the league of legends tutorial, how can you explain the fruits of years and years of hard study in every single existing elo, you can only shut their mouth by carrying them, and anyway they will tell you the original scam build is better, they have pieces of salami on top of their eyes my friend, don't waste your time with them. The funniest guy i ever met, was a D3 (he felt forced to expose himself to me like that the Professor D3) talking to me about math, and he already lost the argument, if he is talking about math in league of legends, this game with math has nothing to do, there is too many RNG factors, we are not in CHESS. Trust this guide, trust the religion of The Collector.
Let's start from the bad things

- You are not an Adc, you are a ranged assassin on steroids, so different playstyle and get used to it.
- Your teammates will look at your build like you are trolling.
- If you play slow you won't get the full power of this build, but anyway a good late.
- You get every kills, so dont die to anyone or you giving 1k gold (potential comeback for enemy)
- Your GODLY match history will bring the enemy team playing around you.
But now let's talk about the good stuff

- Surprise effect, the E damage full stack with this build is too insane in early, nobody can expect that.
- No one is running away with 1hp so you don't cry and wil never get frustrated.
- You are getting every kills, every single kill is yours, can be good or bad, depends on you Xd
- KDA booster, even if you lose, you end up with positive winrate, so you can flex out with your friends that you played good anyway and lost cause of your team.
- Super original.
- You have fun.
- You can comeback very hard games without the need to farm for 50 minutes.
- You are part of a religion and spreading the name to the land.
- High chance to pick up good kills in early and late.
- Very insane early to very good late game, always efficient since the start to the end.
- No waste time, every single gold is spent efficiently to get the fastest powerspike.
- You are the real carry of the game, the main character, the real MVP.
- You don't depend on your support or jungler. Duo or Solo, you are and will be always good.
- Enemies will never be prepared for this build.
- Very hard to counter even from the hardest counters of this champion.
Thoughts about the traditional build
Ok let's talk about this trash build that i played more than 1000k times and never gave me satisfactions..Trust me, i know about what i am talking.
First back you start
Noonqueever
and already, if you tried the

Serrated Dirk
you feel something wrong with the damage. Yes, you have more attack speed, and? Your E does no damage, you don't have lethality, and to kill people you must be letal, i think it makes sense. Then, you can't do damage so you focus on farm, cause thanks to the
Noonqueever
you deal more damage to minions, but yea, exactly, in this moment your mid is losing, your jungler is gapped, and your top is bad, your support is not helping you, here you can do only one thing focus on farm till 15 and your team will surrend. You need way too much time to build those dumb mythic items, you can't waste time. And when you have them? if you are behind the enemy Adc have already the mythic and even more stuff, you will never compare to him, in any single point of the match. You only need luck or just lose in those situations.

Galeforce
feels like it deals no damage, and the thing that gives you an extra dash makes you feel like someone who is really scared, it will afflict your mental very bad even in real life in my opinion.

Immortal Shieldbow
you must feel so depressed after building this one, i mean, why would you play a game to escape reality for some hours if you end up building this thing.

Kraken Slayer
you think you dealing damage, while you are just wasting time, you want to be in game for 70 minutes and have boring times with your team that want only to ff, only attack damage if you have attack speed, people can always run away with 1hp, no guaranteed takedowns, not efficient damage, wasting time, bored, giving you the feel that adc can't carry a game, cause you are too late. All smoke, no fire.
At the end, going traditional it will makes you think that its impossible to have fun as adc and its impossible to carry a game as adc, that adc role is depending too much from the team and very slow role.
SUPER DISCLAIMER
i am talking to normal players like me below GM, no proplayers with insane adc knowledge and mechanics. This guide is dedicated to all the people who would search for a guide on the internet, and have no time to spend hours and hours on a single game or just to practice one thing.
need more time to add more stuff
Giulio Tripi
Twitch Guide
[NEW META BREAKING STRAT] NO MYTHIC BUILD INSANE EASY TO CLIMB WITH! (13.6)