Not Updated For Current Season
This guide has not yet been updated for the current season. Please keep this in mind while reading. You can see the most recently updated guides on the browse guides page
x
x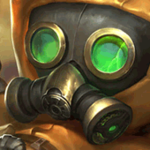 Did this guide help you? If so please give them a vote or leave a comment.
You can even win prizes by doing so!
I liked this Guide

I didn't like this Guide



Commenting is required to vote!

Thank You!
Your votes and comments encourage our guide authors to continue
creating helpful guides for the League of Legends community.
At first glance you might think this is some kind of troll post but you would be wrong, I wouldn't spend weeks creating these tutorial videos to share it with you, if it didn't work. Just because no-one has thought of this before doesn't mean it doesn't work, and oh boy, does this work! :)
After you have watched those videos, and started to play him, you will be saying "Holy **** this is for real!" and yes it is. Your enemy top will have no idea of how to beat you.
This is a full tutorial video on how to play him top.
And this video shows highlights from normal games so you see what he can do, it might help you pick up some tips.
More plays from Heimer Top