This build has been archived and is for historical display only
This build has been archived by the author. They are no longer supporting nor updating this build and it may have become outdated. As such, voting and commenting have been disabled and it no longer appears in regular search results.
We recommend you take a look at this author's other builds.
x
Not Updated For Current Season
This guide has not yet been updated for the current season. Please keep this in mind while reading. You can see the most recently updated guides on the browse guides page
x
Zac Build Guide by TrainerPasty

Zac Jungle Guide (10.20)
x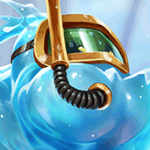 Did this guide help you? If so please give them a vote or leave a comment.
You can even win prizes by doing so!
I liked this Guide

I didn't like this Guide



Commenting is required to vote!

Thank You!
Your votes and comments encourage our guide authors to continue
creating helpful guides for the League of Legends community.
Runes:
Normal Rune Page
Resolve
Aftershock
Font of Life
Conditioning
Revitalize
Inspiration
Magical Footwear
Cosmic Insight
Bonus:
+8 ability haste
+6 Armor
+15-140 HP (lvls 1-18)

Spells:
Normal Summoner Spells
Flash
Smite
Ability Order
Normal Ability Upgrade Path
Cell Division
(PASSIVE)
Zac Passive Ability
Threats & Synergies
Threats
Synergies
Extreme
Major
Even
Minor
Tiny
Show All
Extreme Threats
Ideal Synergies
Vayne
Vayne condemn knocks you out of your e, absolutely disgusting. She can also roll away and peel for her self so you can't even properly engage. She also builds BotRK which shreds through Zac.
Katarina
Katarina dishes out all the damage that Zac lacks while Zac tanks everything (including the CC) as well as dishing out loads of CC himself. Perfect combination and excellent as duo queue picks.
Synergies
Katarina
Katarina dishes out all the damage that Zac lacks while Zac tanks everything (including the CC) as well as dishing out loads of CC himself. Perfect combination and excellent as duo queue picks.
Champion Build Guide
Versatility
Zac is a pretty solid tank jungler, offering loads of CC while still outputing quite a bit of damage for a tank. Having said this, he is still really weak damage wise, unable to be the team's main source of damage. Consider Evelynn or Kayn if you're looking to carry games.
Carry Potential
I already touched base on this right above, but Zac has little to no carry potential. If you're 11-1 but you have no fed laner that can deal damage, the game may as well be over. If all you do is complain about how you gank a lot low elo, steal drakes and cs a ton and you're still not climbing but you need to realize you're playing Zac and you may need to rethink your champ pool.
Is There A Better Champ?
I talked about this already, if you need damage then don't pick Zac. If you need AD, don't pick Zac. If the enemy is full AD and you're last pick, pick Rammus or Malphite instead. Zac is really good if you're duoing or just need a tanky jungler if your team already has enough damage.
My Personal Clear
So you've locked in Zac, now you need to know your clear. I always start botside. Regardless of the fact that you start talisman and Zac does AOE damage, you'll always be fine with clearing regardless of where you start. A leash from the ADC and Support means less time spent on that buff and more time on the rest of your clear, hence the tendency to start botside. You will also want to try and start on the opposite side of the enemy jungler. You can never, and I mean NEVER, fight the enemy jungler. Zac is a late game scaling champ that isn't tanky early and doesn't do enough damage. If you end up having to end up fighting over Scuttle while neither you nor the enemy team has laners available to rotate, you might as well back off.
Having said all of this, hear is my clear:
(Blue Start)
1. Blue
2. Gromp
3. Wolves
4. Raptors
5. Red Buff
6. Scuttle(before enemy jungler double scuttles you)
7. Krugs and/or reset
Red Start:
1. Red
2. Krugs
3. Raptors
4. Wolves (or do Blue and Gromp at the same time by hitting the blue, dragging it and using your Q on the Gromp to smack the blue buff, bringing them together and doing both at once, this is extremely risky as an invade can cause you to lose both camps and be double scuttled, also you'll be low by the time you head to river if you do this)
5. Scuttle
6. Blue + Gromp (or wolves if you chose the second option for Step 4).
2. Know the Enemy Champions
The most valuable part of being a jungler if simply knowing what the enemy champions do. If you're trying to gank Kassadin pre-6 you know he has no way to get out besides a flash and if you try to gank him post-6, wait for him to be OOM or have at least used his R right before you gank. This is extremely crucial to determine whether or not you can gank a lane at the current time.
2. Know Your Team's Champions
Just as important as the first step, you don't want to gank your Kassadin before he can even do damage. How is he going to follow up with your gank when neither of you do damage and all he can do is silence the enemy and proc electrocute assuming he even brought that. If the laner has really good CC like twisted fate Gold Card or Pantheon's point and click stun, consider ganking their lanes.
Watch the Waves
If you see that the enemy wave is pushing into your teammates turret, you can definitely consider ganking their lane. They're bound to walk up to avoid missing XP, gold or to try and crash their wave under turret. If you see that you're teammates wave is pushing into the opponent, avoid ganking since the enemy knows they can play safe while the wave comes safely to them.
Consider the Consequences
Zac's passive is really strong and can lead to a lot of ganks turning out to be a positive trade in your team's favor. Remember that his passive can lead into a TP from top lane onto one of your blobs or the saving of a teammate for the expense of your passive. Furthermore, take this into account when looking to tower dive. You have a lot of CC and can tank turret for a long while and still have your passive up. If you see the enemy midlaner is really low and Ekko has R while you have passive, you can look to dive.
Power Spikes
Zac spikes (using my build) at Cinderhulk, Warmogs and Spirit Visage. At this point he has peaked, having gotten the benefits of Conditioning and the passive from Warmogs as well as the passive from Spirit Visage. Officially becoming the tankiest champion in the game at that point.
Once you hit level 9, you'll also hit another spike, your E should now be maxed and you can gank from crazy angles. You also have blue smite and your R, granting you an almost guaranteed kill for any lane you gank.
Invades
Zac is really weak, unless it's an ivern. don't even think about trying to invade them or fighting over your own camps without lane prio. You're a late game scaling jungler, however, having said this, you can still counter jungle. You take raptors really fast, comparable to that of Kayn, but greeding for Blue and Gromp can lead to your demise if the jungler shows up.
No Leash
Zac can start leashless, if he starts bot he can go raptors or solo red into the next camp. Assuming he does Red, he should be able to be level 3 off of his 3 camps bot (krugs, raptor and buff) and finish his wolves right before scuttle spawns. After you take the scuttle you can head back to your jungle and do gromp + blue at the same time.