This build has been archived and is for historical display only
This build has been archived by the author. They are no longer supporting nor updating this build and it may have become outdated. As such, voting and commenting have been disabled and it no longer appears in regular search results.
We recommend you take a look at this author's other builds.
x
Not Updated For Current Season
This guide has not yet been updated for the current season. Please keep this in mind while reading. You can see the most recently updated guides on the browse guides page
x
Rengar Build Guide by Loevely

(10.3) In-Depth Rengar Top Guide
x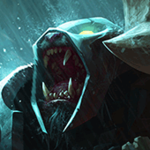 Did this guide help you? If so please give them a vote or leave a comment.
You can even win prizes by doing so!
I liked this Guide

I didn't like this Guide



Commenting is required to vote!

Thank You!
Your votes and comments encourage our guide authors to continue
creating helpful guides for the League of Legends community.
Recommended Items
Runes:
Grasp
Resolve
Grasp of the Undying
Demolish
Second Wind
Revitalize
Inspiration
Future's Market
Cosmic Insight
Bonus:
+10% Attack Speed
+9 Adaptive (5.4 AD or 9 AP)
+6 Armor

Spells:
TP/Flash
Flash
Teleport
Items
Starting items
Blade Start
Shield Start
Builds
Ability Order
Standard
Unseen Predator
(PASSIVE)
Rengar Passive Ability
Threats & Synergies
Threats
Synergies
Extreme
Major
Even
Minor
Tiny
Show All
Extreme Threats
Ideal Synergies
Darius
Can I go past extreme? Darius is the single worst matchup for Rengar. It's a matchup that can only be won through lots of jungle attention and fuck ups by the Darius. If you find yourself playing against a Darius, go Grasp and max W and pray he sucks and doesn't start W.
Ivern
This champion was made for Rengar. The access he gives you to bushes makes you a threat just about anywhere on the map. The shield and its slow make for easy kills at all stages of the game.
Synergies
Ivern
This champion was made for Rengar. The access he gives you to bushes makes you a threat just about anywhere on the map. The shield and its slow make for easy kills at all stages of the game.
Champion Build Guide
Hello there! My name is Lovely and I have been mainly a Rengar One-Trick since roughly season 3. I've been consistently Diamond with a D1 peak. I decided to make this guide as a way to both help newcomers learn to play Rengar top since I consider Rengar top much more skillful and enjoyable than most people give it credit for.

This will be strictly a Rengar Top guide since that is where I play him primarily.

If you have any specific questions you want to ask or if you would like to go over vods together sometime, msg me on discord! Orion#1314

Oneshot Combo
We'll start off with a fan favorite, the oneshot. Everyone loves doing this combo and it's one of the things most people want to learn first. The notations go like this:
Q -> Leap -> E -> Tiamat -> W -> Emp Q (Tiamat and W should be done as you're landing)
Oneshot Combo Version 2
Q -> Leap -> E -> Tiamat -> W -> Emp W (More DPS but less overall damage)
E
Flash

and Leap E

Flash

Rengar's E normally has a small cast time that can be bypassed by the use of

Flash

. Here's a video demonstrating the Leap - E -

Flash

.
R TP and TP leap
If Rengar casts teleport while in bush, he will then be able to instantly leap after the TP is completed. You can also R before you TP giving you the ability to TP in stealh.
Ward Jumps and Double Jump
Since I made all the videos in practice tool, I don't jump to wards; instead I jump onto training dummies, just fyi. So yeah, Rengar can jump to wards and reset his AA timer which allows him to essentially double jump. The idea behind it is that you use your Q to reset your auto after landing. In the video you'll see the a few variations: No Q, Q right before landing, and then the right way to do it.
Ferocity Managment
Arguably THE single most important aspect of Rengars kit. Ferocity managment is what seperates the good Rengar players from the greats. No videos here only bulletpoints.
Break plants in order to keep your ferocity up for as long as possible
When your ferocity is about to run out, use your empowered Q to gain movespeed as well as to be prepared for potential fights
If you are at 3 ferocity and it's about to run out, use either Q or E to extend the duration by a very small amount
Maximizing damage on turrets
The standard and most efficient way in which Rengar takes down turrets is simply by hitting them and reseting AA's with Q when on CD. However, Rengar is able to apply his Q damage on turrents through the use of bushes and his ult(this also works with Ivern bushes!).
Blast Cone Cancels
Normally when Rengar leaps to Blast Cones he is sent right back. Through the use of Flash, however, he is able to simply flash over it, nullifying the blast as well as putting him in a favorable position.
Jungle Camp Jumps
A number of videos that showcase different jumps. Will continue to add other jumps with later updates, need sleep.
Concealed Snare
This is some tech that I came up with randomly in practice tool. It isn't something game breaking, but it's definitely something that could be benefitial in certain situations. Doing this trick will allow you to bypass the E cast time while also putting you right on top of the enemy.
Maximizing empowered Q DPS
There are three ways in which you can use your empowered Q out of bush in order to deal damage. The most common being Leap - AA - Emp Q. The truth is, however, that there are 2 other ways in which you can use your empowered Q do deal the max amount of damage as fast as possible.
Leap -> AA -> Emp Q (avg DPS = 466, no stack)
Leap -> Emp Q mid leap -> AA (avg DPS = 507, no stack)
Emp Q -> leap -> AA (avg DPS = 354, gives stack)

No skin was created equal in League of Legends and the same could be said for every Rengar skin. At the end of the day, this is all personal preference, but I think I'm still right

The list goes left to right with Headhunter being the best and SSW the worst. But why is it like this?
Headhunter is a no-brainer. It's a gorgeous skin with simple, yet effective particles with subtle sound effects, and an awesome theme. The skin is also silky smooth in its gameplay making it feel better than most of the other skins. And for a price of 975RP, it's definitely worth the purchase.
Pretty Kity Rengar is the newest addition to the Rengar skin line and has quickly become my second favorite skin. It feels great to play with it, has a sick theme, and great VFX and SFX to boot. Only reason I place it under Headhunter is because I like the Headhunter theme more.
Base Rengar is great. It's not flashy like the other skins but is silky smooth similar to Headhunter and Pretty Kity.
Nighthunter was Rengar's second skin and is a somewhat popular skin among the fans. The problem with this skin, however, is that the particles are somewhat bugged. The Q trail particles sometimes don't work, the ult camo color doesn't work, and the actual Q stab feels weird. Once all these issues are fixed, it could be a much better skin.
Mecha Rengar is an expensive skin that lacks in a few things the skins above him don't. The skin feels clunkier than all the skins above it due to his different Q animation, the particles and effects are arguably worse than those of Pretty kitty or Headhunter, and his overall design just looks unnecesseraly bulky.
SSW Rengar is dog****. Do not buy this skin. It's ugly. It's just an uglier base Rengar so why would you pick it over that ever?
If you've gotten this far I'd like to say thank you for reading my guide. I do plan on updating in the very near future as well as updating it every patch.

If you have any specific questions you want to ask or if you would like to go over vods together sometime, msg me on discord! Orion#1314

I hope you found it useful and insightful! Til' next time.

[20/08/2019] Guide is made
[04/12/2019] Preseason update! Matchups updated slightly to reflect changes to the game. Items and runes similarly updated. Item tab added with more information on situational items.
[12/01/2020] HUGE item update. Thank you for 100k views, I hope to continue updating this guide as best I can moving forward.
[13/01/2020] A few new synergies added.
[25/01/2020] Sett matchup added. Would go more in-depth on it, but I have not played vs enough Setts to offer more than what I've written so far.