This build has been archived and is for historical display only
This build has been archived by the author. They are no longer supporting nor updating this build and it may have become outdated. As such, voting and commenting have been disabled and it no longer appears in regular search results.
We recommend you take a look at this author's other builds.
x
Not Updated For Current Season
This guide has not yet been updated for the current season. Please keep this in mind while reading. You can see the most recently updated guides on the browse guides page
x
Illaoi Build Guide by ThatTaylorGuy

[10.9] Blessed is Motion - THE In Depth Illaoi Guide (updati
x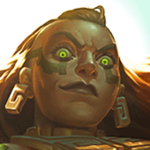 Did this guide help you? If so please give them a vote or leave a comment.
You can even win prizes by doing so!
I liked this Guide

I didn't like this Guide



Commenting is required to vote!

Thank You!
Your votes and comments encourage our guide authors to continue
creating helpful guides for the League of Legends community.
Runes:
Precision
Conqueror
Triumph
Legend: Tenacity
Last Stand
Domination
Taste of Blood
Ravenous Hunter
Bonus:
+9 Adaptive (5.4 AD or 9 AP)
+9 Adaptive (5.4 AD or 9 AP)
+6 Armor

Spells:
Flash
Teleport
Ability Order
Prophet of an Elder God
(PASSIVE)
Illaoi Passive Ability
Threats & Synergies
Threats
Synergies
Extreme
Major
Even
Minor
Tiny
Show All
Extreme Threats
Ideal Synergies
Tryndamere
Tryndamere WILL do Tryndamere things to you. Pray...or ban. Probably ban.
Synergies
Champion Build Guide
Hello there! I'm ThatTaylorGuy and welcome to my Illaoi guide! Whether you're new to Illaoi or experienced and curious as to what she's capable of, you're in the right place.
I stream regularly on
Youtube
and make videos for the
YouTubes
so be sure to check those out if you'd like more of what I do!
Generally speaking I feel that

Illaoi
s pros outweigh her cons pretty substantially. Most if not all cons can be minimized by playing smart and having your team help out. There will be times that you feel all the cons against bad match-ups, but usually they can be mitigated.
Honorable Mentions:

Ignite
isn't awful and you could definitely run it if you're so inclined. It gives some early-game kill pressure but puts you in a not so great position when it comes to gank plays.

Prophet of an Elder God
periodically spawns tentacles on impassible terrain. Knowing how to fight around your tentacles is essential to playing

Illaoi
well. It starts with a 20 second cooldown in between tentacle spawns (reducing by 1 second every 2 levels) with a 12 second cooldown at level 17.

Tentacle Smash
is our main source of damage, poke and sustain. It has serious lane clear potential and substantial sustain potential when paired with a

Death's Dance
. By the time you get your first completed item you'll be able to nearly 1 shot the wave if you aim

Tentacle Smash
properly.

Harsh Lesson
is the lifeblood of

Illaoi
's damage. If you can't use it properly you'll deal considerably less damage than you should be capable of. It changes your next auto-attack to a short leap, makes your tentacles slam on the target area
and
is an auto-attack reset. It's important. Super important. Also it procs

Kleptomancy
. In 9.13 a minimum damage tag was added to the skill as well as making said bonus damage work against towers. If you're taking towers
always
make sure to cancel your autoattack animation with this, it increases your damage per second.

Test of Spirit
is a neat little ability that really lets you annoy your opponent. It's a skill shot so it takes a bit of practice to hit consistently, but once you get the hang of it you'll have fantastic harass potential. You can also proc

Kleptomancy
by attacking the spirit.
Another nifty part of this skill is that if you kill the spirit
or
the player whose spirit was ripped out moves too far away from their spirit they're slowed and become a Vessel. Vessels spawn a tentacle near itself every 5 (4 at level 7, 3 at level 13) seconds that automatically attack the closest Vessel/spirit every 5 to 3 seconds (based on level). This means that if you land a

Test of Spirit
and kill the spirit or the enemy runs away they'll spawn multiple tentacles along their path that they have to either kill or dodge. It's just another thing for them to worry about so you can focus on CSing or harassing your opponent.
Another thing to note with

Test of Spirit
is that the spirit created counts as an additional champion present for

Leap of Faith
. Before going all-in on an opponent try to hit a

Test of Spirit
beforehand then ult with both the enemy champion
and
the spirit it creates in range as it will net you an additional tentacle.

Leap of Faith
is an incredibly powerful ultimate. It allows us to punish anyone that doubts our damage output 1v1 as well as put out some insane damage in group fights if the enemy team doesn't deal with you. It also reduces the cooldown of

Harsh Lesson
from 4 seconds to 2 seconds
and
reduces the attack speed of spawned tentacles by 50%.
Early game on

Illaoi
is largely dictated by your opponent(s) but there's a few things that regardless of matchup you should be doing.
Last Hitting:
This is probably the most obvious thing to do. If you don't last hit the minions you don't get gold, it's as simple as that. The more you play

Illaoi
the more you'll get used to her early game damage which will make it easier for you to gauge when to attack to finish off a minion.
Punishing:

Illaoi
has fantastic early game punish in the form of

Tentacle Smash
and

Test of Spirit
. If your lane opponent is running up to last hit a minion lay a

Tentacle Smash
over the minion. They'll have to either take damage to get the cs
or
back off and lose gold.

Test of Spirit
is a bit more tricky to land simply because it's a skillshot that is blocked off by enemy minions, so you'll need an open lane to land it.
Because of

Illaoi
s early game AoE clear you can also punish your opponent by clearing the wave quickly. This forces your opponent to back up toward their tower and wait for their next minion wave to tank damage for them. If your minions get shoved under the opposing tower your opponent may miss some last hits costing them gold. At that point you should consider backing and buying an item or two while the wave resets in the middle. Early game dominance is mostly wave management so I suggest you read some guides dedicated specifically to explaining the art.
The biggest issue with shoving into tower is that you open yourself up to a gank. If the jungler sees what you're doing and is in the area you'll likely be punished yourself. To combat this we have wards.
Warding:
Early warding is a big deal, it can be the difference between seeing a gank coming from a mile away and getting first blood'ed.
There are more situational spots to ward but these are what I consider the most important during early game. The less you die the better off you'll be so avoid those ganks and get some vision down often!
Splitpushing:

Illaoi
is a fantastic splitpusher and unless your team is grouped up to fight or take/contest baron/dragon you'll likely be doing this. Splitpushing forces the enemy team to deal with the mass of minions descending upon their towers. If they leave them be they can take a tower on their own and push themselves all the way into their base.
Team Fights:
In team fights you'll likely be fishing for hits with

Test of Spirit
and

Tentacle Smash
for the most part. Until your team actually engages (hopefully your team has a champion that can initiate well like

Malphite
) you should be cautious. The last thing you want to do is get caught by enemy CC and bursted down before the actual team fighting begins.
Once it's begun you'll want to try to hit someone with

Test of Spirit
, cast

Leap of Faith
on both the spirit and anyone else in range. The more people you hit with

Leap of Faith
the more tentacles you spawn and the more of a threat you are. From there you'll want to try to burst down any squishy targets that are close enough to hit with

Tentacle Smash
or

Harsh Lesson
, the latter will have a 2 second cooldown during the duration of

Leap of Faith
so that will be your spam skill. If all goes well squishies will be decimated in a split second and you and your team can clean up and go take objectives.
This section is a work in progress so check back and chances are you'll see new entries. It takes a bit of time!
All in all I love

Illaoi
. Her kit is incredibly intuitive and fun to make use of while still being challenging enough to get that good feeling when you land a slick combination on an unsuspecting opponent. I hope that you enjoyed my guide and that you learned a thing or two about

Illaoi
.
Be sure to follow me on
Youtube Live
, subscribe to my
YouTube channel
and even follow me on
Twitter
if you'd like. I'd sure appreciate it.
Change Log:
12/5/2018 - Wow, I've been slacking. Klepto buffs, core item changes, added some items, removed alternate builds as Klepto buff was too good to not play with
6/25/2018 - Holy **** you guys are all awesome thank you for the support :)
4/23/2018 - Lane Phase, Late Game, Conclusion written
4/21/2018 - Items section written
4/20/2018 - Pros/Cons, Runes, Summoner Spells, Abilities sections written
4/19/2018 - Guide Started, Introduction section written