gold
The Best of the Best Teamfight Tactics With LastLee
By LastLee | Updated on

July 20, 2019
x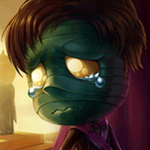 Did this guide help you? If so please give them a vote or leave a comment.
You can even win prizes by doing so!
I liked this Guide

I didn't like this Guide



Commenting is required to vote!

Thank You!
Your votes and comments encourage our guide authors to continue
creating helpful guides for the League of Legends community.
Teamfight Tactics Guide
Hello Hey everyone I am LastLee ,and i am playing league of legend since the first season and now that i have more free time i would love to make more guides. Playing always ranked games and streaming .
I hope you will enjoy my guides and that they will be helpful for you .
My English are not perfect but i will do my best so you will understand my way of thinking about Teamfight Tactics.
This is my first guide in mobafire i wish you guys love it and will help you to play Teamfight Tactics in an other style .
Greeting LastLee
Items


So lets start with the items options that you have so far on Teamfight Tactics.
You have plenty of creative ways to build your champions as soon as its random the way that you get items and the way that you get your champions its always grate to know what you need to build and what you need to chose in combination with your champion set up .Someone made a great image that you can check all the possible combination.But as everyone says "if you want to learn to play football than you start playing it" this is the same with this game .
We will explain later on in the future how to make crazy build and how to make more possibility of wining the game .
The game

Teamfight Tactics in actually a strategy game like chest.Really popular game type the last year you need the brains to build something and also be a little bit lucky with the picks that you get .Good strategy gamers already being busy with this creating new builds and all the possibility's of making there self winning more and more .The game it self is really entertaining and also really exiting in the same time .You have many different classes and combos that you can make ,in every fight is an other opportunity to learn what fits better to you and an amazing way to test your skills .In my opinion by far on of the best chest games ive ever played till now cant stop playing it