Not Updated For Current Season
This guide has not yet been updated for the current season. Please keep this in mind while reading. You can see the most recently updated guides on the browse guides page
x
Warwick Build Guide by poopyOCE

On-Hit Warwick
x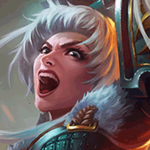 Did this guide help you? If so please give them a vote or leave a comment.
You can even win prizes by doing so!
I liked this Guide

I didn't like this Guide



Commenting is required to vote!

Thank You!
Your votes and comments encourage our guide authors to continue
creating helpful guides for the League of Legends community.
Runes:
Dark Harvest
Domination
Dark Harvest
Cheap Shot
Eyeball Collection
Ravenous Hunter
Sorcery
Celerity
Waterwalking
Bonus:
+10% Attack Speed
+9 Adaptive (5.4 AD or 9 AP)
+6 Armor

Spells:
Only
Challenging Smite
Flash
Ability Order
Only
Eternal Hunger
(PASSIVE)
Warwick Passive Ability
Threats & Synergies
Threats
Synergies
Extreme
Major
Even
Minor
Tiny
Show All
Extreme Threats
Ideal Synergies
Nunu & Willump
Due to Nunu's fast and safe clear, he can early invade bringing him an early lead that you will find difficult to come back from. He can also use W to cancel your R negating your main sustain and engage. He can build armour early to win most duels against you, and the amount of CC can negate your blood hunt. I normally insta-ban this matchup as this is the equivalent of punching a brick wall. IF HE DOES NOT INVADE OR BULLY, you will outscale him, so play for the long game.
Yuumi
Works well with anyone. Heals, makes u faster, he R allows for easy engage, etc.
Synergies
Yuumi
Works well with anyone. Heals, makes u faster, he R allows for easy engage, etc.
Champion Build Guide
Am I qualified to be making this? No. Am I good enough to be making this? No!

But anyway, here is a cheese Warwick build that works well in any elo. This modifies Warwick's subclass from bruiser to more of a fighter/assassin due to high damage output and more brittleness. Rageblade is a large component of this build as it applies your passive, and item abilities twice on every 3rd hit. This amplifies your damage, sustain and armour shred (if Black Cleaver). This build pushes Warwick's 1v1 potential but reduces his overall tankiness.

Some things before the rest of this guide:
1. You are more brittle than normal due to you building more damage items than tanky items.
2. This takes a bit to come into play, as you build Rageblade late, you can push it earlier though. This forces you to take the early lead or fall behind. SO DON'T PASSIVE FARM, GANK AND INVADE.
3. Weird items
4. Boots are optional late game, due to Goredrinker's passive of providing additional ability haste, your R will be faster than usual allowing for the lesser need of MS. Also bloodtrail.
5. Don't take unfavourable fights as it is easy to fall behind due to the high requirement of gold.
GAMEPLAY: Early Game & Mid Game
Bring W first, this allows for a faster clear due to W's passive bonus attack speed on Monsters and Champion's below 50% hp. Try to contest top scuttle as usual and if the opposing Jung is a good matchup, go for early ganks, bullies and invades to snowball your way to the mid-game.

Mid-game is your strongest point, where you SHOULD have Mythic + smth else. If you are not already behind, take favourable 1v1s and gank often. Utilise your W to the max as the bloodtrail provided allows for fast map traverse and gank potential. Don't take too many risks and keep tag on where your opposing jungler is.
IF YOU ARE BEHIND, try to take favourable ganks, by asking your laners to set up ganks. DO NOT PASSIVE FARM AS YOU WILL FALL BEHIND. Try not to 1v1 any fed players without backup in close vicinity as it might backfire. Know your matchups and avoid falling behind further. No one likes feeding.
Also ward the jungle and keep the vision line up. Don't forget to get objectives like Dragon when you can and ALWAYS farm in between ganks so you don't fall behind in gold.
Probably your strongest point in the game. R melts targets with challenging smite and you become a 1v1 god. With Rageblade + onhit items, you shread anyone who comes too close, even tanks due to Black Cleaver's passive and you become the one to engage the squishies due to your new playstyle. If you must, use your R to suppress a frontline to shred them with E proc'ed to fear the entire team (also in tips section) to gain a lead in the fight. You can solo both Elder Dragon, Baron and Dragon without help due to the insane sustain via passive and Rageblade. If you are getting bursted, use shieldbow. You can sell boots for other items due to many fights being do or die, and the no need for MS due to your bloodtrail and low CD R.
Avoid getting kited as always and try to not get insta-shutdown to get the most out of your teamfight sustain.
So theres a lot of rune choices here.

Dark Harvest
is my favourite to use as it synergises with bloodtrail, giving free stacks. This works better in more of an assassin playstyle rather a fighter one.

Press the Attack
is ok, its more supportive which i don't recommend but it exists. It does synergies with your

Infinite Duress

Hail of Blades
is nice because it allows you to get 3 fast autos in to get them below 50% hp for your W's passive, works more with assassin builds

Conqueror
is probs a very reliable option for any build here.
KOOL TIPS:

1. Holding Q can deny ALL CC. But timing is key
2. Your R is a skill shot and scales with MS. So predict and learn it.
3. By using E, and reactivating E can fear champions JUST outside your Q range, allowing you to catch them, then using hold Q to get behind them to close them in.
3. Oppositely, by using hold Q into E fear can force opponents into your team for a quick finish.
4. Since in this build, R has a relatively low cooldown, you can use it to jump over walls to escape confrontation and unfavourable matchups.
5. By holding Q when you know your opponent will dash away will drag you with them.
6. Q applies your on-hit affects btw
7. By using E before engaging with R can cause a teamfear allowing you to gain a massive teamfight advantage so keep this in mind.
8. You are heavily f***ed by Grevious and Ignite, so try to avoid that. idk what to do bro...
9. You can see low champions via their blood trains even in fog of war, so use that to scout out the opposing team and for quick follow-ups and finishes.
10. Your R is countered by CC.
In the end, idk if it is better than normal Warwick, but you are a dps dealing, sustaining menace to the team. I have ALWAYS CONSISTENTLY hit 15+ kill per game and 1v5'ed with this build. But be wary for the high money cost. Enjoy the cheese.

CHEESE LEVEL: Aged Cheddar/10