Jinx Build Guide by Breathly

[UPDATED EVERY PATCH] BY FAR THE BEST JINX/POWDER GUIDE!
x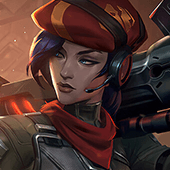 Did this guide help you? If so please give them a vote or leave a comment.
You can even win prizes by doing so!
I liked this Guide

I didn't like this Guide



Commenting is required to vote!

Thank You!
Your votes and comments encourage our guide authors to continue
creating helpful guides for the League of Legends community.
Runes:
Go to nearly all games.
Precision
Lethal Tempo
Presence of Mind
Legend: Bloodline
Cut Down
Inspiration
Biscuit Delivery
Cosmic Insight
Bonus:
+10% Attack Speed
+9 Adaptive (5.4 AD or 9 AP)
+6 Armor

Spells:
Heal + Flash
Flash
Heal
Threats & Synergies
Threats
Synergies
Extreme
Major
Even
Minor
Tiny
Show All
Extreme Threats
Ideal Synergies
Caitlyn
Caitlyn is one of the hardest Jinx matchups in the game, if you can survive the laning phase or the first 6-7 levels you are good, but its not a fun time you're going to have. She has longer range and does more damage than you do until around level 6, so playing against Caitlyn is really dangerous.
Lulu
Lulu + Jinx is the most enjoyable to play, since lulu provides all the support Jinx needs.
Synergies
Lulu
Lulu + Jinx is the most enjoyable to play, since lulu provides all the support Jinx needs.
Champion Build Guide
Build paths, when to go what?
When do you go what?

Doran's Blade
This item is losing its popularity to Long word + Refillable / 3 pots. This is because that Doran's blade cant be builded into anything, and that means that it takes around 10 more CS in lane for you to hit a power spike. The ideal start item will always be Long Sword and refillable.

First back?
You always want to push for Noon quiver early. This item provides so much for you, but the ideal first back will always be Noon quiver + tier 1 boots.

When do i go galeforce?
You will never go galeforce on on Jinx since its not worth, you lose a lot of damage on the champion and the 90 seconds dash is not worth losing the damage for.

When do i go Immortal shield bow?
Immortal shield bow is a very Situational item, this item should ONLY be bought when you're against 3 assassins or at least 3 threats that can instant kill you without you being able to do anything.

Hurricane?
Hurricane is only viable when you are against 4/5 meles and they fight as a stack. Other than that its not worth the gold for the split damage compared to the bonus ad and attack speed Phantom dancer provides you.

Rapid fire cannon?
You can buy rapidfire cannon instead of Phantom dancer if you get this before everyone else is at one item, this will provide a lot of snowball with your canon but mostly only ever do this with champs who provides a lot of movement speed to you : Example = Karma, Lulu and Zillean.

Situationals?
Guardians angel = If you're strong and they have a one shotter / You have above 400 G Shutdown.
Bloodthirster = You will go this item no matter what, but not worth going for before 4'th no matter how far ahead you are.
Scimitar = Only against malzahar pretty much. Supresses are falling out of the game.
How should you be playing in lane?
Laning with an enchanter
Jinx is normally very scaly, and takes a bit of items or two to do some damage. This does not mean that you shouldn't be active in lane or anything, what's ment by this is that you have to play with your brain rather than your mechanics. Jinx is a champion where you can utilize her rockets alot from Q, with this is ment that you can go on from any form of CC your supports can provide can be into a direct trap for you to a (Rocket) aa W into a Rocket aa again, here you can start utilizing your range advantage and make sure enemies cant get to you.

Overall you should really just be playing lane to punish mistakes rather than actually playing to outplay your enemies, you can do this while they either dive you or something.

A good trick with Jinx is that people tend to forget that if people try to dive you as Jinx, you can always provide self peel or a trade with your traps, here you can either slow them down with your traps or just use them for trade purpose, if they have a Rell or anything that jumps in your face just simply throw the traps on yourself. Here you will trap the enemy and in a lot of scenarios you will get a trade kill.

When do i take jungle camps?
Jinx is a hyper carry, i do tend to take a lot of Gromps form my Junglers, do ONLY do this with your supports help and if your jungle is pathing towards topside, this does not only help you it also helps him in the end since you level up the camp for him to path down to it next time.

Krugs is a little more dangerous because they are stronger and take way more time to clear.

Overall just remember, you're a hyper carry and taking jungle camps between waves is fine if you just dont lose your cs. Its very important you keep your CS Very high because you're this scaling hyper beast.
What to do if you're behind?
Losing lane
Jinx is again a champion that requires items to be useful and do damage. So its very important for you to not lose your lane or get behind, getting behind can mean a lot of things but does not include that if you're 20 cs behind you're doomed for the rest of the game. It means dyeing, not dyeing is literally the most important thing on Jinx you would rather give 10 Cs than dyeing on jinx since it will get you way further back, its also okay if they have a dive setup or threaten a dive on the enemy team that you take some step back to safety and collect EXP. EXP Goal is very huge as well since you also scale a lot with your Q' Scaling of course.

Bad supports or supports who dont respect you're a scaler?
Having a bad support is something we all have dealt with, and sadly will to the end of the game. It just comes naturally how to deal with this step is just remembering your key values of an hyper carry with that if you get to the 3/4 items you can carry this game alone if played correctly. So use it to your advantage and use the tips from the chapter above with just taking a few steps to safety and collect exp instead of just losing both EXP and CS with having to look at the grey screen.

How do i get my team to play around me?
A good strategy i found with getting your team to play around you is that you keep pinging your items, send Ults to their lane and try to help them collect their laners as well, with this you can do a lucky ult get the kill or just live off with an assist. You can also use the kill/assist to gain your passive so when you can see the person is dying within 4 seconds of your ult hitting him you can start engaging enemies, since you will have your passive, your passive gives you ALOT of attack speed and movement speed and will provide a lot of self peel against enemies so that its nearly impossible for them to win the fight against you and your support.