Nunu Build Guide by Joxuu
Not Updated For Current Season
This guide has not yet been updated for the current season. Please keep this in mind while reading. You can see the most recently updated guides on the browse guides page.
x
Did this guide help you? If so please give them a vote or leave a comment.
You can even win prizes by doing so!
I liked this Guide

I didn't like this Guide



Commenting is required to vote!

Thank You!
Your votes and comments encourage our guide authors to continue
creating helpful guides for the League of Legends community.
Ability Sequence

1
4
15
17
18

2
10
12
13
14

3
5
7
8
9

6
11
16

Not Updated For Current Season
The masteries shown here are not yet updated for the current season, the guide author needs to set up the new masteries. As such, they will be different than the masteries you see in-game.
Masteries
Threats to Nunu with this build
Threat












Show all
Threat
Champion
Notes

2

Amumu
No real threat early game. You can counter-jungle Amumu as you like because he lacks manapool + proper finisher for camps.

2

Sejuani
Really weak pre 6. You have much more jungle pressure and you can just counter-jungle all her camps as she is really weak at early stages of the game.
❄
Intro

❄

Pros and Cons

❄

Nunu

❄

Runes

❄

Masteries

❄

Summoners

❄

Items

❄

Abilities

❄

Gameplay

❄

Closing

❄
|
Hello. My name is Joxuu and I am a diamond level jungler. I started playing actively in Season 2 and I've been playing actively ever since. I've played bot lane the most but not too long ago, I decided to take up the role of jungler and I have no intention of maining other role for now at least.
This guide will be for jungle

Nunu
whom I have mained since this season. I have around 100 ranked game experience with him over 3 accounts. It took me great deal of time to understand his full potential and

Nunu
is certainly not the easiest champion to master. So far

Nunu
is in my top 5 junglers for soloQ because he is really fun to play. Unfortunately

Nunu
is not in a very good position for this season though.
Last season

Nunu
stats (CS isn't counting jungle camps):
|
|
+

Synergies with buffed ADC role.


+

Good clear speed and sustain.


+

Counter-jungle potential.


+

Objective control.


+

Great buff/debuff.

Nunu is in a decent position at the moment. Very few champions at the moment can actually deal with Nunu counter-jungle without the help from teammates. Total burst of 810-2000 damage to monsters and good mobility allows him to take control over enemy jungle and objectives. You can also just build him tanky and still do considerable amount of damage on top of buffing your own ADC and debuffing the enemy ADC.

| | | | | |
| --- | --- | --- | --- | --- |
| | | | | |
Nunu needs the first blue buff and possibly the second one too if you're doing well which may be inconvenient for your mid laner. Usually you want to give the second blue buff to mid laner which means you have to consider mana usage. The biggest con here is the fact that Nunu has to stay at almost melee range to deal constant damage. Nunu will fall off a little bit in the late game when people reach their more expensive 6 item builds and resistances lose some of the effectiviness because of penetration items or % damage.

-

Somewhat blue dependant.


-

Falls off a little late game.


-

No gap closing abilities.


-

Low range abilities.


-

Unreliable ultimate.
|
|
Good against






|
|
|
|
|
|
|
|
|
|
|
|
|
|
|
|
|
|
|




Preferred Role:

Jungle





Nunu in nutshell:


Nunu is a tanky jungler with decent damage output while having great early game counter-jungle pressure. He works the best by buffing ally carries while staying at enemy carries face and denying damage output towards ally carries. Also works well as a peeler in case enemy team is at your backlines face. Nunu lacks gap closing ability so you rely alone on Ice Blast movement speed slow and Blood Boil mobility. Main damage output is coming from jungle buffs from Consume/ Smite combined with auto attacks when Ice Blast is on cooldown so be sure to keep the buffs up.
|
|
|
|
|
|
|
|
|
|
|
|
|
|
|
|
|
|
|

Bad against



|
|
|
| | | | | |
| --- | --- | --- | --- | --- |
| Tank | SPEEE | | | |
|
SPEEEEEEEEEI

Explanation


>>

This set of runes works the best in my opinion. It's main focus is utility, jungle camp clear speed and survivability. Attack speed combined with some AD from masteries help the clearing of jungle camps and you will be auto attacking a lot during the game anyways. Armor + magic resist for some basic defense and movement speed quints to keep up with enemies.
|
| | | | | |
| --- | --- | --- | --- | --- |
| DMG | SPEEE | | | |
|
SPEEEEEEEEEI

Explanation


>>

This page is slightly more offensive than previous one. This setup provides a bit faster clear speed and a bit more damage since all Nunu's AP abilities scale well with AP. You lose the movement speed in exchange for damage basically.
| | | |
| --- | --- | --- |
| | SPEEEEEEEEEI | Situationals: |
|
|
|
T
Y
P
I
C
L

sp

M
A
S
T
E
R
I
E
S

SPEEEE

Explanation

>>

I really liked these masteries. Defensive keystone

Strength of the Ages

helps squishy item start with Runic Echoes. Masteries also offer a mix of defensive stats, tenacity and jungle clear speed which is nice.

Runic Armor

is better than

Veteran's Scars

because of your Q and

Swiftness

helps with not being kited. Others are pretty clear I think.
|
|
|
| | | | | | |
| --- | --- | --- | --- | --- | --- |
| | || | FLASH | || | Flash is the most important summoner spell in the game and is also the most used. It allows you to follow enemies flashing or going over wall since Nunu has nothing to wall jump. It's also really good tool for escaping a unfavored situation. | || |
| | | | | |
| --- | --- | --- | --- | --- |
| | || | SMITE | || | Smite has been really good for the jungle and out of it since the pre-season changes. Now you can choose additional effect for the Smite. Jungle camps also give small buffs after you have used Smite on them. In Nunu's case, picking Stalker's Blade is the best one in my opinion. It helps to gap close and deals a small amount of damage too. |
|
|
|
S
T
A
R
T

sp

W
I
T
H

SPE




SPE

>>

Very basic starting items for sustained junglers. Hunter's Machete helps out in the jungle and builds into the jungle item. Upgrade it into Stalker's Blade for smite buff. Refillable Potion gives sustain and helps you to stay in the jungle until you have the items to not lose any hp while jungling.
F
I
R
S
T

sp

I
T
E
M
S

SPE




SPE

>>

Stalker's Blade - Runic Echoes gives movement speed and some damage threat on the board with it's passive and AP. Great item to stay relevant a bit longer damage wise. Ninja Tabi is situational but also the most common boots choice against AD heavier teams. Mercs and Swiftness boots also work depending on situation.
F
O
L
L
O
W

sp

W
I
T
H

SPE




SPE

>>

Frozen Heart is a great defensive item to start off the build. Combined mana + cdr + armor and attack speed slow passive work really well against early AD damage threats. Spirit Visage is the best defensive item for Nunu as it gives CDR + hp + mres but also more healing for Consume.
F
I
N
I
S
H

sp

W
I
T
H

SPE




SPE

>>

Randuin's Omen is the best all-around defensive item against AD damage. The 10% off of crits is also relevant in late game as ADCs tend to have huge amounts of crit chance by now. Finish off with Thornmail to get enough armor to deal with enemy ADC late game. It's also kinda fun to see enemies killing themselves to Thornmail.
|
|
||
The ability sequence maximizes counter-jungle potential (early-game) and utility. Like any other ultimate,

Absolute Zero
is maxed first. It's more useful in the early game when ganking but it will get interrupted most of the times in team fights.

Ice Blast
is maxed first from basic abilities because it's the main damaging ability and it helps to chase people down.

Blood Boil
is maxed second for more % scaling. It's a great supportive ability so it's not needed until mid-late game.

Consume
is maxed last as the level up bonus isn't too great and lvl 2

Consume
gives enough damage to secure objectives.
|
Visionary

: Decent passive for jungling.

Nunu has hard time because of the mana costs but by using
Visionary's no mana cost passive, you can keep using

Ice Blast without mana cost in the jungle. Most of the times you should use
Visionary stack for it when jungling.




Consume

: Great ability to clear off the big minions in the jungle (especially when counter-jungling).

Consume can be used to burst

dragon or

baron but remember to use

Consume first as the animation takes some time and only then use

Smite after ~0.5 seconds.





Blood Boil

: Not all too great for

Nunu but it's something.

Blood Boil is useful for jungle clear speed but it has bigger impact when used on allied ADC. You should target to always have it activated for you and ADC in team fights.




Ice Blast

: This ability has insane value early game because it scales well with levels + AP. You can duel junglers when counter-jungling thanks to this ability or just

Consume enemy camp and use

Ice Blast to escape. I sometimes level E second if it helps me kill enemy jungler at his buff.





Absolute Zero

: Decent damage output early game since the base damage is really huge. You can often use this ability to the max during lane ganks because it takes too much time to bother interrupting it if you have used

Ice Blast movement speed slow earlier.
|
|
spa




>>

It is time to explain some gameplay. I put this section in three different sections: early, mid and finally late game.


>>

I will also cover the jungling routes and efficient way of clearing the jungle camps. (This also includes ganking).


>>

In addition, I will try to give small tips on warding when you're laning or fighting for an objective like dragon and how the fight should be executed.



>>

Credits to -NA- Veng Lmfao for the layout.
|




|






space



>> Counter-jungling
Nunu has really strong counter-jungle potential with ~800 damage burst with Smite + Consume in early levels. Very few junglers can deal with that kind of burst damage onto junge camp monster. This video below explains the counter-jungle path but the only thing I would do differently is skip dragon . Ignore the dragon call and just continue clearing your own jungle camps. You can save Smite for invade if you want the extra damage.






|






space




>> Jungling / Early game
Nunu has good sustain in the jungle. Much better than some of the other junglers out there. Start with the Hunter's Machete + Refillable Potion and go cover your buffs for invades. Get someone to help you and start with the Grump or Krugs. Start with Consume and use your Smite as soon as the first camp spawns and continue alone to do buff. Pick Blood Boil and proceed to do your blue buff.

Continue to Wolves or Raptors depending on if you're blue or red side. Use Consume on the biggest monster and continue taking it down with Blood Boil. After the camp pick your Ice Blast and start heading towards the camp which you didn't take (Raptors or Wolves). Use the same pattern but throw Ice Blast whenever you have Visionary, unless you got much mana, then it doesn't matter.

Proceed to go to your second buff, ward around it if you're afraid of the enemy jungler. Use Consume and whatever you got up and finally Smite the buff after you can kill the camp with it. After this you can do Krugs and/or the Rift Scuttler so you get to level 4. Kill the small Krug first with Consume and recall after the camp is done.



space



>> Ganking
You should always be ganking early game if there is a chance for it because it's not very common for people to buy early wards or be really careful with ganks. It's also much more productive to help laners than just afk farm the jungle camps as Nunu will be pretty strong anyways without immense amount of farm.

I would already check for ganks once you reach level 3. Depending on my side, I usually tend to gank top or bot lane first as I feel like mid lane is the hardest one to gank. Nunu has no gap closers so it's much easier to gank ally lanes which have CC or enemy laners who don't have escape abilities. If you're ganking enemy lane with escape, try to wait until the escape is down unless the enemy laner is out of position, then it doesn't matter if they got escape or not.





|






space



>> Mid game / Dragon
You want to have your dragon prepped which means you should have few wards and possibly a pink ward or at least have your support ward the area. Denying the vision from dragon area gives you absolute control over the decision if you want to rush for the buff or if you would rather just go in and fight instead.

Nunu has really good objective control because of Consume + Smite combined damage. It goes down pretty fast with ADC too since you have Blood Boil. Nunu is able to do really early dragon s but I'm not really fan of it as it's really risky but if you're doing it anyways, you must inform your team and be 100% sure the pit is not warded.

In the dragon fights you should either just secure the objective if your team is healthy enough and/or the dragon is low hp. You mostly want to stick around your ally carries to protect them because you don't really have a flashy initiation to go for their backline without any kind of help from your teammates. If you can position yourself to get to the enemy carries, sure why not but make sure you're not alone.



space



>> Late game
You usually have to make a thinking progress whether you can go all in after an opponent or do you need to stay with your fed carry because that will win you the team fight. Righteous Glory + Blood Boil to catch someone a little bit off position is a great way to force a fight because Ice Blast slow is good enough to give your team the opportunity to focus that player down (unless it's someone like tanky Maokai ofc).

Generally what you should look to do is constantly pressure the enemy team with your positioning so you have a chance to go all in if the enemy team makes mistake. Pressuring the enemy team with your positioning gives your carries some leisure to move around too. It's really hard for enemy team to get constant damage to your carries because you have really good peel for ally carries.

I think the ability usage is pretty simple, like use Blood Boil all the time for the most valueable player in your team who benefits from attack speed and Ice Blast against enemy players going for your carries to peel for them or just to catch someone off position but Absolute Zero is sort of tricky. I usually tend to use it defensively to slow enemies going for my carries but it's really good to break the enemy lines too. People tend to run out of Absolute Zero range making them lose valueable time to do something else.
|
|
sp



Thank you for reading dear viewer. I hope you have learned the ropes or at least thing or two about Nunu. If you have any questions or thoughts please feel free to say so in the comment section. Unfortunately I probably won't be making a screenshots section but you can always post them in the comments and you can also contact me by sending me a PM here.

Thanks to:
❊ Jhoijhoi For coding & banners
❊ Missmaw For coding
❊ Maintained For ability icons
❊ Foxy Riven For banner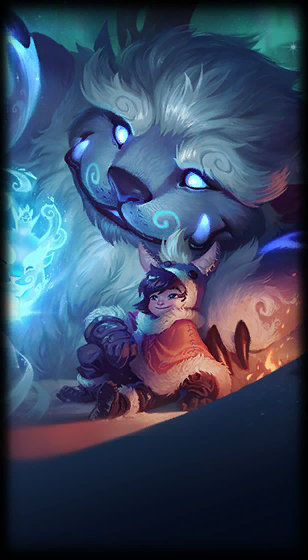 sp
Thank you for reading dear viewer. I hope you have learned the ropes or at least thing or two about

Nunu. If you have any questions or thoughts please feel free to say so in the comment section. Unfortunately I probably won't be making a screenshots section but you can always post them in the comments and you can also contact me by sending me a PM here.

Thanks to:
❊ Jhoijhoi For coding & banners
❊ Missmaw For coding
❊ Maintained For ability icons
❊ Foxy Riven For banner