Not Updated For Current Season
This guide has not yet been updated for the current season. Please keep this in mind while reading. You can see the most recently updated guides on the browse guides page
x
Draven Build Guide by Gokinaf

DRAVEN FOR ALL (new top options) (if i didn't upd, its bc Dr
x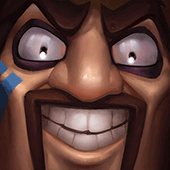 Did this guide help you? If so please give them a vote or leave a comment.
You can even win prizes by doing so!
I liked this Guide

I didn't like this Guide



Commenting is required to vote!

Thank You!
Your votes and comments encourage our guide authors to continue
creating helpful guides for the League of Legends community.
Recommended Items
Runes:
Conqueror (Usuall)
Precision
Conqueror
Triumph
Legend: Alacrity
Coup de Grace
Domination
Taste of Blood
Ravenous Hunter
Bonus:
+10% Attack Speed
+9 Adaptive (5.4 AD or 9 AP)
+6 Armor

Spells:
For every pick
Flash
Heal
Ability Order
Every time
League of Draven
(PASSIVE)
Draven Passive Ability
Threats & Synergies
Threats
Synergies
Extreme
Major
Even
Minor
Tiny
Show All
Extreme Threats
Ideal Synergies
Leona
Because she have many control in her skills, try to not get in her control, more tanky bc her W.
Leona
Have many control and can be tank, have many control, coudn't killed if get first items
Synergies
Leona
Have many control and can be tank, have many control, coudn't killed if get first items
Champion Build Guide
Hallo i am Gokianf, RU server

Draven mainer started season 7-8, i played on

Draven and i have 7 master rank, because that i want to do my guide (Yea i dont say much mb bc its my first Guide on this site).
If u whant to know my statistic go to OP.GG:https://ru.op.gg/summoner/userName=gokinaf (My statistic so trashed sorry)
Synergy: Draven
ADC potential: Draven
Speciality: Draven
Draven, the Glorious Executioner In Noxus, warriors known as reckoners face one another in arenas where blood is spilled and strength tested—but none has ever been as celebrated as Draven. A former soldier, he found that the crowds uniquely appreciated his flair for the dramatic, not to mention the spray of blood from each of his

spinning axes

. Addicted to the spectacle of his own brash perfection, Draven has sworn to defeat whomever he must to ensure that his name is chanted throughout the empire forever more.columns]
Unlike his brother

Darius, victory in battle was never enough for

Draven. He craved recognition, acclaim, and glory. He first sought greatness in the Noxian military, but his flair for the dramatic went severely underappreciated. Thirsting for a method to share 'Draven' 'Draven' with the world, he turned his attention to the prison system. There he carved out the celebrity he desired by turning the tedious affair of executions into a premiere spectacle.
At Draven's first execution, he shocked onlookers when he ordered the doomed prisoner to run for dear life. Just before the man managed to flee from sight, Draven brought him down with a flawless throw of his axe axe. Soon, all of Draven's executions became a gauntlet through which Noxian prisoners raced for a final chance at life. He used this trial as his own personal stage, and turned executions into a leading form of entertainment. He rallied onlookers into a frenzy, while desperate prisoners scrambled to evade him. They never succeeded. Rejecting the solemn, black uniforms of Noxian executioners,

Draven donned bright outfits and developed flashy signature signature moves moves to distinguish himself. Crowds flocked to see Draven in action, and tales of his performances spread quickly. As his popularity grew, so did his already-inflated ego. He belonged at the center of attention. Before long, the scope of his ambitions outgrew the population of Noxus. He decided that the glorious exploits of

Draven should be put on display for the entire world.
What you need to Know about Draven ?
+

Have good lain phase


+

Have very strong early game


+

Have global Ult


+

Can be played on every line


+

If he feeded he codun't stoped


+

Draven...
Draven realy good choices to main because: they coudn't counter with any ADC and he can help team if he feeded well, he strong duelist and good pusher.

-

Till 3 lvl can be bulled


-

Don't have escapes


-

Dies realy hurts for him (u lose stacks)


-

Coudn't farm well if you fkt on farm part


-

Need great support


-

Can't carry solo if u dont feded
Draven have some problems whith his passive bc if he dies he can lost his 75% of stacks (that's realy hurt), but bc of that u can learnt how to play more passive/aggressive and whats time (reed last Chapter).
|

Cooldown: 12 / 11 / 10 / 9 / 8

|

Cost: 45 MANA

|


ACTIVE: Draven starts spinning his axe, causing his next basic attack within 5.8 seconds to deal bonus physical damage (35 / 40 / 45 / 50 / 55 (+ 65 / 75 / 85 / 95 / 105% bonus AD)
The axe ricochets off the target high up into the air, landing 2 seconds later at a location determined by Draven's current movement. If Draven catches an axe, Spinning Axe is reapplied for no additional cost on his next basic attack.
Draven can hold up to two Spinning Axes in his hands at once.
|

Cooldown: 12

|

Cost: COST: 40 / 35 / 30 / 25 / 20 MANA

|


ACTIVE: Draven becomes Ghost ghosted for 1.5 seconds, gaining bonus attack speed for 3 seconds and bonus movement speed which decays over 1.5 seconds.
Catching a Spinning Axe resets Blood Rush's cooldown.
|

Range: x1100

|

WIDTH:260

|

SPEED: 1400

|

CAST TIME: 0.25

|

Cooldown: 18 / 17 / 16 / 15 / 14

|

Cost: 70 MANA

|


ACTIVE: Draven throws his axes in a line in the target direction, dealing physical damage (75 / 110 / 145 / 180 / 215 (+ 50% bonus AD) to all enemies hit, knocking them aside and slowing(20 / 25 / 30 / 35 / 40%) them for 2 seconds.
|

Range:GLOBAL

|

WIDTH:320

|

SPEED: 2000

|

CAST TIME: 0.5

|

Cooldown: 100 / 90 / 80

|

Cost: 100 MANA

|


ACTIVE: Draven hurls two massive axes in the target direction, revealing the area along its path and dealing physical damage(175 / 275 / 375 (+ 110 / 130 / 150% bonus AD) to all enemies struck. Whirling Death can be recast after 1 second.
Upon reaching the edge of the map, striking an enemy champion, or upon reactivation, the axes slowly come to a stop before homing back to Draven, dealing the same damage to every enemy struck on the way back.
Whirling Death deals 100% − 40% (based on enemies hit) damage, resetting when the axes reverse their direction.
Q:

Why you didnt wrote about Spells, Runes, Items ?
A:I do that bc u needn't, everything what i wrote about Spells Runes and Items in notes.

Q:

Ok so how to play draven ?
A:Man thats easy start with Doran's Blade and [health potion], help Jungle if you can bc you must stack your passive [League of Draven] then when you help go to lain and try to get 3 lvl faster then your enemy.

Q:

Why 3 lvl so impotant ?
A:It easy question. You need full proc Q,E,W Thats you can get only at 3 lvl, then try to farm your firs itme its can be parts of Berserker's Greaves or Noonquiver, if you kill the enemy try to get more EXP then them, and get advantage its easy when enemy died, so dosn't matter how but if u get higer then enemy you can win lain phase, when you back to buy something

DON'T FORGET TO BUY CONTROL WARD

.

Q:

So what i need to do when laning phase over ?
A:Hmm... Good question, after lane phase try to do only two things

Trades

or

FARM

, if u can do that you might can win tha game.

Q:

What i need to do on Team Fights ?
A:On team fights try to not die first and try to get the most impotant enemy dead. It's simple but it's hard to do sometimes.

So how to axe macro or team fight, its easy, try to practice ur axe macro in training mode, you must to know how get axe when u have low attack speed, when u have hight AS, so try it, its rly helpful for started Draven mainer, then if u want to improve ur skill, try to play on another champs. "Hey how it can improve my skill on Draven ? good question, first another champs have different gamplay, second reason its fun and not boring, bc i bored to play Draven often. So try use thats advice.