Not Updated For Current Season
This guide has not yet been updated for the current season. Please keep this in mind while reading. You can see the most recently updated guides on the browse guides page
x
x
Did this guide help you? If so please give them a vote or leave a comment.
You can even win prizes by doing so!
I liked this Guide

I didn't like this Guide



Commenting is required to vote!

Thank You!
Your votes and comments encourage our guide authors to continue
creating helpful guides for the League of Legends community.
Build Log :
- 07/12/12 : Update for reason Season 3
- 11/01/13 : New Update !

This Build make up is only to take to the players the base to make yourself or build !
Pros:
Extreme damage early game with DS and Judgment!
A moderate silence which has a great speedboost + slowremoval!
The best last hitting tool ingame!
A strong defensive spell(courage)
Extremely tankish with maxed courage(if your good at farming the enemies will barely deal damage to you in early game)
Cons:
Does not deal to high damage until atma's is finished
Late game is probably his worst part of the game(the damage from Judgment is greater early,midd game) But atleast,Offtank Garen makes late game out better then tank and carry
Easily killed if he is stunned+focused early game
Preferred Spells


Flash: This isnt negotiable. Garen is a very predictable champion and Flash gives you an element of surprise. You also need a better form of initiation and escape over Decisive Strike.

Exhaust: Will reduce armor with the mastery bonus and make it harder for you to be kited, which is very easy to do against Garen. Like Flash this has offensive and defensive capability. Its a very versatile spell that makes absolute sense for Garen's kit.




Optional Spells

Ghost: There will be times when this spell would be more useful then any other. But the same can be said for any spell. When looking at Garen's kit, Ghost isn't the most beneficial choice, because you already have a speed boost from Decisive Strike. If you're going to use Ghost, I would use it in combination with Flash for full mobility. It would make you impossible to gank and make it impossible for the enemy to kite you. Whats the downside? You wont be nearly as strong in a strait up fight without Exhaust.

Ignite: I wouldnt pack this spell unless I was up against someone like Warwick. Ignite's main use is the ability to finish off an escaping enemy. You have Demacian Justice for that.

Not Recommended

Teleport: Awesome spell. Teleport can win games under the right circumstances. But that's the problem. You never know how many chances you'll get to use this spell effectively per game. It could be a game changer, or it could be a waste of a slot.

Cleanse: It can be helpful, but it's not the best choice for a champion with so much built in CC reduction.

Heal: Better spell then people give it credit for. Heal is totally viable after the buff, but its not the best choice for Garen.


Dont Ever Use


Surge: This is the last ability you want to get on a champion that's easily kited.

Clairvoyance: This should be on your support champ.

Clarity: Garen doesn't use mana.

Fortify: This should be on your tank if anything.

Rally: This shouldn't be used by anyone.

Revive: Only useful if you're dead... Not a goal you should be shooting for.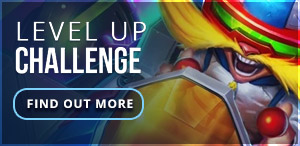 Garen - The Lionheart Knight