Grandmaster TriForceYas Build Top Lane Preseason11 Patch 10.
x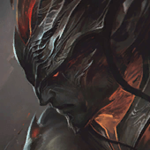 Did this guide help you? If so please give them a vote or leave a comment.
You can even win prizes by doing so!
I liked this Guide

I didn't like this Guide



Commenting is required to vote!

Thank You!
Your votes and comments encourage our guide authors to continue
creating helpful guides for the League of Legends community.
Runes:
Regular runes
Precision
Conqueror
Triumph
Legend: Alacrity
Last Stand
Domination
Taste of Blood
Ravenous Hunter
Bonus:
+10% Attack Speed
+9 Adaptive (5.4 AD or 9 AP)
+6 Armor

Spells:
Top Spells For High Elo/BadMatchUps
Flash
Teleport
Ability Order
Way of the Wanderer
(PASSIVE)
Yasuo Passive Ability
Threats & Synergies
Threats
Synergies
Extreme
Major
Even
Minor
Tiny
Show All
Extreme Threats
Ideal Synergies
Darius
Darius is a big bully in lane. Try to punish him for the minions level as much as you can. If you do so lvl 2 if he uses his Q and fails it go in for a trade/all-in, if he didnt use his Q till then and he does after you are in combat with him do not dash onto him untill he uses Q so when he does use it dash on him to deny the heal and take much less dmg. If you fail early you shouldnt really be able to win against him later in the lane expect if you get camped. Try tom avoid at all cost not to give him 5 stacks because after that you wont win.Dash around the minion wave when there is a big one and try to kite him. If he gets 3 to 4 stacks onto you kite so the stacks will go away and then you can go back in for a trade. Good darius players might avoid all that stuff and just smash you in lane. If they play with teleport don't be that afraid, but if he does play with ghost its really scary, one mistake and you are dead, he will run you down and you wont escape.
Synergies
Champion Build Guide
Hello everyone! My name is John ''TriForceYas'', I'm a yasuo main from EUNE currently playing only on EUW. I play yasuo from a few years now (3+) have 6m+ mastery points on him. My peak is GrandMaster 280 LP and #3 Yasuo in the world. I started playing league from the age of 11. Why I chose yasuo as my champion? I think he is a really fun but needs a lot of time to put into him to become fun, he has a lot of outplay potential and there is pretty much always something to improve with him no matter how good you are. There are always little details you can improve on with the champion. I'm also streaming on https://www.twitch.tv/bladeoftheruinedyasuo (soon to be changed back to ''TriForceYas'') and I also coach. You can come and ask me anything about the game or yasuo specific stuff. I will happily answer. The stream is in 3 languages which are Greek,Bulgarian and English. I try to mix it up to have people from all over the world interacting in my stream and trying to feel comfortable when the join to watch! I have a youtube channel too, I will be upload some plays and different tips and tricks about yasuo + full gameplay of how to laning phase against specific match ups: https://www.youtube.com/channel/UCTWbRHIHS8boYf745Y7KTxA?view_as=subscriber
I would recommend just to freeze let the enemy overstep and then to try and go for an extended trade depending on the enemy champion of course, freezing also helps you build a cs lead, keep you safe from ganks and set up potential ganks for your jungler. Try to bait out your enemy's abilities and play around their main abilities cooldowns, that would be the best time to go for a short trade and slowly but surely set them up for an all-in. As a last thing try to adapt to your enemies dodging patern, throw few nados and notice how he dodges and later on you will be better hitting your Q's. Always pull an AA before ulting if you are in range and have enough AS, this one AA can make the difference if you gonna get the kill or not.
Late Game/Teamfights/Split Pushing
Late game/Split pushing: When laning phase is over. Try to adapt on the enemy's team comp, if they have a lot of CC you probably gonna be useless in the teamfights, so start split pushing get 1 or 2 enemies to stop you and this way you can give an opportunity to your teammates to force an objective, make a teamfight with member advantage or just push another lane without the enemy team being able to stop them so its a win-win situation for your team overall. Just learn how to split, while splitting pay a lot of attention to the minimap and have the blue trinket and place it to a good place where you think the enemies will most likely cross to come and try to stop you...Oh and also hope your team won't get caught in case no one comes to stop you.

-Teamfights: Try to hold your nado as long as possible and look for better opportunities to knock up more people because that can change the whole teamfight or even game outcome. Don't rush your W too, learn to place it to the most efficient way possible to prevent the enemies blockable abilities.
Learn to use your E the most efficient way possible, don't rush onto dashing, get a good angle with your champion and then dash to maximize the range you gonna travel and catch up faster to the enemy you are chasing or just maximize the distance between you and your enemy while trying to escape.

Never rush to use your ultimate to maximize the time your enemy will be knocked up, pay attention to the little line above the enemy you knocked up with your nado and use your ultimate right before it reached the end, this way when your ultimate is over you will have your Q right back up of cooldown and will be able to use it when your ultimate is done. Also before using R try to AA if you have enough attack speed and if you are close enough to your target. When you have 2 attack speed items and you are in range to AA and airblade (E+Q+R) do it to maximize the damage you output.

Never rush onto using your E on your target if there are minions close, use it in the end to kill them just in case they have some kind of a dash/flash/escape ability to be able to catch up on them and kill them.

Always when going to E+Q try to pay attention to your Q cooldown, when it reaches 0.5 seconds use E because at that point your Q gets resetted. Doing that a couple of times in a row will make a big difference and it will look like your Q has no cooldown.

Learn how to dash around in the teamfights, do not I repeat do not dash around in autopilot, think how you dash why you dash and where exactly you want to dash to achieve an outplay,dodge skillshots or get a better position to land a multiple man R.

I will be doing an advanced guide on my youtube channel about how to utilize yasuo's E and how to dash the proper way and improvise for some really good and not that commonly seen wall dashes.

When you chase and you are close to him with nado try not to use it instantly because they most likely will try to dodge it so in the meantime you can AA then and after when nado is almost over use it for an easy hit. If you get chased and you have nado hold it, they will try to side step and this way the distance slowly but surely becomes bigger between the 2 of you and again just it at the end when its almost over
Pros:

- High mobility
- High outplay potential
- Really fun to play
- Can snowball hard if done right
- Really good wave clear which helps for split pushing (if E+Q used right)

Cons:

- Really squishy early game
- Easily punished if done 1 mistake
- Hard to master
- Hates CC
- If not around minions waves can be easily ****ed
- You gonna put up with a lot of flame just simply because you play the champion
so prepare to test your mentality
- In low elos highly banned