Not Updated For Current Season
This guide has not yet been updated for the current season. Please keep this in mind while reading. You can see the most recently updated guides on the browse guides page
x
Pyke Build Guide by chloric

Mid Pyke Guide to be a CHAD Pyke Mid Player
x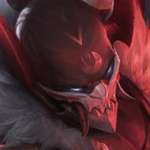 Did this guide help you? If so please give them a vote or leave a comment.
You can even win prizes by doing so!
I liked this Guide

I didn't like this Guide



Commenting is required to vote!

Thank You!
Your votes and comments encourage our guide authors to continue
creating helpful guides for the League of Legends community.
Runes:
Standard Team fight Runes
Domination
Hail of Blades
Sudden Impact
Eyeball Collection
Relentless Hunter
Precision
Presence of Mind
Legend: Tenacity
Bonus:
+9 Adaptive (5.4 AD or 9 AP)
+9 Adaptive (5.4 AD or 9 AP)
+15-140 HP (lvls 1-18)

Spells:
Usual
Flash
Ignite
Threats & Synergies
Threats
Synergies
Extreme
Major
Even
Minor
Tiny
Show All
Extreme Threats
Ideal Synergies
Malzahar
Ughhh fuck this guy. Honestly ban him because: 1. His Spellshield cockblocks you to hook him. 2. His voidlings can block your hook. 3. His ult is annoying.
Pyke
Who needs synergies when YOU ARE THE TEAM!
Synergies
Pyke
Who needs synergies when YOU ARE THE TEAM!
Champion Build Guide
I'm currently a Diamond 4 Mid Laner in PH server. I've loved my home boy Pyke ever since he was released. I started out playing homeboy as support, but when I learned he could be played in Solo Lanes? I was having the best time of my ****ing life OWO. I got into Diamond playing mostly Mid Pyke and maybe slide in some Qiyana there and a bit of Jungling with Master Yi, but mostly Pyke.
Ps. This is my first Guide on Mobafire!!! So sorry for ****ty formatting...
Btw this is my account and DON'T MIND THE QIYANA ICON SHES JUST REALLY PRETTY OK!!! ALSO I ONE TRICKED YI LAST SEASON SO PLS DONT FLAME ME FOR HAVING HIM AS MY HIGHEST MASTERY UMU Also mastery 5 looks better than mastery 7 change my mind HeheXD

Pyke is homeboy. Pyke is love and Pyke is life. No matter how many people complain about him being overpowered with his gold generation, he's still homeboy. Even with the amount of nerfs his solo lane got, he's still homeboy. No matter how high his banrate is, he's still homeboy. In summary, PYKE IS HOMEBOY.
Well my dearest viewer... I have no clue hAHAHAHAHAAHHAH HONK HONK LMAO. Just kidding. Even with the nerfs Pyke has gotten, his solo lane potential has barely changed. His wave clear might be doo-doo, but his roaming and kill potential is probably better than it was. Pyke mid has more freedom in terms of roaming, too. Since he is at mid, he can roam Bot or Top easily compared to Support Pyke who literally walks from bot to top and loses farm like a doo-doo(No offense support pyke players <3). Mid pyke is also a good counter to most assassins. Pyke's base damage is absurd and will ****ing body you to the ground with his male hormones alone. Watch as pyke ****ing STABS you with his hook while you're a lowly assassin just trying to lane THEN PYKE JUST GOES TO TOWN WITH YOU BY SLASHING YOU WITH HIS SUPER FAST ENCHANTED HOOK BECAUSE OF HAIL OF BLADES AHHHHHHHHHHHHHHHHHHHHHHHHHHHHHH. Like jesus christ i can't get over how cool this champion is. But uh did I uh persuade you hehe B).
MASTER OF TRICKS HAHAHA ISNT THAT SHACO LOL XD FUNNY
Anyway....

Stuff I wanna mention
- E + W to get to lane faster. E behind the nexus to get more distance.
- Use Q Stab to get fast solo picks instead of hooking them because that just gives them time to flash or use an escape move
- Always flip them like burger when they're trying to escape. By that I mean hook them to make them flip. Like burger.
- Most of you know this, but E follows you everywhere. So E + Flashing (Psychotic Anxiety named by my Lord Whyguy) will stun them without giving them time to react. Warning: This is already known by most people. So, doing this is very predictable, but is game changing when done at the last second before your phantom reaches you.
- Play more Pyke cause he's FUN
- Combo for picking off a lone squishy is AA -> Q Stab -> E -> R (If this doesn't kill them, which is usually enough if they don't have Phantom Dancer, just beat them to death with auto attacks THEN R)
- Combo for feeding your teammates when you done have ult is AA -> Q FLIP THEM LIKE BURGER STYLE -> E to where that person is -> watch him get eaten alive by your teammates.
Ok now I currently have no ****ing idea how to set up images so...
Hail of Blades
- Compared to electrocute, this is way better for pyke. The early damage in of HoB with your auto attacks outclasses Electrocute by a long shot. Your trades are definitely better with HoB than it is with Electro.
- "Ok you ****ing noob then what about your late gmae HUH?!?!?!?!?!?" is what you might ask. Well... Late game, you're gonna be fishing for hooks. In what world are you gonna get so close to someone in a 5v5 deathball? Late game you're pretty much gonna kill the carry OR get a pick because your burst is still really good even with HoB OR hook someone into your team and probably lose cause you just hooked the fed katarina into your team and she got a penta... Yikes... Anyway... In short, you won't proc Electrocute as much late game anyway. And as Mid Pyke, you get your team ahead ASAP so your gold lead with your Ult isn't wasted.
Sudden Impact
- 2 words. Gives Lethality. 2 more words. Bigger Threshold. Final 5 words. Your Ultimate scales with lethality.
Eyeball Collection
- MORE DAMAGE HONK HONK
Relentless Hunter
- OK WAIT BEFORE YOU CALL ME AN IDIOT FOR NOT USING ULTIMATE HUNTER HEAR ME OUT OK?? First you're gonna be roaming a lot. The extra movement speed you're gonna get is way better than getting a lower ultimate cooldown. WAIT. "Ok but doesn't ulting more get you more gold for your team to get ahead?" you quote. Well, relentless hunter is amazing when it comes to roaming. Depending on your runes, if you chose the path of me by getting the one with Presence of Mind, then you aren't gonna need that Ultimate hunter because of you amazing assassination potential that procs PoM.
Presence of Mind
- MORE ULTS AND MANA HUEHUEHUEHUEHUE what else lmao
Legend: Tenacity
- If you ever get rooted, stunned, or stunned again, Tenacity will save your life OK BUT THAT DOESNT MEAN YOU BUY STERAKS
Celerity
- Great synergy with your W for more roaming potential or just to get away from sticky situations.
Waterwalking
- More ZOOOOOOOOM when you got botlane, get a double kill with your ult and share the wealth with your botlaners.
I tried to make this guide really straight to the point and simple. I think guides are just meant for players to get a glimpse of what a champion does. The champion you play and how well you play them is decided by how much time and effort you spend to learning how each and every twist and turn your champion does.

This question popped into your head didn't it? "Why did you make this guide then with this ****ty formatting you loser weeb?!"

To answer... I was bored ;) also I'm gonna improve the visuals of this guide when I have the time UwU