Not Updated For Current Season
This guide has not yet been updated for the current season. Please keep this in mind while reading. You can see the most recently updated guides on the browse guides page
x
Gwen Build Guide by Nadie1911

TOP/JG Gwen Build! With a "interesting" item, Enjo
x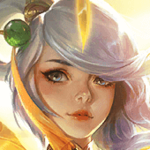 Did this guide help you? If so please give them a vote or leave a comment.
You can even win prizes by doing so!
I liked this Guide

I didn't like this Guide



Commenting is required to vote!

Thank You!
Your votes and comments encourage our guide authors to continue
creating helpful guides for the League of Legends community.
Recommended Items
Runes:
Standard Runes TOP
Precision
Conqueror
Triumph
Legend: Alacrity
Coup de Grace
Sorcery
Manaflow Band
Transcendence
Bonus:
+10% Attack Speed
+9 Adaptive (5.4 AD or 9 AP)
+6 Armor

Spells:
TOP
Flash
Teleport
Champion Build Guide
Im Kriss, I just have 1 year on the game, but Ill try my best to make the guides the best I can, even though this is the first one I do by my own. Im sorry if my rank isnt that high, tbh I spent most my time learning about the game and trying stuff on the practice tool than actually playing, But Ill do my best to demostrate my opinions and why I chosee stuff. Btw you are free to ask anything you want, I will take a maximun of a week depending if University have me Busy. I noticed late that I made bad the pictures, Im new on this, so I really sorry, Ill try to fix it soon.
CONQUEROR
I think is the only viable Rune for AP Gwen, gives some nice AP that is very powerfull with her pasive(late game giving an 1% more max health damage full stacked) and healing is always wellcome.
TRIUMPH
Is the more worth rune of all three or Gwen and also gives her more survivability on team fight.
ALACRITY
The AS is something essential on Gwen, since is an auto reliant champ, but if the enemy comp is high on cc TENACITY is a greater opcion.
COUP DE GRACE
Just to have some more damage for trades or solokills, but if enemy comp is kinda tanky is better to change it into CUT DOWN.
MANAFLOW BAND
A bit of mana restoring is always wellcome, but change to NIMBUS CLOAK for JG, because the extra MV is very useful for Gwen, since is kinda immobile.
TRANSCENDENCE
This Rune is the main reason why I prefer this Secundary Rune tree, the AH is very good on gwen, but the best is the reduced cooldown you get on takedowns(which can help on teamfights letting you to use more than one time you W). And also because is a great replacement for Jonian boots(because boots are kinda the only way to get some defensive stats without sacrificing damage).
WHY NOT DOMINATION TREE?
Since all the nerf RAVENOUS HUNTER got, i dont think is that worth, even though you can use the TASTE OF BLOOD too, it is meaningless, because you will usualy lane with Corruption Potion. So is better just to go for SORCERY, some mana regen and AH, which is a lot more helpfull and worth on Gwen.
Maybe it looks kind troll, but let me explain, I have facts,I have made the maths! xD
1.- Because as a 4th or 5th Items gives a higher DPS (specially against Tanks)
2.- It is way better than Liche and tbh I think liche on Gwen is pretty bad, Guinsoo gives more powers to Gwen AutoAttacks thanks to the passive of double "on-hit" effect every 3rd auto. For example, around the time you build guinsoo (4th item), you will have around 2.0 Attack Speed(with E and guinsoo obviously), so that means you will apply two times the nashor pasive every 1.5seg approx (there applying 40% AP which is the scaling AP of Liche)
3.- Makes better synergy with her passive than a 4th normal AP item. With 3 items you do around 5%max health magic damage, if you buy another AP item it just go up to 6%; BUT if you build Guinsoo, your 3rd auto will apply 2 times the pasive(10%) and that becomes an average of 7%approx for auto every 3 autos.
4.- More Attack Speed. It is a very good stat for Gwen becouse she relies on her autos principally to do damage. and also because it let me build defensive boots because with maxe E you get around 2.4 AS.
Why I hate so much Liche?
The few help i can give is Build Nashor for a better JG clear and:
1.- If you start on blue get Q (With AP is easier to kill Blue)and if you start on red go for E (It makes it easier to kite and also does better damage since you are doing more AD with the extra AS)
2.- Farm, because the only way you could gank is that, first your laner have some sort of cc and/or the enemy is pushing. But we all know everyone will have pushed, so go back to JG and just farm.
3.- Pray that the enemy JG does not choose an early game jungler and invades you.
DONT, I REPEAT, DONT PLAY GWEN AS A BLIND PICK, if the enemy choose a poke champ or a strong 1v1 champ, youre mostly dead.
Gwen works better as a counter pick against Tanks or weak early game champ. But if youre confident enough to play against som bad matchup, go ahead! Gwen have just released, so enjoy! and hope you can be the best Gwen player! GL HF! :)
ITEM SET! TO COPY AND PASTE ON YOUR CLIENT :)
{"title":"AP Gwen. JG. TOP. (1)","associatedMaps":[],"associatedChampions":[887],"blocks":[{"items":[{"id":"2033","count":1},{"id":"1054","count":1},{"id":"1056","count":1},{"id":"3070","count":1},{"id":"2003","count":1}],"type":"Starting Items"},{"items":[{"id":"4635","count":1},{"id":"3191","count":1},{"id":"4632","count":1},{"id":"1043","count":1},{"id":"1026","count":1},{"id":"3916","count":1},{"id":"1052","count":1},{"id":"1028","count":1},{"id":"1082","count":1},{"id":"1001","count":1},{"id":"2031","count":1},{"id":"2055","count":1}],"type":"First Back Choices (Always have Antihealing on hand)"},{"items":[{"id":"4633","count":1},{"id":"3089","count":1},{"id":"3115","count":1}],"type":"Core Items."},{"items":[{"id":"3006","count":1},{"id":"3047","count":1},{"id":"3111","count":1},{"id":"3158","count":1},{"id":"3009","count":1}],"type":"Botas."},{"items":[{"id":"3116","count":1},{"id":"3100","count":1},{"id":"4629","count":1},{"id":"3124","count":1},{"id":"3135","count":1},{"id":"3102","count":1},{"id":"3157","count":1},{"id":"3165","count":1},{"id":"3041","count":1}],"type":"Situational."},{"items":[{"id":"4633","count":1},{"id":"3111","count":1},{"id":"3115","count":1},{"id":"3089","count":1},{"id":"3124","count":1},{"id":"3124","count":1},{"id":"3165","count":1}],"type":"My Favorite Melting Scissors Build"}]}