Rengar Build Guide by LittleChillx
Not Updated For Current Season
This guide has not yet been updated for the current season. Please keep this in mind while reading. You can see the most recently updated guides on the browse guides page.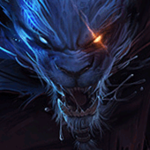 x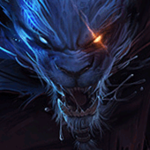 Did this guide help you? If so please give them a vote or leave a comment.
You can even win prizes by doing so!
I liked this Guide

I didn't like this Guide



Commenting is required to vote!

Thank You!
Your votes and comments encourage our guide authors to continue
creating helpful guides for the League of Legends community.
Ability Sequence

1
4
5
7

3
10
14
15
17
18

2
8
9
12
13

6
11
16

Not Updated For Current Season
The masteries shown here are not yet updated for the current season, the guide author needs to set up the new masteries. As such, they will be different than the masteries you see in-game.
Masteries
Threats to Rengar with this build
Threat
























Show all
Threat
Champion
Notes

1

Kassadin
Just kill him. He is squishy early and since he doesn't have a silence anymore just spam your skills outsustain him and get fed.

Introduction
Hi Guys and thanks for watching into my guide.
I have to admit that my ranking isn't high but it's mostly because I only have limited time to play overall.
Anyways I'm watching many streams of

Rengar players and I try to put everything together into this little guide.

Most of my knowledge provided in this guide is based on these 3 players:


http://www.twitch.tv/dekar173

http://www.twitch.tv/avaail

http://www.twitch.tv/akaadian

If you have any questions feel free to ask in the comments section and I'll try my best to answer any questions. Alternatively you can look into one of the streams mentioned aboved and try to get advice there.

Pros / Cons
First of all a little bit of Pros / Cons for you to decide whether

Rengar is a champion for your type or not.


Pros

Extreme Snowball if getting ahead early

High outplay potential with

Unseen Predator

Invisible assassination of high priority targets

Kind of tanky thanks to

Battle Roar

High skillcap, deciding when to lead with

Empowered Savagery
or

Empowered Bola Strike
or win a fight with

Empowered Savagery
or healing and fighting with

Empowered Battle Roar
can win or lose a game

Can carry most of the games if played correctly
Cons

Has a hard time fighting from behind

Has some difficult matchups which can be annoying to play against

High skillcap, choosing the wrong ability can throw a game as mentioned above.

Good ward coverage can ruin your playstyle.

Isn't good fighting in teamfights. Try avoiding them.

Runes
Runes

Greater Mark of Lethality


9


Greater Seal of Armor


9


Greater Glyph of Cooldown Reduction


9


Greater Quintessence of Attack Damage


2


Greater Quintessence of Cooldown Reduction


1
Going for armor pen will be the best to scale into the game. These are the runes I generally run.

If you are up against a mage I'm currently trying to run these runes as well. I'm up for feedback on these
Runes

Greater Mark of Lethality


9


Greater Seal of Armor


9


Greater Glyph of Cooldown Reduction


9


Greater Quintessence of Attack Damage


2


Greater Quintessence of Cooldown Reduction


1
If you're running low on Influence Points you can also run these basic runes. They don't scale as well as armor pen but you have better lane control with them (either CDR or AD quints)
Runes

Greater Mark of Lethality


9


Greater Seal of Armor


9


Greater Glyph of Cooldown Reduction


9


Greater Quintessence of Attack Damage


2


Greater Quintessence of Cooldown Reduction


1

As stated above, I generally like using the first page since it's adding up perfect for the 40% CDR cap:
Runes 10%,

Youmuu's Ghostblade
10%,

Ionian Boots of Lucidity
15% and

Sorcery
5%.

Masteries
Both of these masteries are good to use. You'll have to decide on your own. My personal preference is the first one for more sustain when fighting.

Items
Generally I recommend going for

Tiamat first item, build it into

Youmuu's Ghostblade and get

Last Whisper third item. Build
Boots of Speed or

Ionian Boots of Lucidity anywhere between if you can afford it. As enchantment on the boots I recommend going for ionian boots of lucidity - homeguards since you will be roaming often and therefore recall to base or

Ionian Boots of Lucidity - Alacrity if you feel you're too slow to catch up to your enemies in

Thrill of the Hunt.

At level 9 or 10 think about spending 250 G for

Greater Stealth Totem. You'll have unlimited wards. Perfect item.



Dekar173 (Twitch link in the introduction chapter) always goes for
Sword of the Occult first item even when he's behind. Mathematically
Sword of the Occult is worth when you're at at least 6 stacks. Since you start with 5 stacks you only need 1 assist or kill to make it worth. Your playstyle will change when you build this item since you're afraid of dying and losing stacks.




Lategame you should focus on getting either Hydra if you need some extra HP when assassinating mobile champions like

Kalista or

Lucian. As fourth / fifth item (before or after boots) you should get

Phantom Dancer. It gives you Attack Speed which is perfect against the current Tank-Meta, it gives you tons of crits and a little bit of Movement Speed. Everything is perfect for lategame

Rengar.




The high level players probably never get

Warmog's Armor but I am generally happy getting this as last item. When the enemy is grouping properly you won't be able to kill their carry and get out without taking damage. With

Warmog's Armor you can make some mistakes when engaging and still come out alive since you get good defensive stats from

Battle Roar you only need some HP to back it up.

I've tried going for

Trinity Force as well but

Phantom Dancer is better in my opinion. The

Sheen proc isn't that huge and the chasing potential of

Phage is also contained in the general movement speed from

Phantom Dancer and maybe

Ionian Boots of Lucidity - Alacrity.

Just try it for yourself but I'm having more success not building it.



A special thing about rengar is his own specific item (former item, now passive) Bonetooth Necklace. First of all it makes a reaaaally awesome sound in the beginning of the match and furthermore:


3 Kills/Assists grant flat 25 movement speed buff while in brush or out of combat

6 Kills/Assists grant a extended leap range of +125 putting it from 600 to 725 (outranging even a caitlyn)

12 Kills/Assists grant

Thrill of the Hunt
extended duration of 5 more seconds invisiblity

20 Kills/Assists grant a doubled movement speed in

Thrill of the Hunt

Skill Sequence

Bola Strike
level 2.

Battle Roar
and heal up with empowered

Battle Roar
.
Since you're assassin

Rengar
you should always max out

Bola Strike
second. If you try to build tank rengar go for

Battle Roar
second max.

Sometimes the enemy will stack armor starting from level 1. If you see that the enemy has for example 50 armor level 1 but only like 25 magic resist, max out

Battle Roar
first. It will deal more damage than

Savagery
and the enemy might build hybrid defensives. Start with

Savagery
though.

Spells
Generally I like going

Flash

Exhaust in any matchup.

Exhaust is extremely strong level 1 and level 2 and scales better into mid to lategame than

Ignite if you time it correctly.

If you feel insecure with

Exhaust go for

Ignite you don't need to time it as good as

Exhaust.

There are some players who go

Teleport but I don't like it. If you think you're up against a heavy lane opponent you might think going with it and try to farm up and get good ganks off.
A little tip for

Teleport, if you

Thrill of the Hunt before teleporting you will come in invisible after the

Teleport finished. This can surprise enemies but keep in mind you won't have as much time to chase them.

Laning Phases
Super Early Game
Many current meta toplane champions can start with a camp level 1 and come to lane level 2 instantly. You don't have the option since you not go with

Teleport. But you have another chance of cheesing your enemy. If you're starting at the Blue Side, your jungler generally starts at bottom so that the adc / support help him out with the start. This is good for you because you can snack a little minion of the big buffs.
You can go to the blue buff and attack the little minion, don't jump from the brush because then you'll take 4 auto attacks from blue buff. If done correctly you take 3 hits which can be healed up from using 1

Health Potion. When you come to lane normally all minions are still alive and you'll need 4 minions to get to level 2. Stack up 5 stacks of

Unseen Predator and try to all-in the enemy laner. Keep in mind you need to block his damage with

Exhaust at the right time.

If your jungler insists on starting at blue buff, try to confince him to invade their red buff and snack up one little minion from there. But red buff generally hits you harder than blue buff. You will be lower on HP.

Same goes for the other side if you start at red side. Either take red little minion or invade for their blue.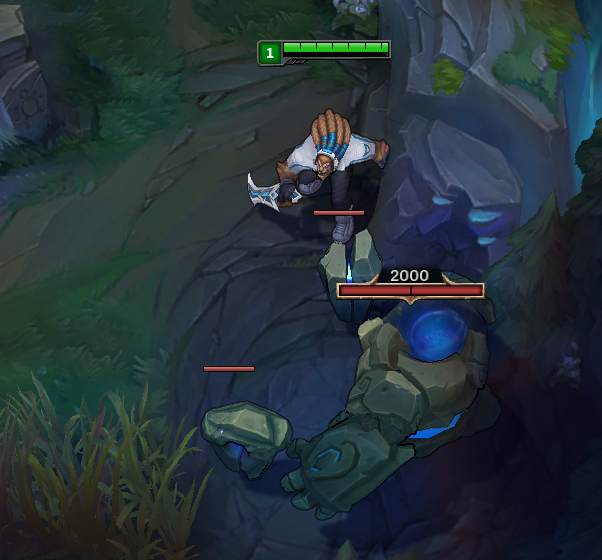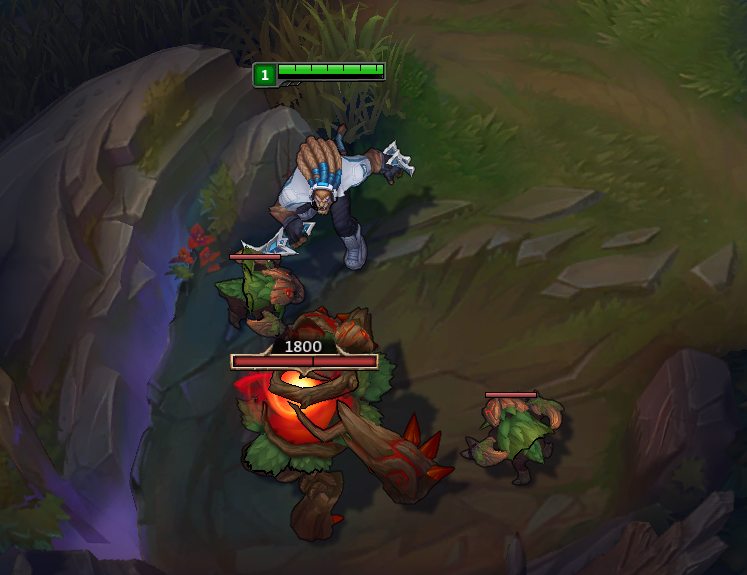 Try to position like shown in the pictures above. You should be able to only get hit 3 times and come back healthy to lane. After the creeps hit you the first time use one

Health Potion to stay at 100% HP.



Early Game
With the start provided you'll need 4 lane minions to get to level 2. This surprises most enemies. Try to stack up your

Unseen Predator with

Savagery on minions. Always position in brush since you'll have an attack range like a ranged marksman and can decide to dodge skills, engage on the enemy or last hit minions.
After trading with the enemy, try to get back into the brush as soon as possible so that the minions lose focus on you and the enemy needs to chase you through the brush if he wants to trade back. If he does he is food for you.
Also think about sacrificing 1 last hit (the fourth minion) and stay in brush to surprise your enemy with the level 2 power spike.

You should thinking about warding the river at around 3 minutes into the game because that's the time when the enemy jungler will be done with both buffs and might think about ganking you while you cheese.

Mid Game
Your goal is to roam with

Thrill of the Hunt. You can decide for yourself if you want to go from top to mid and gank there or go back, heal up, buy and go for bot. Normally I like going for a bottom lane gank because you get potentially 2 assist / kills instead of just one.
When using

Thrill of the Hunt always have 5 stacks on

Unseen Predator

You'll generally have the highest burst with:


Empowered Savagery (before jumping while stealthed) >

Bola Strike (middle of the jump) >

Tiamat (end of the jump) >

Savagery >

Battle Roar >

Empowered Savagery or

Empowered Bola Strike if you are sure you can hit it.
If they aren't dead after that they probably have at least blown a summoner.

If you're up against a

Riven,

Kalista or something like that, lead with

Empowered Bola Strike instead of

Empowered Savagery, rest of the combo stays the same.

When you're getting a gank or you're ganking bot lead with

Empowered Bola Strike for the root because you normally have enough damage with your team to kill them.

Empowered Bola Strike also stops e.g.

Vayne from tumbleing, prevent

Ekko from
Chronobreak etc. As I said, it's important which skill you lead your combo with. Decide wisely.

Late Game
You should now be at your 40% CDR cap which will put

Thrill of the Hunt on a 42 second cooldown.
Don't be scared to use your ult to scout out if the enemy is doing baron, zone the enemies from going to drake / baron and so on. But keep in mind that good enemies will have a pink ward in their pockets which can screw you up.

Generally you want to assassinate the enemy ADC (Marksman) before any teamfighting action. If you can't get to him, killing the squishy support or mid/jungler can also be worth. If they are squishy they provide something else for their team (healing / CC / ...). After killing them you can teamfight 4v5 or splitpush if you're convinced your team won't lose a 4v4. Keep in mind that you will get stacks on the bonetooth necklace anyways doesn't matter who you kill.

Jungle Route
When jungling and you're confident in your ability to position correclty, you can also run

Smite with either

Ignite or

Exhaust.

Generally always start with your bot lane since they'll give you a leash you need early on. Rengar as an extremely strong level 1 therefore you also can invade against weaker early game junglers.

Blue Buff start:


Smite Gromp, get blue buff heal with

Empowered Battle Roar and then you can decide if you want a healthier start (bad leash) kill the scuttle grab or do wolves.

Red Buff start:


Smite Krugs, get red buff and heal with

Empowered Battle Roar. Thanks to the stun you should be able to do the raptors camp as well without problems.


When you can afford it, buy

Ranger's Trailblazer in my opinion there is no need for the enchantment. Go

Tiamat second for waveclear, if you're gank heavy go

The Brutalizer for reduced cooldown on

Thrill of the Hunt.

Summary
If you come to this chapter you might have read the whole thing.
Thank you again and since it's my first guide on mobafire so please be gentle ;)

Anyways if you have improvements or any kind of feedback please write a short comment.
If there are any grammer / typing mistakes please inform me since English isn't my mother tongue.

Also here are a few funny

Rengar assassinations:

Update History
19th June 2015 - Released the Guide
21st June 2015 - Corrected spelling mistakes, added Matchups, starting jungle route.