Katarina Build Guide by NightSoar

- The Death Lotus - How to Learn Katarina (In-Depth)
x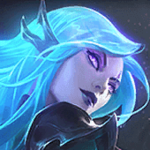 Did this guide help you? If so please give them a vote or leave a comment.
You can even win prizes by doing so!
I liked this Guide

I didn't like this Guide



Commenting is required to vote!

Thank You!
Your votes and comments encourage our guide authors to continue
creating helpful guides for the League of Legends community.
Runes:
Domination
Electrocute
Sudden Impact
Eyeball Collection
Relentless Hunter
Precision
Triumph
Coup de Grace
Bonus:
+9 Adaptive (5.4 AD or 9 AP)
+9 Adaptive (5.4 AD or 9 AP)
+15-140 HP (lvls 1-18)

Spells:
Flash
Ignite
Ability Order
Voracity
(PASSIVE)
Katarina Passive Ability
Threats & Synergies
Threats
Synergies
Extreme
Major
Even
Minor
Tiny
Show All
Extreme Threats
Ideal Synergies
Annie
Annie has short range but huge damage, only trade when she just used her stun on a creep. Keep an eye on her paranoia stacks as she might be keeping them at 3 to bait you.
Synergies
Champion Build Guide
Hello and welcome to this in depth guide for Katarina the Mid lane Assassin :D
I don't expect this guide to be perfect by any means, but I would appreciate to receive constructive criticism in the comments.
This is the way I build Katarina and reflects my play style, if you disagree with anything in this guide then remember this; You can build her how you like, but you came here for guidance, right? So let me guide you.
Read this guide thoroughly to benefit fully and revisit it for updates that I make as I learn new things about my favorite champion (it's rare but I may find a new way to tell you something and thus include it in the guide.)
Katarina is a mid lane assassin with high mobility and amazing burst potential, it takes time to get a feel with her way of playing and the punishments of failing, but it is very rewarding to be able to play her at a decent level.
As I said, I will be updating this guide often and will always be with the current patch.
Please read, test and Up-vote
Before we begin, here are a couple of little compilations I put together, that will show you that I know what I'm talking about:
Channel:
https://www.youtube.com/dawnswings
Pros:
+Huge Burst
+Very High Mobility
+Easy to Roam
+Great Mid Game
+Can Solo Carry
+Counters Pretty Much Every Skill Shot Champion Due To Her Huge Mobility
Cons:
-Very Squishy
-Can Be Killed Easily If CC Locked
-Hard to Master
-Has Very Hard Counters

Doran's Sheild
Okay, so you may be wondering "why take doran's vs Magic Dmg opponents?!". Well if you do it offers damage reduction from their auto attacks, which they will use to poke. Thus is reduces the effectiveness of this and they will need to resort to casting spells in order to do some real damage. This is where doran's shield other stats come into play, the hp and regen allow you to sustain THROUGH this poke and WASTE THEIR MANA. This is one of Katarina's Greatest strengths: she doesn't use mana, this means that you will be at a huge advantage once they are OOM.
This allows you to survive the laning phase and maybe get some kills.

Boots of Speed
Boots: allow you to dodge skill shots and ground skills e.g. Swain's

Nevermove
. Wastes their mana, and the potions are good if you take a bad trade.

Sorcerer's Shoes
Rush these if you are focused more on roaming, with your MS Runes and Masteries as well, your MS will be incredibly high, and you can roam very efficiently.

Seeker's Armguard
Rush if against an AD Opponent ESPECIALLY ZED, hourglass counters zed really hard if you use it correctly. Remember to farm it up as it is an even better item when farmed.

Banshee's Veil
This is a very good late game item due to the passive and also helps against against Bursty Magic Dmg opponents (possibly get the null-magic mantle early and then just sit on it until late game) - gives MR as until you're ready for the good, late game offensive stats.

Blue Pot
Blue Pot is great because it gives you amazing, cost efficient stats, when you need them. Apart from the needless Mana regen it's a great buy all around, and you shouldn't overlook it because the Mana Regen is wasted. Don't forget to use it. ;)

Zhonya's Hourgalss
Zhonya's allows for your team to follow up after you get a pick in before the fight if you find yourself engaging. This can be great as you can wait for your reset (if you didn't get it before) while in stasis.

Rabadon's Deathcap
Great AP scaling Item. Get it Lol.

Void Staff
Get this when they start stacking MR, and yes.. Aegis of the legion on a support DOES count.

Guardian Angel
Allows you to get resets in a teamfight when you are being revived. Try not to lose the passive in skirmishes as it will be useless and not up for when you need it.

Sunfire Cape
Sunfire has recently popped up as an item to get when you need to be a little bit tankier and do some sustained damage, as your initial burst isn't enough e.g. vs a few tanks or you're behind vs full AD teams - the item works really well with abyssal as the AOE damage and AOE MR reduction are just amazing together, making Sunfire do more damage than it probably should during a fight.

Rylai's Crystal Scepter

Rylai's is actually a really good late or early pickup on kat, as it gives a little more tankiness, while still giving loads of AP and the slow - this slow can mean that you are able to get more ticks of your ult off, or that your team is able to catch up and kill the enemy after you go in, or that you are able to kite a tank that is running at you more easily and more! Rlyai's is great!
Tricks
If the enemy places a ward auto attack it, then Shunpo into it. This reveals the ward for 2 more seconds, allowing you to get 2 more auto attacks off and ultimately killing the ward :)
You can Shunpo to the Following:
Champions
Minions
Monsters
Visible Plants (Not in the Fog Of War)
Thresh's Lantern
Illaoi's Tentacles (None-Ult Form)
J4's Flag
Rek'sai's Tunnel entrance/exit
Teemo's Mushrooms
Heimerdinger's Turrets
Kalista's Sentinel
Shaco's Box
Yorick's Ghouls
Zac's Blobs (passive)
Zyra's Plants.
You do
NOT
need vision of the enemies to cast your ult, this means you can hit stealthed champions, and you can check if someone is near you because your ult's icon will show up if they are.
Your Q, W and E grant the Enemies vision of you if you cast them from a bush, however your ult will not, this can be great for that extra damage you need to win a fight.
Tips
Use

Flash
to pick off a high priority target in a dance around mid or baron, this can lead to a 5v4 in your favour with all your basic abilities up. You can use Shunpo to jump abck to your team if you need to escape, or use zhonyas to stop the burst coming from the opposing team after you bursted their carry. This allows your team time to follow up after you gave them a significant advantage, when zhonyas ends the enemy team will be low due to your teams damage and the Queen can set off on clean up duty once more.
If you need to Surprise your opponent then Instead of a Q>E>W>R>ZH you can do E>W>R>Q>E this allows your opponent little to no reaction time. The Q tacked on the end allows that little extra dmg if they flash or use an ability to escape your ulti.
Escaping
If you're being chased, remember to spam W as it does not interrupt your movement and will give you a speed buff, as well as the opportunity to turn the fight if they walk over it.
If you need to

Flash
or Shunpo(E) away, then remember to W first for that extra MS bonus and therefore a further distance overall from your pursuer.
Fighting
You can use your Shunpo(E) to jump over abilities
E.g. Lux's snare or Ahri's E+Q Engage combo
and then engage when that ability is down, putting you at an advantage as you can deal damage with 4 abilities when they only have 3 or less left.

Flash
+ E can cover a lot of distance in an instant, taking your opponent off guard, this can turn the tide of battle to your favour or get you in range to finish off that last 200hp before Shunpoing away.
Max Q

first against raged poke targets, like

Ziggs,

Xerath,

Syndra e.t.c.
If you are having trouble CSing then Get W

at level 2
If not then you can take E

at level 2 to dodge even more and make use of your daggers!
Max W last as it doesn't give any damage as your other abilities do and you will usually be getting resets when using it, so the CD wont matter as much. Also the speed buff isn't that noticeably different when maxed early (late game you have more Move speed, so it's more valuable)

= Q

= W

= E

= R
Harass

+

+ autoattack +

to safety.
Heavy Trade

+

+

+ Auto and Dagger Proc +

to Q Dagger when they are close + Auto +

again to finish them off or to get away.
If They're Under Turret:

+ Proc Dagger +

away
All In

+

+

+

(Pre Items)

+

+ prepartion +

+

Zhonya's Hourglass
(Post Items)

+

+

+

Zhonya's Hourglass
or

(Less reaction time for enemy)
In Ranked,
do not be afraid to first pick Katarina
, she has many counters, yes, but all of these can be dealt with nicely
and
if you force your opponent onto a champion they're not comfortable on, then you will have the advantage of knowing what your doing, and you should have an easy time laning.
If you're very wary of your opponent
Avoid fights, poke with Q and dodge their skill shots until they run out of mana.
Roam bot or top in order to get kills after shoving the lane with Q+W so that your opponent cannot take your tower while you're gone.
Early Game your goal is to NOT DIE. If you do this and get as much farm as you can, then you are all set for the mid game, which is Kat's Strongest point.
If your Enemy has ranged abilities, then they will be looking to use them on you when you go into melee range to cs, bare this is mind, so you can E to a minion, or E to them and counter harass.
If you get lvl 2 first then take E, a Q then E will do a lot of damage to your lvl 1 opponent, and the dmg reduction from your E will negate their only abilities' damage, letting you chunk them without much retaliation.
If you get shoved under turret by someone like

Azir
then take W second for easier CSing.
If your enemy is Melee like a

Fizz
or an

Akali
then you can
CS Trade
. This term is mainly used in bot lane but can be applied here.
CS Trading is where you stand next to the minion that your opponent wants to last hit and if they come near you can use your abilities on them when they are in the auto attack animation.
This is especially effective with Katarina as she can Q her lane opponent and stand near the CS, waiting for them to come near and auto attack it. When this happens she can E to it and maybe put in a few auto attacks if she's feeling confident. This allows for an easier laning phase :D
If you feel confident in lane, then start to constantly shove your lane after 5 mins and then look for roaming opportunities. If there are none, go and farm wraiths or wolves, if there is an opportunity, then go ahead, even if it does not work out, you are adding pressure to the map and you do not lose anything as you pushed the wave before you left, and will be back before you miss any CS.
Remember
You do NOT need your ult in order to do damage
Pre-Roaming, watch for your opponent making irregular moves, like walking past your melee minions, or the outline around them goes yellow, this tends to mean you are getting ganked, or you're about to be all-ined by them. Obviously not favourable, as they must have some advantage over you in order to prompt them to go in.
You can either ward one of the lane bushes, ward the ramp near wraiths, or keep hold of your trinket. If you ward a bush, keep to that side of the lane, as it will give you more reaction time to junglers and overall, a greater chance f survival. If you ward near wraiths, then do the same but be more careful, as this does not protect you from junglers that go the long way around.
Not pushing allows you to farm safely near your turret, which practically nullifies you from ganks and decreases the chance that your enemy will kill you, however, it does allow them to roam, so once you hit 6, start shoving to their turret and go roam.
If Roaming isn't favourable as your lane opponent follows you and can nullify or turn the tide of your roam, then fake a roam next time. This means you go into the fog of war as if you are roaming, but then you hide in a brush that isn't warded that they will walk past or through when they try to follow, this normally leads to a kill as they are focusing on the lane they think you are roaming to instead of what they're doing and where their champion is thus, you have an advantage. In this situation remember you can start with ult as it doesn't give them vision of you and you can save E for when they realise and try to escape, or retaliate.
If you are in a favourable match-up, then remember to keep your eye on the jungler and only go in when you know where he is: For instance, they're top, bot, or dead alreaedy, or it's around 7mins and they're taking their buffs. A jungler can really screw you over if they appear unexpactantly.
Remember: If you can't see the jungler, he's most likely where you want him least.
During the early levels, this is what you'll be
concentrating on the most
, Katarina has a weak-ish laning phases and you need to get to the mid game
(where you shine)
in one piece and with maybe a few kills under your belt.
But
farming is key as you need the gold in order to roam in the first place and actually get something out of it.
Melee Minions: 2 tower attacks and then auto for the last hit.
Caster Minions: Auto, tower hit, and then another auto for the last hit.
Remember minion dmg will change this and take it into consideration when timing your AAs.
If you're pushed up to the enemies' tower then go to

wolves
or

Crimson Raptor
and farm them until the creeps have pushed back to the centre. This will give you CS advantage.
In the mid game, participate in as many skirmishes as you can, Katarina snowballs HARD and a couple of kills can lead to many, many more in the future.
The mentality you should have in the mid and late game is:
"How can I get resets, how can I not die."
If/When you see your allies pushing a defended turret, hide in a brush you think isn't warded close to them and tell them to push, when they are, tell them to dive, you can come in and help with the dive, remember to wait 0.5-1s so you'll be safer and more likely to clean up.
When pushing a tower as a group in a deserted lane. Allow your team to push and then move into the jungle where you think your enemies will walk through in order to defend the tower
(you are not the best turret pusher and you will be of more use getting rid of the people who can contest your pushers).
When they walk past, pounce on them. Ask for help from one of your team members if you don't think you can solo them.
But make sure at least one person is pushing the turret as hard as they can!
Get a turret when you kill it's laner, and get drag afterwards if you can, then if you and your allies are not too low stay in your group and go and get another turret, and another, and another, and get a pick because you are grouped up and the enemy isn't etc.
Just remember to go back when you have 1500g+ because that's when the enemy will be stronger than you as you haven't shopped in a while and they have.
If you have a nasus, Trydamere, zed, shaco or someone who can split-push well, then pressure another lane, this will drag the enemy to that lane and your split-pusher will have free rein to push as hard as they can, just keep the enemies in your lane and they can get so much from it. When they finally DO go to stop the split pusher, then you have an opportunity to take the towers in the lane you are pressuring and/or get drag. You basically give them an Ultimatum: Lose your top turrets, or lose this one and dragon. It's a WIN-WIN situation for you if you can pull it off. I see way to often when the top laner is pressuring, but the rest of their team isn't and they just die because 3-4 people go top and kill them, not only that but their team doesn't get any objectives while the enemy is top lane!
Ugh, it makes me sick.
Otherwise, make sure you remember to pop your blue pot before fights and contestions.
Okay, Good Job. You made it this far.
Now comes the tricky part:
Stay to the side of fights, wait until
All
CC has been blown. Trust me, it will happen, they will use it eventually if your front line does it's job.
After this, look for the back line and try to get on them ASAP
, their peel should have already been used, so its and easy time for you, kill the damage ( APC, ADC...) and then move on to the others, this should be easy as they will all have taken at least some damage and hey now, here comes Le Clean-up Queen.
Common mistakes are that most Katarinas see their allies In trouble and they think "OMG I need to help" then they go in and die.... this is not the right way to play.
You need to have almost a KSing Mindset.
ALMOST I say, not exactly
(someone will misconstrue this...)
You need to wait to go in until you are 100% sure of a reset. This can also be achieved by throwing a Q into the enemy team just as the fight starts, to do dmg to all and thus getting an assist if someone dies ( reset ) and then BACK OFF. You DO NOT want any part of the fight in the next few seconds until there is no more CC or abilities that can be used on you.
Katarina works best when she gets her resets
, she does the most damage and has the biggest impact. If this means you need to wait for your team to do damage first as you care not in the position to instantly burst their whole team, then so be it.
Remember:
Kill their team from back to front.
Don't waste your ult on that 5k hp malphite just to kill him faster... he doesn't do dmg... you don't NEED to kill him... see what I mean...
Also, if you see that their 20/2/15 Rengar is bot lane because you pushed it earlier, SPAM PING BARON!! Their main damage is more than half way across the map, you can get it before they can get there even if they recall with homeguard if you do it instantly.
Another time you can get baron is just when the enemy has got your mid inhib, normally there is a fight and they all recall on low Hp, whereas you are all full and have just shopped because you are right in your base, this is a good time to do baron as they wont be expecting it. It's a disastrous mistake in almost all Elos (Mid for Baron).
Objective Priorities:
Obviously no 1 is the nexus...
1. Nexus
2. Inhib (3 inhibs down basicly means mininos will win the game for you XD )
3. Nexus turrets (risky business if you can just get all of the inhibs safely)
4. Inhib Turret (opens the gates)
5. Baron (can allow you to get huge objective advantages)
6. Inner Turret
7. Dragon
8. Outer Turret
9. Kills
10. Buffs
11. Lane Minions
12. Jungle Minions
Use this to know what you should take next.
Laning
Go all in as Katarina in 3 situations:
1.
Your opponent has a key ability down - a stun or a main damage spell
2.
Your Opponent is low and you can burst them before they can react - remember to have an escape route (mainly with Shunpo(E)
3.
You need to gain pressure in your lane, in this instance use your ult, as it's on a very short cooldown and CAN be used for harass, this will make your lane opponent much more wary of you as they will be on low hp and may have used a summoner to escape you if you waited for them to use an escape spell before going in. (Beware of the jungler)
TeamFights
Only go in after ALL the CC that can stop your ult has been blown.
e.g. Leona kit, Amumu Q e.t.c.
This will allow for maximum reset potential and because the fight will have gone on for some time, the enemy team will be low and prime targets for the clean up queen.
Come in from the side
of teamfights, think like a fiddle almost, try to keep out of sight so that you cannot be engaged upon and you will have the elemet of surprise, as well as having easy access to the enemy carries and squishy targets. If you were to stay at the back of your team like your AD Carry, then you will get focused by the enemy anti carries, you will die and be useless in the rest of the fight.
The Differences between
good
Katarinas and a
great
ones are their positioning, when they go in and how they manage their resets.
Katarinas that are extremely fast with their resets and movements are very intimidating and can cause the enemy to play less aggressively which allows you to capitalise on their mistakes.
Roam whenever you can
, your extra MS should help a lot with this as lower ELO players usually stick around too long after a kill, this allows for easy clean up by the clean up queen herself.
Try not to waste time
going bot for nothing and end up losing CS, shove to the opponent's tower before roaming so that you have longer before the minions get to yours.
There are several categories to Opponents for Katarina:
Skill shot type
- Kat is one of the best Juking champs during laning phase, and will have an easier time, these include:

Karthus

Lux

Nidalee

Zyra

Ahri

Twisted Fate

Morgana

Ezreal
Long range type
These can CC and Poke you from afar which can cause a lot of problems, these include:

Ziggs

Zilean

Brand

Annie

Anivia

Orianna

Veigar

Vel'Koz

Swain

Viktor
Invisa-burst
This type can are a skill match-up, however you do have an advantage as 2.5 of your skills can hit invis targets (your
sinister steel
,

Death Lotus
and a bounce from your

Bouncing Blades
). These include:

Akali

Talon
The Deniers
This type focus on stopping you when you engage before you can do a decent amount of dmg, and then proceed to kick the living snot out of you - use cauting when fighting them. These include:

Diana

Malzahar

Cassiopeia

Xerath

Syndra

Lissandra

Gragas

Kassadin

Fiddlesticks
The heavy Bursters
This type will usually win in an all out fight, so you'll either need to poke them down first, or out-play them. These include:

Zed

Yasuo

LeBlanc

Riven

Fizz

Ahri

Annie

Brand

Cassiopeia

Diana

Fiddlesticks

Fizz

Kassadin

LeBlanc

Lux

Syndra

Karthus

Malzahar
Okay, so...
If you REALLY wanna learn and improve as Katarina.. Rush Mejais...It's a great item that teaches you how to play Katarina. You'll actually think about your situation and make the best possible decision because you don't wanna lose your stacks..... so yeah :) Rush

Mejai's Soulstealer
.
Katarina is one of my favourite all time champions and I love to play her.
All you need to do is practise and you'll be a master of the Legendary Assassin of Noxus

;)

Edit: 25/03/2016 - Wooo! 100k Views - Thanks to everyone who's taken a peek at my guide! <3
Edit: 22/09/2016 - 250k Views - Wow guys, that's a Quarter of a Million views! Thanks to everyone!
Edit: 21/06/2018 - It's been a while, but we've made it to 750k views, nice job guys!