This build has been archived and is for historical display only
This build has been archived by the author. They are no longer supporting nor updating this build and it may have become outdated. As such, voting and commenting have been disabled and it no longer appears in regular search results.
We recommend you take a look at this author's other builds.
x
Not Updated For Current Season
This guide has not yet been updated for the current season. Please keep this in mind while reading. You can see the most recently updated guides on the browse guides page
x
Riven Build Guide by LunarkeGG

[WIP] Riven from 0 to toxic riven main [WIP]
x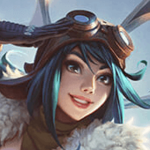 Did this guide help you? If so please give them a vote or leave a comment.
You can even win prizes by doing so!
I liked this Guide

I didn't like this Guide



Commenting is required to vote!

Thank You!
Your votes and comments encourage our guide authors to continue
creating helpful guides for the League of Legends community.
Choose Champion Build:
RIVEN TOP

RIVEN MID
Runes:
RIVEN NORMAL RUNES
Precision
Conqueror
Triumph
Legend: Bloodline
Last Stand
Inspiration
Magical Footwear
Cosmic Insight
Bonus:
+9 Adaptive (5.4 AD or 9 AP)
+9 Adaptive (5.4 AD or 9 AP)
+6 Armor

Spells:
STANDARD SUMMONERS
Flash
Teleport
Threats & Synergies
Threats
Synergies
Extreme
Major
Even
Minor
Tiny
Show All
Extreme Threats
Ideal Synergies
Fiora
Skill matchup all about timing of your W and your Q3. Don't fight at level 1!
Synergies
Champion Build Guide

Hello, I am a streamer that goes by the name of
Lunarke (loon-are-key)
. I've been playing league since season 4 and I have 11 accounts! I struggled a lot to find my main throughout the time I've played and I've played every champ and every role but still had no idea who I wanted to main. I would pick a champ and play it for about a week or two then get bored with it and go on. The only champ I ever played for a long time was Kayn which is why you'll see my love for him in a lot of the fan art I retweet on my
Twitter.
But honestly I hated playing jg and it wasn't because I was bad it, I just felt forced to play it to gain elo. Then in came riven she was one of the first champs I picked up and instantly liked mainly for dunkeys rap with him playing riven which I loved at the time and still do I just struggled so much with her combos. So I recently finally decided to dedicate myself to playing a champion I love in a role that's, not jg :3 haha.
I love to play in low elo to make friends so feel free to join my
Discord
to talk to me more and maybe give me tips on my guide or Riven! And no I will not boost you. xD
My Stream
I mainly stream league but I will stream other games like Minecraft, OSU, Borderlands so come check it out if you are interested!
All the Links
Twitter
LunarkeGG
Discord
OffMetaGaming Server
My Stream
lunarkeGG
WIPWIPWIPWIP
I'll talk from personal experience. So no guessing or anything. If I've played the matchup more then a couple of times I'll post the champs name down here and let you know how I've won the matchup and the things that cost me the matchups.
These are all the matchups i have done. still WIP just listen em to remember!
Kled
gnar
vlad
garen
renekton
irelia
trynd
fiora
Akali
yasuo
teemo
darius
The first thing you
HAVE
to learn is the fast Q combo. Not only will this help make your trades faster but it will help you with every other combo!
If done correctly the fast Q combo can save you more then half a second which in league can be pretty big if used repeatedly/correctly!
Basic Combos

Gap close combo
Q > E > Q

Fast combo
AA > Q > Move > AA > Q > Move > AA > Q > Move

Short trade combos
Q > AA > W > AA > E
Q > Move > W > Move > E

Tiamate combos
T > W
E > T
T > Q
T > W > R1 or R2
E > T > W > Q
E > T > W > R2 > Q

Initiation combo
E > R > F > Q3

Double Casts

With E
E > R2 > W
E > W > Q
E > AA > W > Q
E > R2 > Q
E > F > AA > W > Q
E > F > W > Q
E > R1 > F > W > Q

Without E
R2 > Q
R2 > W

Big Combos

Lunarke Combo:
Flash less combo for when you don't have flash and still wanna all in a team fight.

Lunarke combo

Q1 > Q2 > E > R1 > Q3 > AA > W > AA > T > R2

Shy Combo:
Used to inflict as much damage on an enemy in the shortest amount of time.

Shy combo variations

#1
E > R1 > F > W > Pause > AA > T > R2 > Q

#2
E > R1 > F > W > Q > AA > T > R2 > Q

#3
Q > E > R1 > F > W > Q2 > AA > T > R2 > Q3 > AA

Taiwan Combo:
A one-shot combo that looks cool but isn't that effective.

Taiwan combo variations

#1
R1 > E > R2 > F > W > Q

#2
R1 > E > F > R2 > W > Q

NidJr Combo:
Like the shy combo but without tiamate.

NidJr combo

E > R > F > W > Q > Move > AA > R2 > Q2

Exil Combo #1:
Taiwan combo without the flash.

Exil combo

R1 > E > R2 > Q > W > T > Q > AA > Q > AA

Exil Combo #2:
One-shot squishy.

Exil combo

E > R > Q > F > W > AA > R > Q > T

BoxBox Combo:
Flashy engage in a team fight.

BoxBox combo

E > R1 > Q3 > AA > W > R2 > T > AA

BRNA Combo:
Short fast combo.

BRNA combo

E > R1 > F > T > W > AA > R2 > Q
Try to get as close to this as possible! I find 40CS at 5 min and 90CS at 10 min to be my average (in real games, not training mode) so let's say that's a safe minimum. My daily routine as of right now 10/15 is to CS to 5 min while using just autos with a long sword and repeating till I have 50CS at 5 min. Once I have that I do the same thing but this time I can use my abilities as well. Then lastly I'll do it one final time but this time I can use only autos and I have no items. This mainly helps in two ways knowing the last possible second to last hit (good for freezing and slow pushing) and can help you micro-manage your time thinking to yourself I can still kill this cs at this hp so I have X amount of time left to fit in a short trade.

No need to get down on yourself if you are under the goal of perfect cs at 5 min. It happens a lot, especially in difficult matchups but its the way you come back from a bad early game that will make you a better laner. Win lane isn't always the way to win the game.
Something that can help you a lot is pausing in between every action.
Aka E > pause > R > pause > Q > pause. Try to rush a combo and you could end up making the combo take longer then it should for instance if you hit E > R > Q to fast you will still be locked in place for the R animation. But also make sure not to take to long of a pause either since that can again cause you to be stuck in the R animation.
Quick info on Riven in the meta
Things i learned while learning riven
I learned the thing stopping me from doing the fast Q combo especially when I was doing it in a combo like E > F > AA > W > Q > Into fast Q combo was I was Q'ing through them and not on them which was making me miss click a lot more and in turn slowing down my combo.