Not Updated For Current Season
This guide has not yet been updated for the current season. Please keep this in mind while reading. You can see the most recently updated guides on the browse guides page
x
Trundle Build Guide by KendrickDaBaby

[10.14] Trundle: How to Play Like a Troll KING!
x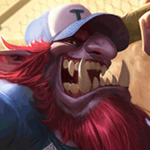 Did this guide help you? If so please give them a vote or leave a comment.
You can even win prizes by doing so!
I liked this Guide

I didn't like this Guide



Commenting is required to vote!

Thank You!
Your votes and comments encourage our guide authors to continue
creating helpful guides for the League of Legends community.
Runes:
Jungle Trundle (1)
Sorcery
Phase Rush
Nimbus Cloak
Celerity
Waterwalking
Precision
Triumph
Legend: Tenacity
Bonus:
+10% Attack Speed
+9 Adaptive (5.4 AD or 9 AP)
+6 Armor

Spells:
Top Lane (1)
Flash
Teleport
Ability Order
Jungle Trundle
King's Tribute
(PASSIVE)
Trundle Passive Ability
Threats & Synergies
Threats
Synergies
Extreme
Major
Even
Minor
Tiny
Show All
Extreme Threats
Ideal Synergies
Warwick
Heals too much, better ganker, better duelist with Red and W up... Not a bad ban.
Yuumi
Yuumi helps Trundle heal, and is overall really great in those late game teamfights with her ultimate's CC. You want Yuumi. Let's just hope Yuumi wants you back.
Synergies
Yuumi
Yuumi helps Trundle heal, and is overall really great in those late game teamfights with her ultimate's CC. You want Yuumi. Let's just hope Yuumi wants you back.
Champion Build Guide




+

Great Duelist


+

Simple Kit


+

Best Split-pusher In Game


+

Amazing Sustain


+

Healthy Clear (No Leash Needed)


+

Counters Tanks

Trundle is a great champion that you should add to your champion pool. Not only is he extremely simple, but he has a lot of versatility once you learn the ins and outs of his kit. Depending on what role you are, you can really push for objectives and add that strength to the team that you may be lacking with another pick. Trundle has built in healing with his passive King's Tribute, and once he has his ultimate, Subjugate, he will wreak havoc on any laner. For junglers, you will fall in love with his clear, as he needs no assistance and can go without leashes due to his passive. I still recommend a leash, but if you don't get one, no problem. He is a top 3 duelist jungler, and that is amplified with his insane ultimate.




-

Gets Kited Easily


-

Subpar Laning Phase


-

Not Much Utility


-

Long Ultimate Cooldown


-

Not Much Outplay Potential


-

Can't Solo Carry Games

Now don't get me wrong. As strong as Trundle is, he lacks the carry potential of junglers like Karthus, Master Yi, and Evelynn. You are extremely team reliant, and unless you get to split pushing, you have to focus on neutral objectives to snowball a lead. Trust me when I say this, you can only help your team win the fights, and you can't win them yourself. You are insane in duels, but when it comes to teamfighting, you have to be tanky and peel for your team. That being said, you do that excellently. But in lower ELO's especially, you will suffer if your team cannot learn to aim the squishy DPS'ers, rather than the tanky supports and top laners. Trundle can ameliorate this with his ult, however, but it only lasts 4 seconds. That being said, he still is a good pick. You just have to grow a pair and lead the charge.
TOP LANE TRUNDLE
| | | | | | |
| --- | --- | --- | --- | --- | --- |
| | | | | | When you're playing Top Lane Trundle, it is imperative that you have items like Trinity Force and Titanic Hydra as they enable you to split push. Your goal as a top laner isn't really to engage in team fights, but rather, to create pressure for your team. In this case, make sure you have Teleport rather than Ignite, so if your team really needs you, you can make sure you have the means to reach them. Spirit Visage is a great item that I buy mostly for the healing. It's not really that good of an item without its passive, as all it does is give you a bit of Health, MR, and some regeneration, but its passive makes it all worth the buy. I always buy this item, as it amplifies a key part of Trundle's kit, which is his healing. |
JUNGLE TRUNDLE
| | | | | | |
| --- | --- | --- | --- | --- | --- |
| | | | | | Jungle Trundle relies a lot more on tankiness to be effective, as your main goal is to soak up the damage during a teamfight while peeling for your ADC or mid laner. It's your goal to do the dirty work, so I recommend buying additional armor as well. However, the core items still remain the same (sans Tri Force). Skirmisher's Sabre - Cinderhulk allows you to smite the enemies, marking them and gaining activation of your Nimbus Cloak. Spirit Visage amps up the healing that you need during these fights, as without healing, you'd die quite easily. Titanic Hydra is your main damage source, and provides a valuable auto attack resetter. Other than that, I usually don't upgrade it fully unless I have an early lead. I keep Tiamat for most of the game unless I feel a need to upgrade it. |
JUNGLE TRUNDLE
TOP LANE TRUNDLE

Top Lane Trundle
As a top laner, your main goal is to split-push and create pressure over the map. This is why you go for a Q > W > E skill max setup. It is essential for you as you are the best split pusher in the game. Items you will need are

Sheen
and

Tiamat
. With those two items alone, you can wreak havoc on turrets and clear minion waves with ease. Maxing Q first is a given, but maxing W second will allow for a shortened cooldown on your

Frozen Domain
which can allow you to move faster across the map and increase your attack speed, which amplifies clear speed and turret taking speed.

Jungle Trundle
Since you are a jungler, you would like to max your E first, as your clear speeds are fine as it is with

Tiamat
and/or

Bami's Cinder
. The only issue for you is that you are more focused on helping your team get ahead, rather than yourself. Use a Q > E > W skill max to ensure that you are helping your team get picks or obstruct the movement of potential kill targets. It is imperative that you help catch the runaways, and maxing your

Pillar of Ice
second will definitely help you more than hurt you. Keep in mind that there is a region around your

Pillar of Ice
which applies a great slow to targets present within it. So even if you miss your pillar, you will apply a slow to your target, allowing for you to reach them with ease. Keep in mind that you can also separate backlines from front lines and vice versa.
WHY SORCERY?
Sorcery is one of the best runes in the game, and I think that Jungle Trundle (and maybe even Top Lane) can use this rune to its full potential. Let me start off by saying that Sorcery is only super useful due to the Movement Speed buffs, and that Trundle is a champion extremely reliant on how close he is to his enemies. Dueling them is no problem, which is why I choose to use

Phase Rush in lieu of

Conqueror or

Press the Attack. Don't get me wrong, both of the Precision tree runes are spectacular, but they are not that useful for Trundle, who is already a super strong duelist and doesn't need help with the healing from

Conqueror and the extra damage from

Press the Attack.
| | | | |
| --- | --- | --- | --- |
| | | | Now, let me explain why Phase Rush is an incredible rune. Stickiness. Done. Trundle needs to stick onto his target because he can win ANY duel. You need that burst of movement speed because you are not a very mobile champion. This and your Frozen Domain will make it easy to latch on to targets and never let go. Make sure you make use of the fact that it procs after 3 separate abilities, meaning that with your auto-resets, you can channel Phase Rush with ease and start attacking your opponents. Lead with autos if they are not ranged, but if they are, use your Frozen Domain to start approaching them. You just want a hug, right? |
| | | | |
| --- | --- | --- | --- |
| | | | What can I say? Nimbus Cloak is by far the strongest rune for any junglers right now due to the burst of movement speed it gives you when you smite someone. Literally perfect for a champion like Trundle, who has a lot of trouble sticking on to slippery targets. |
| | | | |
| --- | --- | --- | --- |
| | | | Celerity, just like Nimbus Cloak, amplifies your movement speed, which is perfect when it comes to dueling, escaping, and chasing. Celerity helps you a lot since if affects all movement speed bonuses, so you will travel further with the help of this incredible rune. |
| | | | |
| --- | --- | --- | --- |
| | | | Waterwalking. An absolutely tremendous rune choice as Trundle's fights really come to life in the river. Choke points make it extremely easy to land your Pillar of Ice, and with a maxed out E, you can separate the backline from the frontline with ease. Waterwalking speeds you up in the river, as well as giving you more damage to whack your targets with. Do not choose anything over Waterwalking, regardless of the benefits. |
| | | | |
| --- | --- | --- | --- |
| | | | This is pretty self-explanatory. Attack speed gives you faster autos, which is your only source of damage in the early game. Adaptive force is necessary to clear your camps fast and add another source of damage, and the armor is to be able to clear without losing much HP, although you could replace it with magic resistance since Trundle doesn't lose much health off his first clear. |
TRUNDLE'S BIGGEST THREATS
TOP LANE

Darius
is a lane bully, and Trundle will not feel like a king laning against him. You'll want to start Doran's Shield and go for

Grasp of the Undying
in this matchup so you can trade safely. Wait until level 6 for your all-in and fight on your

Frozen Domain
. Do not let him get

Hemorrhage
stacked up, as if he stacks it up before you start fighting him, you will lose the fight.

Teemo
is the weirdest champion in all of league of legends. He will decimate you in most trades due to his blind, which wont let you get your auto attacks off. It's a difficult matchup and you'll have to avoid his shrooms if you want to kill him. However, that's easier said that done. When his

Blinding Dart
is on cooldown (8 seconds with 0% CDR), you will have to engage.

Jax
basically counters you. However, not all hope is lost against Jaximus Prime. It's all about playing around cooldowns in this matchup. Keep track of his

Relentless Assault
passive, as he will stack it on minions. When his

Counter Strike
is down, you have a large window of opportunity to trade with him. Also, activate your ult after his, as

Grandmaster's Might
is an instant stat-giver, whereas yours is a DoT (damage/drain over time) ability.

Kennen
is the least-played champion on this list, but he is a dangerous foe. He will constantly poke you and will be the reason why you hate yordles. (Teemo is reason enough, anyway). Watch out for his passive

Mark of the Storm
, as he will stack it through abilities. It will stun you for 1.25 seconds with 3 stacks.

Thundering Shuriken
is his main source of poke, so beware of that. Go

Grasp of the Undying
here.

Vladimir
is by far the hardest champion to kill on this list. You think you have sustain? Well, Vlad will do you a favor and flex on you with his

Transfusion
. Do not let him Q you when his bar is red. You can't really kill him in lane unless his

Sanguine Pool
is down, but it's really not an end-all-be-all lane. He can't really kill you either, but he will outscale you. Take Grasp and go full split-mode.

Wukong
is the best champion on this list, and he is way too strong right now. You have to watch out for his

Warrior Trickster
, because you will need to draw it out of him. The best part about this matchup is his passive

Stone Skin
, because although it will make you a bit sad early on, when you hit 6, it's go time. You will lose all trades against him, however, so go Grasp and pray.
JUNGLE

Wukong
is not only a stellar top laner, but a kick-a** jungler as well. He will kill you, hundred percent, and his ultimate is way too strong right now, and offers a grand amount of crowd control, to which you cannot match. Best hope here is to create map pressure and help get your lanes ahead. Dueling him isn't really the hard part, but he will probably be better than you.

Warwick
is very strong because of

Infinite Duress
and

Blood Hunt
. His ganks are better, and if you don't go red smite, he can duel you so so well. Not a bad ban, but it's a possible victory if you can gank well and teamfight well.

Ekko
is too strong right now. When is he getting nerfed? Dude's way too safe of a champion to pick and play, so I recommend banning him any chance you get. He's just way too strong right now and his

Chronobreak
renders him to be the hardest assassin to kill.

Ivern
is a tree dude. Yet he can render you useless so easily! Ivern's CC is really good, and since he's a support jungler, he will make your life hell. Just be careful when playing against him, and pressure him as much as you can.

Evelynn
is really strong because of the buff to

Hate Spike
. She is really hard to kill and she will murder your ADCs and squishies. Not a bad ban. If you want to beat her, kill her in her jungle. Once she gets her ultimate and stealth, the only chance you have is having a

Control Ward
in your inventory and knowing where she is at all times. Bad vision = you're not beating her.

Olaf
is the only champion who can duel you. He is the best duelist in the game because he has stupidly overpowered abilities and insane lifesteal built in his kit. The lower you get him, the lower he'll get you. Plus, he's unstoppable with his ult

Ragnarok
and will win every 1v1, 2v2, etc. unless you're ahead.
Here are some YouTube videos that will be very useful when getting better at Trundle Jungle.

VIDEO 1: How to Carry Games as Trundle Jungle
SYNOPSIS: This gameplay was a simple game I played in higher ELO in order to demonstrate Trundle's viability. This covers more of the basics of Trundle Jungle and will show you cool tricks to succeed. I recommend watching this one first, if new to Trundle.



VIDEO 2: How to play Trundle against Counter Matchups
SYNOPSIS: This gameplay was a good game I played against a counter-matchup (Nidalee). I was able to dominate the game through good decision-making and a great early presence. I pre-recorded the game, however, rather than playing it in real-time. It allowed me to focus more and provide better quality gameplay.



VIDEO 3: How to play Trundle when Behind
SYNOPSIS: This gameplay is essential to watch. We were behind pretty much the whole game, and by hanging on, we were able to have a successful match and pinch out the win. I was severely behind Rengar in kills, gold, CS and basically impact; however, peeling for my team and making the right plays allowed us to prosper and clutch the game up! This is essential to watch, and I recommend it over my other Trundle videos because it is more gameplay oriented and it is more accurate when describing Trundle jungle. Trundle is not really the "carry" god, but more of a tanky presence who can peel wonderfully and impact team-fighting more than you would think.


One more thing before I conclude; I made a link to access an item set in which you guys can simply import into your game, without the hassle of manually creating your own.
Here is the link:
LINK TO ITEM SET
Here are the steps.
1. Download the Item Set >> Should come in a .zip file with a folder named Config.
2. You can use the Readme.txt's instructions, or you can also use League itself to import the build.
3. If you go to your item sets area in league, there should be an import build option.
4. Click the Import Set button, and choose the
.json
file within the .ZIP archive.
5. You should be ready to go! Let me know if you have any further questions in the comment section down below.
Thank you all for the tremendous support on this guide. Much love!