Renekton Build Guide by Antisocial_Renekton

[12.21] Renekton guide by Rank 1 RU Renekton OTP (EVERY MATCHUP/EVERY BUILD EXPLAINED)
x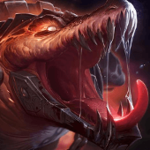 Did this guide help you? If so please give them a vote or leave a comment.
You can even win prizes by doing so!
I liked this Guide

I didn't like this Guide



Commenting is required to vote!

Thank You!
Your votes and comments encourage our guide authors to continue
creating helpful guides for the League of Legends community.
Recommended Items
Runes:
resolve
Precision
Conqueror
Triumph
Legend: Alacrity
Last Stand
Resolve
Bone Plating
Unflinching
Bonus:
+9 Adaptive (5.4 AD or 9 AP)
+9 Adaptive (5.4 AD or 9 AP)
+6 Armor

Spells:
Common
Flash
Ignite
Ability Order
VS full melee comps or if build no waveclear
Reign of Anger
(PASSIVE)
Renekton Passive Ability
Threats & Synergies
Threats
Synergies
Extreme
Major
Even
Minor
Tiny
Show All
Extreme Threats
Ideal Synergies
Kled
OG counterpick, just dodge, nobody plays it anyway. Really hard lane since his q applies antiheal and he can always turn your trade into all in (he always wins these)
Elise
style synergy, be a good kitten - get prio and follow her
Synergies
Elise
style synergy, be a good kitten - get prio and follow her
Champion Build Guide
Hello, Im d2 renek otp, currently listed as rank 1 renekton ru on opgg and league of graphs. I started playing league in preseason 12 with no experience in games similar to lol. I used to be gold stuck for kinda long time, and then i started to otp the croc. I reached d4 in 50 games with 90% wr on stuck account playing only renekton.
IMPORTANT NOTE
Since im not playing renekton for years, and i have never been high elo, this guide is based on not only mine opinion and experience with renekton, but also on opinion and experience of high elo otps: Coach Eragon (euw gm 900lp peak s12 renekton otp, check out his yt for quality toplane content https://youtube.com/c/EragonUK). and yxy renekton (chinese renekton otp chall cn superserver, check out his yt for vods https://youtube.com/channel/UCSrmdUR3kHrEuQfFvHqSTeQ)
Renekton strengths/weaknesses
Strengths
-strong early/midgame
-beast into melee comps
-his scaling isnt even that bad
-lots of his hard matchups are manageable
-prio generator
-waveclear
-reliable cc
-simple kit but has outplay potential
-fun
-If you are good with the champ it will reward you alot
Weaknesses
-hard time vs some of toplane meta champs

-bad into high range/good peeling comps/mobile

-immobile
-bad vs antitank champs

-if you fall behind, you re useless
What do i think about renekton?
I think this champ is really underrated, because ppl love to meme around it and they re having their opinions based on popular peoples takes (LS)
MAIN PAGE
ALWAYS GO

SECONDARY PAGE
Choose between

and


is for lane runes (there are some scaling ofc but

scales better on

).
or depending on matchup, both of these runes are completly irrelevant past lane.
Take Second Wind vs tanks , ranged lanes .
Take Bone Plating vs all in bruisers and burst champions, who will have hard time knocking it off .
is a decent option into free matchups that you win without lane runes or lanes you dont want to fight in .

Take Revitalize when you have an enchanter on your team and you are playing into full melee comp (so you build Goredrinker).
Take Unflinching vs heavy cc comps pairing with Legend: Tenacity or if enemy comp has little amount of cc and you want to go Legend: Alacrity for lane.
Take Overgrowth if dont want other runes from Resolve, gives decent gold value.
Take Demolish vs Shen, roaming enchanters top Janna and Nasus, if you dont need Inspiration.
SHARDS
Double adaptive force, armor or mr based on lane opponents damage.
If you will not fight early, go hp.
NOTE:
If you dont feel yourself comfortable without alacrity, go attack speed shard, when you dont take alacrity.
| | | | |
| --- | --- | --- | --- |
| | | | Flash is a must have summoner spell on in 95% of games. It can save you from ganks early, but whats most important about this summoner spell - flash e and flash w combos, gapclosing and locking down targets, making up for lack of mobility has. |
Ignite is important for lane, due to its snowball potential and grevious wounds. However sometimes you face champs that you arent able to kill ever.

TAKE EVERY GAME BELOW MASTER ELO
| | | | |
| --- | --- | --- | --- |
| | | | Got nerfed really hard on earlygame champs, no reason to choose it instead of ignite, unless you re facing champ that you cant kill and you want to go greedy runes. |
| | | | |
| --- | --- | --- | --- |
| | Decent scaling spell for teamfighting, in some lanes its useful from start, but you lose early game pressure and skirmish power by going it over Ignite | | |
| | | | |
| --- | --- | --- | --- |
| | | | Exclusive for and matchups, dont recommend taking tho unless enemy comp is 5 melee champs(you have to take it instead of flash). |
1. Ask yourself where enemy jg will path
2. Identify your wincon (sidelaning vs hard comps, teamfighting vs easy ones)
3. Understand your trade pattern in lane and what do you want to do with first waves
4. If enemy top doesnt contest early push ALWAYS try to crash 3 and cheater, or contest scuttle/invade with your jungle
5. IF ENEMY JG IS PATHING TO YOU, ALWAYS WARD RIVER/RIVERBUSH AT 2:30 (after 2nd wave) this way you re basically ungankable pre min 5
MUST WATCH BEFORE PICKING RENEKTON UP
GUIDE TO EARLY WAVE MANIPULATION
https://youtu.be/LbdsvevjZZU
As

you want to play for your lvl 3(potentially setup an easrly kill) and early herald, invades.
Probably most important topic.
Your rune choices, ability max, summoners choices, build choices depend on your understanding of wincon.
While playing renekton you usually have 2 main win conditions
:
Teamfighting



HOW TO UNDERSTAND:
-Enemy comp is mostly melee
-Enemy carries dont have much peeling
-You can easily reach enemy carries
-Enemy comp doesnt have insane dmg

WHAT TO BUILD(1st/2nd items):

- cdr ad builds

- into bami mythic

- into bami mythic

WHAT TO BUILD(Past 2nd item):

-Ah, ad items if is the mythic choice

-Defensive items based on damage of your main threats in teamfights(try to build mixed hp, armor and mr, since you will be getting focused down in every fight)

HOW TO REALIZE:
Past lane:
Push sidelane, flank enemy/hover your team. Never skip objectives, always try to set up sidelane pressure before (shove/slowpush wave) but never commit to side, always look to group.

WAYS TO PLAY TEAMFIGHTS:

-Flash w enemy carry in front to back
Useful if you dont want to commit to flanking and you can reach enemy backline easily even in front to back.

-Flank backline and zone/focus carries
Useful if front to back is hard to play or your carries have peeling/able to deal dmg. Or you just have an insane flank angle.

-Peel for your carries
Useful if enemy comp is dive comp and they have to run into you/can reach your carries.

-Frontline
Enemy comp doesnt have big damage/they have 3+ melee champs your champ will just annihilate.

Sidelaning



HOW TO UNDERSTAND:
-Enemy comp has big range
-Enemy comp has good zonecontrol
-Enemy carries have good peeling and they have insane damage
-You easily win 1v1 side
WHAT TO BUILD(1st/2nd items):

- into bami mythic/ /

- into

WHAT TO BUILD(Past 2nd item]:

-Defensive items vs champs that will try to stop you in sidelane

-duel dmg items ( )

HOW TO REALIZE:
Get early lead, make sure you win sidelane vs both enemy sololane champs and can potentially 1v2.
Create space for your team on objectives and dilemma for enemy team, by pressuring opposite side to active objective.
Make sure to take t1 turret as soon as possible, so you can threaten t2.
If enemy sends a lot of ppl for you or you dont see enemies on map - go into fog.
Make sure to counterjungle, when you dont have to pressure turret yet.
Before starting to clear wave try to look into the future and consider possible threats the further you push. If you think its dangerous to push too far - slowpush the wave.

YOUR MAIN GOAL IS TO EITHER MAKE ENEMY TEAM SEND 2+ PPL TO YOU, GIVING NUMBER ADVANTAGE TO YOUR TEAM AT OBJECTIVES OR TAKE TURRETS, SNOWBALL YOURSELF AND OPEN THE MAP. YOU CAN ALSO LOOK FOR FLANKS IF THERE IS SUCH OPPORTUNITY.
1. A lot of tanks are marked as dangerous, not because they can kill you(they cant), but because they deny you tempo and snowball potential by a lot, which is rly important for

, and they will always be more useful than you.
2. Difficulty of matchups is based on both early and midgame.
DIFFICULTY IS BASED ON BOTH PLAYERS BEING RLY GOOD (Playing matchup as it is intended).
1. Every ability is an auto cancel
2. R cancels w stunlock
3. You can stack rage before coming to lane (useful in some lanes

)
-go hit blastcone near buff at 1:22
-auto q auto the buff
-kite it out of patience range
-auto 2 more times
4. Ironspike q cancel
5. if you have 30+ fury but lower than 50 you can r whip red q r cancel insta healing burst combo
PRIORITIZE RED Q AND W OVER RED E
READ THE NOTES

1. Bork builds are better in low elo
2. Gore is a **** item however if enemy team has 3+ melee champs its good
BY MELEE CHAMPS I CONSIDER CHAMPS THAT WILL INTERACT WITH YOU IN SHORT RANGE, NOT NECESSARILY MELEE CHAMPS (for example i consider samira a melee champ)
3. If you re behind in high elo, dont go bork go tank/utility items
Thanks for your attention, i hope you have learned something new from this guide, i invested alot of time into making this one.

Good luck with your climb! YEP croc

IF YOU HAVE ANY QUESTIONS/SUGGESTIONS DONT BE SHY AND HMU IN DISCORD Seryy#6107