Darius Build Guide by 10stars
Not Updated For Current Season
This guide has not yet been updated for the current season. Please keep this in mind while reading. You can see the most recently updated guides on the browse guides page.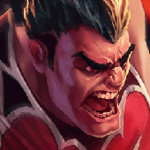 x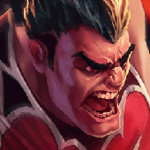 Did this guide help you? If so please give them a vote or leave a comment.
You can even win prizes by doing so!
I liked this Guide

I didn't like this Guide



Commenting is required to vote!

Thank You!
Your votes and comments encourage our guide authors to continue
creating helpful guides for the League of Legends community.
Ability Sequence

1
3
5
7
9

4
8
10
12
13

2
14
15
17
18

6
11
16

Not Updated For Current Season
The masteries shown here are not yet updated for the current season, the guide author needs to set up the new masteries. As such, they will be different than the masteries you see in-game.
Masteries
Threats to Darius with this build
Threat




































Show all
Threat
Champion
Notes

1

Aatrox
Easy. Dodge his skill shots, you outdamage him with Q due to range, and when you do decide to combo him, you should burst him before he really does much to you. Be cautious of enemy ganks, his knockup can set you up pretty easily.

1

Dr. Mundo
This character can not kill you. It's also hard for you to kill him, but if he drops to 30-40% without his ult up, a dunk is in order, and the payment is 300g into your bank account.

1

Fizz
Im not sure why Fizz has been making a top lane appearance in ranked as of late, but this character is a joke in lane. Every time he last hits a minion, smack him with a Q, he'll be going back to base before you hit level 5.

1

Gnar
VIDEO GUIDE TO THIS MATCHUP! Last chapter of guide! Gnar is surprisingly one of the easiest matchups for Darius. His Mega Gnar form is telegraphed, so don't fight him when it's up or about to come up, and if he jumps on you with it, try to stay away from walls because you'll get stunned and eat a lot of damage. When he's in normal gnar form, dodge his boomerang which slows, and Q him / E him to make him burn his escape. At 6 if you E him out of his leap away in normal gnar form, he has to burn flash or he dies from a normal combo.

1

Hecarim
Easy. His Q does little to do damage in comparison to your Q. And Hecarims main goal is to get you low enough to burst you with a W > Q > E > Q > R > Q > Ignite. The issue is that he can't really harass you from the same range you can harass him with your Q, so his healthbar continues to deplete while you stay nice and healthy. Once he gets to 50%, Q him and auto attack, as soon as he starts to E away, E him back into you, hit him with a W, and then ult him. You'll be surprised at how many times he dies trying to ult away from you.

1

Nasus
Nasus is a joke. When i was first learning how to counter Nasus, I bought Darius specifically for this job. Don't do the normal harass him with Q early game ordeal. Instead, go all in on him from the second you see him. If he goes to siphoning strike a minion, auto attack him 2-3 times for it, THEN hit him with a max range Q as he's running away. You have to show nasus who's boss from the beginning of laning to the very end. This is also a matchup where i won't rush to put his tower down. I'd rather just back, buy, come back to lane and deny him more farm. If he gets a gank on you and it ends in first blood, ask for help from your jungler, first blood can be a disgusting advantage for him, and he can be hard to put down if he gets it. But other than that, Nasus is a chump, dunk him from one side of the court to the other.

1

Teemo
This character may be a nightmare for other melee top laners like Nasus, but every trade should end in your favor. Harass him with Q, and if he blinds you, run away, as soon as the blidns about to end, turn on him and E for a combo. Trades will always be in your favor if you do this. Teemo is a joke, and I've never lost to one.

1

Pantheon
Oh pantheon. The character that people call a "lane bully". With crystalline flask, and 3 health pots to start, he'll be running out of mana while you still have almost full health from pots. Harass him with your Q, if he stuns you and uses his E, E him back, it will cancel his channel on his spear strike. Trades will be in your favor early game, and at 6, his ult for lane is useless, while yours is a huge dueling spike.

1

Lulu
I've probably seen 4-5 top lulus in ranked this season. All of them get dunked on. Dodge her skill shots, harass her and combo her. And post 6, combo her until she ults, then ult her back. She'll go down.

1

Singed
Singed poses no threat to Darius. Follow the common core rule: Do not chase Singed. Your damage and harass will send him back to spawn early, and his main intention is to flip you over his shoulder into the poison trail. Your max range Q has a farther range than his flip though, so spacing yourself correctly will lead to singed running at you like an idiot, taking a Q, and you nestling up at your turret drinking a cup of his blood. Played correctly this matchup is easy as pie.

1

Sion
Sion is another annoying, hard to kill champion, that has nothing threatening in his arsenal for you to deal with. AKA, he can't kill you. Dodge the minions he kicks towards you, get out of the hitbox for his knockup, and when he puts a shield up, Q > Auto Attack > W him to do some damage and have his aoe damage from his shield go away. He's hard to get kills on because he gets tanky very fast, and can ult away from a fight that isnt going well. Overall, if any kills do happen in this lane, they should go to Darius. Sions just a boring laner that's tanky.

1

Tryndamere
Tryndamere is a clown. No matter what you build, you just beat him. The safest option you can go though, is Wardens to Ninja, to Tiamat. If you build this, you can literally stand and tank him through the entire duration of his Ult, and he'll still die. If his ult is up, save yours, Don't use it because he'll just undying rage and spin way. If you can, E his spin away, then W him, by then his ult duration should be over, and you can dunk him and take your prize. At levels 1-3 just harass him with Q, he'll end up blowing his stacks of rage in order to heal. If he has max rage, do not try to 1v1 him pre 6, or pre wardens mail. he will have the advantage.

1

Yasuo
I don't know why, but I've been seeing a couple Yasuo players go top in Platinum. This character is a joke against Darius. Maintain farm, auto attack him if he gets too close, build damage. He can't keep up, his early game is trash. Avoid steel tempests knockup, he glows when he has his stacks. At 6, he gets dunked for free, and typically, even if you eat his ultimate, he still dies. Yasuo is a joke, and Darius is the punch line.