Volibear Build Guide by Shazir

Volibear TOP GUIDE [13.23] FULL GUIDE
x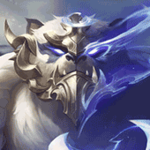 Did this guide help you? If so please give them a vote or leave a comment.
You can even win prizes by doing so!
I liked this Guide

I didn't like this Guide



Commenting is required to vote!

Thank You!
Your votes and comments encourage our guide authors to continue
creating helpful guides for the League of Legends community.
Runes:
GRASP [GENERAL]
Resolve
Grasp of the Undying
Demolish
Bone Plating
Revitalize
Precision
Presence of Mind
Legend: Alacrity
Bonus:
+8 ability haste
+9 Adaptive (5.4 AD or 9 AP)
+6 Armor

Spells:
AGGRESIVE, EARLY PRESSURE
Flash
Ignite
Ability Order
ABILITY ORDER [RECOMMENDED]
The Relentless Storm
(PASSIVE)
Volibear Passive Ability
Threats & Synergies
Threats
Synergies
Extreme
Major
Even
Minor
Tiny
Show All
Extreme Threats
Ideal Synergies
Akali
She can dodge your abilities easy, but if you play correctly you can win lane but its hard. Go Grasp and try to trade with W max.
Yuumi
Synergies
Yuumi
Champion Build Guide
EN
In this guide, you will learn how to build VOLIBEAR and how to play hard matchups. And, how to master VOLIBEAR

TR
Bu öğreticide, VOLIBEAR'a nasıl doğru eşyalar kasılacağını, nasıl zor karşılaşmalar oynanacağını ve nasıl VOLIBEAR'da ustalaşacağını öğreneceksin.


EN
With this start, your E damage is good and your mana doesn't get low with Presence Of Mind

TR
Bu başlangıçla, E hasarın hatrı sayılır bir hasar vuruyor ve manan Pratik Zeka ile birlikte çok düşmüyor.


EN
With this start, you can heal from minions but not much. But your Q and W deals more damage and with Lethal Tempo your AA's deal more damage

TR
Bu başlangıçla, minyonlardan mutlak sömürü ile can kazanabilirsin ama çok fazla değil. Ama Q ile W'un daha fazla vuruyor ve Lethal Tempo ile erken oyunda iyi gidiyor.


EN
If you playing Doran's Shield enemy top lane is probably ranged or champoin like malphite. Not much to say here, play safe and try not to die.

TR
Eğer Doran'ın Kalkanı oynuyorsan karşı üst koridor büyük ihtimalle uzakçı veya malphite gibi bir şampiyon. Denilecek çok birşey yok, canını çok tutup gankler ile birlikte laneni kazanmaya çalış.
EN
In mid game, Volibear is powerful with 2-3 items. You can enter teamfights to help your teammates and disable towers. Or you can build

Hullbreaker and splitpush. As i said Volibear is very good on sidelanes with

Hullbreaker. You can takedown towers easily when your team is fighting. If enemy ADC or Support tries to block your splitpush you can dive them easily.
TR
Orta Oyunda, Volibear 2 veya 3 eşya ile çok güçleniyor. Takım savaşlarına katılıp kuleleri kapatabilirsin yada

Omurgakıran eşyasını satın alıp takımın savaştayken veya objektifte savaşırken 1-2 kişiyi oyalayabilirsin. Karşı ADC veya Destek ayrık itmeni durdurmaya çalışırsa kule altı rahatça yapabilirsin.
EN
I don't want to be late game with VOLIBEAR. If you build Tank items you can be functional in teamfights. If you build

Hullbreaker, takedown much towers as much as you can. When your team fights for baron or etc. you can splitpush and end game.
TR
VOLIBEAR ile geç oyunda bulunmak istemem, tank eşyaları satın alırsan takım savaşlarında işlevli olabilirsin. Eğer

Omurgakıran eşyasını satın alırsan takımın savaşta veya rakibi oyalarken oyunu bitirebilirsin.

EN
Don't make regular builds with volibear every game. Your build depends on your enemy. Example; don't buy Thornmail agains heavy AP enemy team. Buy early Anathema's Chains against ranged, it really helps to play agains ranged. Or buy first item Iceborn Gauntlet against high speed champion or high slow champon (garen, olaf, darius etc.) or rush Cosmic Drive (if you want more damage). And dont buy first item Jak'Sho, because it lowers your damage and has no utility like slowing. Buy Nashor's Tooth or Cosmic Drive first instead of Jak'sho. After build armor or mr (depends on enemy team.)

TR
Her oyunda VOLIBEAR ile ezbere eşyalar satın almayın. Eşyalarınız düşmanınıza bağlıdır. Örnek; Ağır yetenek gücüne düşman takıma karşı Çivili Zırh satın almayın. Menzillilere karşı Anathema'nın Zincirlerini erken satın alın, menzillilere karşı oynamak gerçekten yardımcı olur. Yüksek hıza şampiyona veya yüksek yavaşlatmaya sahip şampiyona (garen, olaf, darius vb.) karşı ilk eşya Buzdoğan Eldiven'i satın alın veya Kozmik Hızlandırıcı çıkın. (daha fazla hasar istiyorsanız). Ve ilk eşya Jak'Sho'yu satın almayın, çünkü bu hasarınızı azaltır ve yavaşlatma gibi bir faydası yoktur. Jak'sho yerine önce Nashor'un Dişi veya Kozmik Hızlandırıcı satın alın. Sonrasında zırh veya büyü direnci eşyaları satın alın (düşman takımına bağlıdır.)




EN
This item is the best item on Volibear now. Because Volibear needs to catch enemy to full combo, so Iceborn Gauntlet's slow makes it easy. And it gives tankiness

TR
Bu eşya şuanda VOLIBEAR'ın en iyi eşyası, çünkü VOLIBEAR full combo yapabilmesi için yavaşlatma ve yakalamaya ihtiyacı var, ve Buzdoğan eldiveni bunu sağlıyor. (ayrıca tanklıkta veriyor)


EN
If you want to build very tanky and be powerful frontliner, you can build this. Also, when combined with Hullbreaker. Volibear can reach 470 armor 300 mr in full build.

TR
Eğer çok tank eşya dizilimi yapmak veya güçlü bir ön saf oyuncusu olmak istiyorsan, bu eşyayı satın alabilirsin. Ayrıca, Omurgakıran ile kombine edildiğinde. VOLIBEAR 470 zırh ve 300 büyü direncine sahip olabiliyor.


EN
Radiant Virtue is good item on Volibear. It has synergy with your ultimate, doubles your ultimate health. And good in teamfights. But, depends your ultimate and Volibears ultimate has high cooldown

TR
Erdem Işığı VOLIBEAR'da güzel bir eşya. Ultimate ile sinerjisi var, ultimate'den gelen canı ikiye veya üçe katlıyor. Ve takım savaşlarında güçlü. Ama ulti yokken biraz güçsüz kalabiliyorsunuz. Ve VOLIBEAR'ın ulti süresi fazla


EN
I dont recommend to build this item. Because its late game item and Volibears late game is not good. But if you want to have much health you can build it with Titanic Hydra.

TR
Bu eşyayı satın almanızı önermen. Çünkü geç oyun eşyası ve VOLIBEAR geç oyunda güçlü değil. Ama çok cana sahip olmak istiyorsanız yada eğlenceli build istiyorsanız Titanic Hydra ile dizilim yapabilirsin.


EN
If your enemy is very tanky, its viable. And good on splitpushing. But makes you less tanky and u dont have slow to catch enemy.

TR
Eğer rakip takımınız çok tank ise, güzel bir eşya. Ve ayrık itmede iyi. Ama sizi kırılgan yapıyor ve rakibi yavaşlatmanız olmadığı için zor yakalıyorsunuz.


EN
Not bad item, has good damage but you less tanky. I would rather buy Divine or Iceborn Gauntlet. If you play splitpushing volibear, then its viable with Hullbreaker.

TR
Çok kötü eşya değil, güzel hasarı var ama kırılgan yapıyor. Bu eşyayı almak yerine şahsen İlah Sindiren veya Buzdoğan Eldiveni satın alırım. Eğer ayrık itme amaçlı oynuyorsan Omurgakıran ile oynanabilir.


EN
Very good item on volibear, it gives sustain and little bit true damage. You can heal from minions in 1v1 or teamfight but teamfighting is not recommended. Splitpushing is much better with this item.

TR
VOLIBEAR'da çok güzel bir eşya. hayatta kalmanızı sağlıyor ve gerçek hasar vurmanızı sağlıyor. Minyonlardan can çalabilirsin yada takım savaşındada can çalabilirsin. Fakat bu eşya ile takım savaşını önermem ayrık itmek daha iyi olur.
All Legendaries Explained


EN
This item and Iceborn Gauntlet is the best items on Volibear. Iceborn slows and Cosmic
Drive gives speed makes you catch enemies much easier

TR
Bu eşya ve Buzdoğan Eldiveni VOLIBEAR'da ki en iyi eşyalar. Buzdoğanın yavaşlatması ve Kozmik Hızlandırıcının hızı ile birlikte tüm rakipleri hızlıca kovalayabiliyorsunuz. (TR Sunucusunda çok görülmeyen bir eşya fakat evet VOLIBEAR'ın core itemi olabilir.)


EN
Good item, build against high ad or champions like warwick, aatrox, swain.
Don't underestimate this item's passive, it deals much damage when you build tank

TR
Güzel eşya, karşı rakipte çok AD oranlı veya warwick, aatrox, swain gibi şampiyon varsa almanı tavsiye ederim. Ve bu eşyanın pasifini hafife almayın hatrı sayılır bir hasarı var.

EN
Good against high AP enemy comps. Speed combines with Cosmic Drive's speed and makes you catch mages easy.

TR
Yüksek AP'ye sahip takım kompozisyonlarına karşı güzel eşya. Kozmik hızlandırıcı ile kombine edilince rakip büyücüleri daha hızlı yakalayabilirsin.


EN
Volibear is good splitpusher and this item makes very hard to kill Volibear in sidelanes. You cand end games with extra tower damage and your ultimate tower damage.

TR
VOLIBEAR çok iyi bir ayrık ittirme şampiyonu ve bu eşya onu yan koridorlarda nerdeyse ölümsüz yapıyor. Bu eşyanın pasifi ile fazladan kulelere vurup ultimate'in ile oyunu bile bitirebilirsin ayrık iterek.


EN
With Goredrinker it has good synergy. Giving AH on W makes Volibear's sustain very high.

TR
Kaniçen'le birlikte güzel bir sinerjisi var. W'suna gelen Yetenek Hızı ile birlikte VOLIBEAR'ın hayatta kalma şansını artırıyor.


EN
Very good item. Not much to say here, increases your sustain and MR. But, doesn't give much MR compared to Force Of Nature. Has good synergy with healing allies (milio, soraka etc.)

TR
Güzel bir eşya. Denecek çok fazla şey yok, büyü direncini ve hayatta kalma şansını artırıyor. Ama, Doğanın kudretine kıyaslarsak daha az büyü direnci veriyor. Can veren dost takım arkadaşları ile güçlü. (yuumi, soraka, milio)


EN
Good against mages, shreds enemys magic resist makes your E and Passive deal more damage and your AP teammates deal more damage too.

TR
Büyücülere karşı güzel tercih, rakip takımın büyü direncini kırıyor ve senin E ile pasifin daha fazla vuruyor. Ayrıca dost büyücü takım arkadaşlarında.


EN
Good item on Volibear. Makes Passive and E deal more damage and your passive autos deal more damage too. Good with Iceborn Gauntlet and Jak'Sho.

TR
VOLIBEAR'da güçlü bir eşya. Pasifin ile E yeteneğin daha fazka vuruyor. Buzdoğan eldiveni ile Jak'sho ile iyi gider. (yukardaki klasik buildleri yaparsanız.)


EN
Good item when building full AP. But doesn't work with Iceborn Gauntlet, Trinity Force and Divine.

TR
Full AP kasıldıüında güzel bir eşya, fakat Buzdoğan eldiveni, Üçlü kuvve ve İlahsindiren ile birlikte çalışmıyor


EN
Good item against high AD and high AS (like jax, bel'veth, master yi). When combined with Jak'sho your armor increases very high.

TR
Yüksek AD ve yüksek saldırı hızına sahip rakipler için güzel seçim. (jax, belveth, master yi). Jak'Sho ile kombine edildiğinde çok yüksek zırh değerlerine ulaşabiliyorsunuz.


EN
This is the most common rune on Volibear. You have sustain against melee matchups and damage. But most importantly, it gives permamently heal. Volibear's late is not good but if you have grasp you can reach 400-500 extra heal with this rune.

TR
VOLIBEAR'da kullanılan en sık rün Grasp'tır. Yakıncı karşılaşmalara karşı can çekme ve hasarı var. Ama en önemlisi, kalıcı can vermesi. VOLIBEAR'ın geç oyunu güçlü değil fakat bu rün ile ekstra 400-500 can kazanıp daha fazla etkin olabiliyorsunuz


EN
If you want to fight in early game and win, you can go this rune page. Not much to say here. Its better in cheese or building AP.

TR
Eğer erken oyunda savaşıp kazanmak istiyorsan, bu rün sayfasını kullanabilirsin. Denecek çok birşey yok. Cheese'de ya da AP kasılınca daha güçlü.


EN
Good rune page on Volibear. It gives damage after combo like PTA and gives sustain. But don't forget Volibear stacks it very slow compared to other champions using Conqueror rune. I recommend to go Jak'sho with this build. Makes you very tank frontliner and hasn't have low damage if you build Nashor's Tooth and Cosmic Drive.

TR
VOLIBEAR'da güzel bir rün sayfası. Ekstra hasar sağlıyor tıpkı Saldırıya Devam gibi ve az da olsa mutlak sömürü sağlıyor. Ama unutma ki VOLIBEAR bunu diğer Yenilmez rününü kullanan şampiyonlara göre daha yavaş kasıyor.


EN
Very good rune on Volibear. It increases your damage on combos. But doesn't gives sustain like Conqueror.

TR
VOLIBEAR için çok güzel bir rün sayfası. Combolarındaki hasarını hatrı sayılır birşekilde artırıyor. Yenilmez gibi mutlak sömürü vermiyor fakat daha hızlı proclanıyor.


EN
If your enemy is ranged, its good. Gives sustain and speed makes you healthy against ranged top laners (vayne, quinn.)

TR
Eğer rakibiniz uzakçı ise, güzel bir rün. Verdiği hız ve can sizi uzakçı karşılaşmalarda daha canlı ve sağlıklı yapıyor (vayne, quinn.)