Lee Sin Build Guide by Invisible4ever
Not Updated For Current Season
This guide has not yet been updated for the current season. Please keep this in mind while reading. You can see the most recently updated guides on the browse guides page.

x

Did this guide help you? If so please give them a vote or leave a comment.
You can even win prizes by doing so!
I liked this Guide

I didn't like this Guide



Commenting is required to vote!

Thank You!
Your votes and comments encourage our guide authors to continue
creating helpful guides for the League of Legends community.
Ability Sequence

3
4
5
7
9

2
12
15
17
18

1
8
10
13
14

6
11
16

Not Updated For Current Season
The masteries shown here are not yet updated for the current season, the guide author needs to set up the new masteries. As such, they will be different than the masteries you see in-game.
Masteries

Introduction
Welcome to my

Lee Sin Guide.
Lee Sin is an Anti-carry, melee-dps, tanky champion, at least that is what I prefer and recommend to build him. In this Guide we will take a tour about

Lee Sin's Abilities, Builds and Masteries as well as the playstyle in Early-, Mid-, and Late-Game.

This is my first Guide! Please leave doubts and advices in the comments or give it a PM, if you have any. Also please always remember, that our opinions may differ, so do not just leave a "That's bad" but an "I think that's bad, because...". Also read the whole guide, before maybe criticising stuff, that is cleared lateron. Thank you.

This guide will frequently be updated. Though i will not update it after every single patch!


-Season 3 updated!

//19.03.2013

-Masteries updated //19.03.2013

-Summoner Spells updated //19.03.2013

-Items rupdated //19.03.2013

-Item added:
Frozen Mallet
//17.07.2012
-Playstyle added:
W(Sustain)-based Solo-Lane-

Lee Sin
//17.07.2012
-Item order changed: After the nerv of
Atma's Impaler
, getting only the
Chain Vest
prvious to the whole

Trinity Force
/
Frozen Mallet
//17.07.2012
-Changed Skill Tree for jungle: MR>>Health // 28.09.2012
-added MS-Quints // 28.09.2012

Shortcuts
I will be using Shortcuts throughout my Guide. Here they are:
CC




AD




AP




AS


Apen
Mpen


HP




A




MR




HP5

-
-
-
-
-
-
-
-
-
-

Crowd-Control

(Stun, Snare, Silence, Slow, Knockup/back)


Attack-Damage




Ability-Power




Attack-Speed




Armor-Penetration




Magic-Penetration




Health-Points




Armor




Magic-Resistance




Health-Regeneration per 5 seconds

Pros / Cons
SPACE

Pros




Great Mobility

Fast Jungle

Quite Tanky

Anti-Carry

Strong Slow, Strong

CC

He's blind.

SPACE




SPACE

Cons




Not 100% ensured ganks with your

Sonic Wave

Hard to be jungled without runes

If snared unable to use some of his Spells


space

space

Abilities
Let us take a look on

Lee Sin's Spells:
Red examples will be aggressive use of the Spells.
Blue examples will be defensive use of the Spells.




| | | |
| --- | --- | --- |
| | S | This is an awesome passive, which makes Lee Sin a viable jungler as well as giving him more Damage in Lane. It also restores your Energy and gives you the Ability to use your all of your Spells in a row, when Auto-hitting in between. Try to always have at least one hit between each Ability as long as you are in melee Range. It will add a high amount of Damage to your Damage-Output. |

| | | |
| --- | --- | --- |
| | S | The Q-Spell of Lee Sin is available for multiple cases to be used. This Skillshot is Lee Sin's first movement Ability. Use it in all cases you may have: |
Chasing.

Be sure to land the Skillshot! If you do not, you will be left behind.

Finishing off enemies.

The Resonating Strike deals more Damage based on how much Health is missing on the enemy.

Ganking.

CARE!

If you have another way to gank, e.g. just running in to slow with your Tempest, or jumping in with Safeguard, do that. This is still a Skillshot and Skillshots may be failed. I have seen too many Lee Sins failing a gank because they messed up with their Sonic Wave and, by that, told the enemies, that they were waiting int the brush to gank.

Escaping.

Sounds strange, huh? But is still very usefull. Imagine chasing an enemy and suddenly another one is coming from the Brush: And there are no friendly minions to Safeguard to. But an enemy minion running down the lane behind you. Sonic Wave on it and you are safed!

Detecting enemies/Checking Monster-camps.

Use it to check a Brush or the Dragon. Remember: Every Unit hit by it will become visible. Also Minions and Monsters! This is far better then face-checking them.

S

This ability is the second movement ability. It got very various uses, while making jungling much easier and also on lane giving Lee Sin much more sustain.
Again we have lots of cases to use this spell:

S

This Spell again will help you in the jungle by reducing the attack-speed of the Monsters. It makes you a good anti-carry because of the

AS

-Reduction as well. Tempest helps you a LOT while ganking lanes: A good slow and, attatched to it, the

AS

-Reduction will give your ganks the strength to maybe even kill the enemies.
Also it helps against invisible Champions: Tempest will turn every Unit visible, which has been hit by it. Use it in Akali's Twilight Shroud or to get an Evelynn or Shaco out of their stealth.

S

Whatever it shall be: This ability helps

everywhere

. If used correctly! It provides a strong Mass-

CC

in combination with a Knockback. Only the targeted enemy will be knocked back, not the Units hit by the target. Those will only be knocked up. But they also take the WHOLE Damage of your Ultimate.
Get them in your Tower!

You want some extra Damage on top? Try to kick them in your Tower to make it hit them.

Ensure a gank.

You are cared about your enemy to come out of your gank easily? Right after comming in the gank, try to kick them in the direction of your allied half and you will have less cares about a success.

Massive Damage and

CC

! In a team fight, this single spell may deal tons of Damage. If you are able to hit the whole enemy team, this will give your team a great advantage!

Break channeling Spells.

Like every Stun, Knockup or Silence, this spell will stop channeling spells like Nunu's Absolute Zero or Katarina's Death Lotus.

Safe Teammates!

Your ally is beeing chased? This spell is going to give a simple stop to the enemies!

Skill Sequence
Ok this is quite simple over all. In jungle and on Solo-Lane your priority will be

Sonic Wave. In Duo-Lane your
Tempest will work better to deal damage and CC the enemy.




Jungle-
and
Solo-Lane-

Lee Sin
do target a single target on going in and want to stack up maximum Damage on this target. Therefore skilling up

Sonic Wave
first.
(W-based) Solo-Lane- Lee Sin
Skill
Tempest
twice for some more slow, the rest is done by your

Phage
/
Frozen Mallet
.

Summoner Spells
Ok. Now coming to the Summoner Spells we will have different Opinions. More than two Spells are viable for

Lee Sin. In my point of view there are four really efficient Spells:

Runes
Coming to the Runes i will begin with the



Runes

Greater Mark of Lethality


9


Greater Seal of Armor


9


Greater Glyph of Scaling Magic Resist


9


Greater Quintessence of Attack Damage


3

Runes

Greater Mark of Lethality


9


Greater Seal of Armor


9


Greater Glyph of Scaling Magic Resist


5


Greater Glyph of Magic Resist


4


Greater Quintessence of Health


2


Greater Quintessence of Attack Damage


1
Runes

Greater Mark of Lethality


6


Greater Mark of Attack Damage


3


Greater Seal of Armor


9


Greater Glyph of Scaling Magic Resist


9


Greater Quintessence of Attack Damage


3
Get some more

AD

since your Damage will mainly base in Auto-Attacks and your sustain will be stronger due to higher ammounts of life stealed.

Feel free to take some Greater Quintessence of Movement Speed, since MS will both: speed up your jungle and allow better ganking.
Also you might try out to switch your Marks a bit. Try to find out, which way you feel to deal your damage best. This will impact both: Early- and Late-game!

Masteries
Coming to the Masteries:




There is not a big difference between the Jungle-masteries and the Solo-Lane-masteries, so they will be capped in one section.
21 Points in
Offense
will give you the needed Damage Bonus and the 9 Points in
Defense
will give you already some Tankiness.
I thought long about it. I came to a point where I thought 'Rather a bit more tanky and being able to stay in the fight a bit longer, then dealing a peak of Damage more but dieing like hell'. So i decided the for
9
/
21
/
0
instead of the
21
/
9
/
0
. But still I think you should choose, whatever you feel more comfortable with.

Items
This is where it becomes interesting. I have quite a simple Core build.


These Items you should have completed, when leaving Early-Game.
Decide, which boots might be better. Most games this will be Mercury's Treads.
Ok this is, where it becomes very situational. You should get some more Health and Resistances for Late-Game. Some more
AD
would be nice, but is not necessary. Your Damage comes from surviving long enough to deal constant Damage. To grant this you should look out for some Items, that fit in your Situation.

Gameplay
Ok here we are going to split up into the different Phases:




Laning (Solo-Top/Duo):
Laning in a Duo-Lane or in a Solo-Lane is pretty much the same playstyle for

Lee Sin
.
Your basic wish is to get lots of Last-Hits, so do not forget to get every Last-Hit you can take.
You also have a very simple harassing Combo:
Jumping in with

Sonic Wave
, then dealing your Damage, and after it try to
Saveguard
to your minions, to prevent taking Damage.
Your Combo will look like this:

Sonic Wave
>>>

Sonic Wave
>>> Auto-Hit >>>
Tempest
>>> 1/2Auto-Hits >>>
Tempest
>>> 1/2Auto-Hits >>>

Safeguard

Laning (Solo-Top; W-based):
Okay. This is another way for
Solo-Top-

Lee Sin
:
Your W will give you lots of sustain. Your harrassment will be based on Auto-Attacks. Though your harrassment combo will not change very much. Choose this way of Solo-Top-Laning if you are having troubles surviving in your Lane, though this shouldn't happen very often ;)

Jungling:
Not that easy with

Lee Sin
, but quite much possible and very efficient. To get maximum Damage, you will use your passive to full capaticy. This means when comming to a Monster-Camp you will go this way:
Auto-Hit >>>
Tempest
>>> 2Auto-Hits >>>
Tempest
>>> 2Auto-Haits >>>

Safeguard
>>> 2Auto-Hits >>>

Safeguard
>>> ...
Try to use your abilities instantly after an Auto-Attack, to get maximum
AS
from your passive.
My jungling route looks like this:
Starting at

Wolves

||Save Smite
Going to

Wraiths

. You will hit lvl2 ||Save Smite

Red Buff

||Use Smite
Double

Golems

. You will hit lvl3.

Wraiths

. You will get back lots of Health here.

Gank

. You will have to look out for a possible gank. If needed wait for the enemy lane to push and tell your mates, to fall a little bit back in lane, so the enemies do push. (Do not wait too long, else your Exp-lack becomes too big)

Wolves

. Since nothing else is respawned yet.

Blue Buff

. You do not really need it. The Mid-Laner will be thankfull for it.

Gank

Top-Lane. As soon as the Mid-Laner is already at

Blue Buff

he might come with you.
Actually, there are many ways to jungle

Lee Sin
. This is just an opportunity.
As you sometimes have to take over Lanes for the others, your play-style in that lane will be the same as
Solo-Lane-

Lee Sin
.

Ganking:
Your ganking abilities are good. There is only a lack at getting in the enemies.
Ok, you have your

Sonic Wave
. BUT:

Sonic Wave
can be failed as it is a Skill-Shot. And then the enemies are warned and flee and you cannot slow them.
So try to simply run up to the enemies, if the lane is pushed enough to reach them like this, or use

Safeguard
if the situation provides it. If nothing else helps you can for sure try your luck with

Sonic Wave
.
As you reached the enemies, you want to slow them as fast as you can. And, therefore you might even ignore the 1Auto-Hit between
Tempest
and
Tempest
. After they are slowed, you want to keep your

Flurry
up. For this use your

Safeguard
, if not used to initiate. Also use your

Sonic Wave
now, since your directly next to them and have a pretty much 100% chance to hit them. Overall it looks like this:
Running to the enemies >>>
Tempest
>>>
Tempest
>>> 2Auto-Hits >>>

Safeguard
>>> 2Auto-Hits >>>

Safeguard
>>> 2Auto-Hits >>>

Sonic Wave
>>> 1/2Auto-Hits >>> Finishing move with

Sonic Wave
This of course is adaptable to every situation: If you are sure, you do not have enough time, to deal so many Auto-Hits, leave

Safeguard
behind and go ahead to your

Sonic Wave
-Combo.
Remember:
A gank does not have to be a kill, it shall provide Lane-Domination. Do not push the Lane after a gank, else you will destroy the Domination granted by it.

Jungling and Harassment video:


Warding:
As soon as reaching Mid-Game, your build should own a

Wriggle's Lantern
. It is your job to ensure the
Dragon
not to be killed by the enemies. Simply place a
Sight ward
in front of it and it is protected.
Other good spots for
Sight Wards
are here: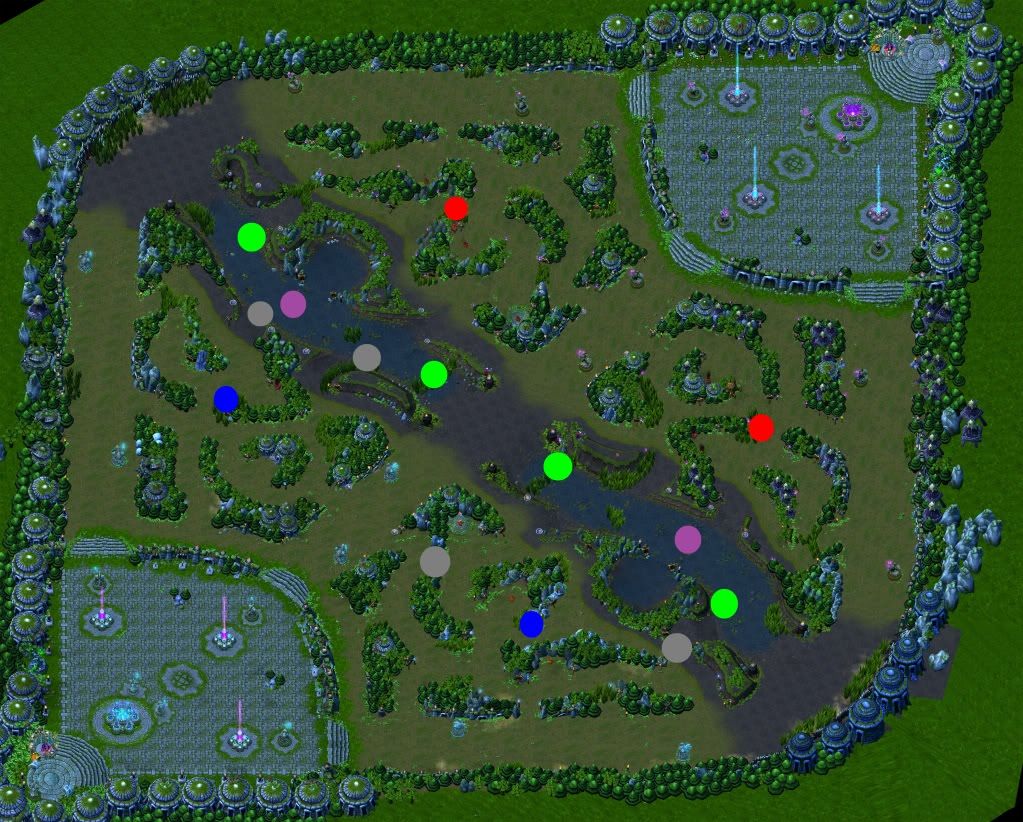 Blue Spots:

At

Blue Buff

and

Red Buff

on your side, to protect them from the enemies to be killed (Counter-Jungling)

Red Spots:

At

Blue Buff

and

Red Buff

on the enemies side, to protect yourself when Counter-Jungling.

Purple Spots:

At

Dragon

and

Baron

to protect them.

Green Spots:

To protect the lanes from being ganked.

Grey Spots:

If your front Towers have been destroyed, protect your lane here.

First Team-Fights:
Team-Fights in Mid-Game are awesome for

Lee Sin
. He now provides enough tankiness to rush into 3 enemies and deals great Damage or even insane Damage, when used

Dragon's Rage
correctly. His strong
CC
gives also advantages in the Team-Fight.
You are one of those to initiate a Team-Fight in Mid-Game. (Only if you are able to tank them yet. If you got by some reason underleveled/-farmed you will have problems to deal with that job and better wait for the Tank to initiate)
As
Jungle- and Solo-Lane-

Lee Sin
your Damage will focus on the enemies dealing high Damage, while
Duo-Lane-

Lee Sin
will deal much more Area-Damage on the whole enemy team.


Late-Game looks pretty much the same for every playstyle of

Lee Sin
. As everyone got full Item-Build you will not anymore initiate Team-Fights, because the Damage will take you out too fast though you are tanky. Of course you will initiate on an enemy running out of his team and being completly out of position, but you will have to be more carefull then in Mid-Game.
Now you will wait for the Tank to initiate the Team-Fights. Once he ran in, you will come in as well and try to kill the enemy carries. If you get the oportunity to Knock up the whole enemy team with your

Dragon's Rage
, do it. Do not think
'uuuh I have to safe it, so I can escape as I am getting low'
. Even if you die, the
Damage
+
CC
will give your team such a great advantage, that it is mostly unpossible to loose the fight. But still care about not saving the enemy carries with it.
DO NEVER FACE-CHECK IN LATE GAME!
You will die before doing anything, if the enemies are hiding in there, leaving a 4 vs 5 Situation, which is a more or less secured Victory for the enemies.
DO NOT CHASE TOO FAR!
It splits your Team up, making it an easy Win of that fight for the 4 enemies left.
And do not forget:
A single mistake may lead to a Defeat in Late-Game.


Thanks
Since this was my first Guide, i want to thank some people for their work on Mobafire:

Jhoijhoi for his awesome Guide on Guides. Also for the banners, I integrated in my Guide.

Also to everyone leaving a comment on what i could do better in this guide ;-)