Not Updated For Current Season
This guide has not yet been updated for the current season. Please keep this in mind while reading. You can see the most recently updated guides on the browse guides page
x
Darius Build Guide by rawDrigo

[P A T C H 10.16] - Darius is bad, stop banning him!
x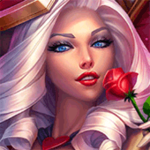 Did this guide help you? If so please give them a vote or leave a comment.
You can even win prizes by doing so!
I liked this Guide

I didn't like this Guide



Commenting is required to vote!

Thank You!
Your votes and comments encourage our guide authors to continue
creating helpful guides for the League of Legends community.
Runes:
C O N Q U E R O R
Precision
Conqueror
Triumph
Legend: Alacrity
Coup de Grace
Resolve
Demolish
Revitalize
Spells:
Ghost
Flash
Ghost
Ability Order
Skills
Hemorrhage
(PASSIVE)
Darius Passive Ability
Threats & Synergies
Threats
Synergies
Extreme
Major
Even
Minor
Tiny
Show All
Extreme Threats
Ideal Synergies
Quinn
What even. If you know how to beat a Quinn with Darius, Let me know.
Synergies
Champion Build Guide
Hey y'all and thanks for stopping by! I'm currently in G2 and working on getting to plat as a

Darius
main. I play him exclusively into
almost
any allied or enemy team comp - assuming he isn't banned. If this helps you at all, please feel free to follow my stream too! I'm [p r o b a b l y] not toxic.
**note** guide is almost done - but I think it has enough to publish. I'm hoping to have it done enough before the next major patch.
https://www.twitch.tv/dr_igo
https://www.twitch.tv/dr_igo
https://www.twitch.tv/dr_igo
https://www.twitch.tv/dr_igo
- Basic Combos -
E-AA-W-Q
- This is Darius's most basic combo that most people will end up using. There is actually an REALLY fast animation cancel that you can use to do this rotation, but I would usually end up mis-clicking onto something else.
E-Q
- Guaranteed to land

Decimate
. Great for a disengage too.
Q-E-AA-AA-W-AA
- Full Combo w/o ult. Usually you would be able to fit another Q at the end. This is how you win level 3 engages [as long as you land your first Q]
Q-E-AA-W-R
- 4 stacks into

Noxian Guillotine
. Works well against squishies or enemies that have about half hp or just a bit more than that.
- A B I L I T I E S - A N D - U S A G E -
| | | | |
| --- | --- | --- | --- |
| | | | Darius's Passive. He gains M O R E damage against targeted champion with each damaging attack or skill. At maximum stacks[5], his next damaging attack or skill will spread the bleed stacks to the other champions. |
| | | | |
| --- | --- | --- | --- |
| | | | [ Q ]- His bread and butter. Do damage and heal 15% of your MAX hp for each champion hit - up to 3 champions. Pair it with a spirit visage or a death's dance [or both] and you can do MASSIVE healing |
| | | | |
| --- | --- | --- | --- |
| | | | [ W ] - His single target slow. This is also an auto attack reset. Immediately after an auto attack, hit W to reset the auto animation and get through your skill rotations faster. |
| | | | |
| --- | --- | --- | --- |
| | | | [ E ] - His super short AOE pull. At first glance, it seems that it's only used to engage someone that's a short distance away from you. HOWEVER, all enemies caught are slowed for 1 second after the pull also. This allows you to confirm your Q on all pulled enemies [if you skip the auto or W]. It also buys you enough time to escape from enemy champions. |
[ R ] - His U L T I M A T E. For every stack of Hemorrhage, Darius gains more damage with his R. All damage is also TRUE DAMAGE. On kill*, his R resets and is usable again for the next 20s. At max rank, it just completely resets.
This skill is also usable as a small gap closer. If you need that LAST auto to have enough stacks to kill your enemy, just R early to close the gap and get that auto in there. You don't get the reset, but you get the kill confirm - and usually full stacks.
*There have been occasions where

Noxian Guillotine
would have weird interactions with not actually killing a champion [where they die immediately after or an ally kills them right before your R kills them] and it would still reset or go on cooldown.

Flash
is 100% mandatory. Take this on 99% of champs honestly.

Ghost
is just too good to not take. Top lane is long enough for you to run them down, even if they flash.

Teleport
is a good alternative for map pressure or getting back to lane early; I used to take this all the time instead of ignite to help gank other lanes.
new ghost as of 10.14[?] synergies too well with Darius to not take.

Ignite
- I'm taking this generally for the extra kill power during lane, or so you don't need to get executioners. Not worth it imo as it loses power through the game versus the other spells.
| | | | |
| --- | --- | --- | --- |
| | | | |
| | | | |
| --- | --- | --- | --- |
| | | | |
- K E Y S T O N E S -

Conqueror
is the only real rune. I swear by this on almost every champion I play hah. It was nerfed a bit in a recent patch, so it used to synergize perfectly with his passive

Hemorrhage
. Now you need one more damaging attack mixed in, but that's okay.

Hail of Blades
is LOTS of fun. This is hyper-focused on winning lane trades instantly.
Q-E-AA-AA-W-AA - his full combo will fully stack in like 1.5 seconds. You save your W after the second auto [or when you expect them to counter your cc] to catch the flash or their escape.

Phase Rush
is still a decent pick into certain matchups - or if you don't want to take

Ghost
for some reason. But really - just take ghost.
- M I N O R - R U N E S -
[more to come]
-T R I N K E T S-
A C C E S S O R I Z E



Free items! Everyone likes free stuff.

Stealth Ward
- 99% of the time, you'll want to start off with this. Still okay through most of the game since it's invisible, but
vision wins games.

Farsight Alteration
- Great item. 1. It saves you time from walking to the spot you want to ward. It also saves you from having to face-check on the way there. I will get this as soon as I hit level 9 - or as soon as I'm able to remember lol.
v i s i o n w i n s g a m e s.
- Even placing these wards in your own jungle helps immensely.

Oracle Lens
- 100% want to get this against

Teemo
when he turns 6. Also useful against champions that have invisibility skills like

Rengar
or

Evelynn
-F I R S T I T E M S-
. . . S O R T O F.



Phage almost always first item. You get a burst of movespeed when you hit any Q or auto, so it's more surprising to help catch someone hanging too close to you.
Early Bramble vest is great for champs that have heavy lifesteal like Susan.
Once in a blue moon I might take Executioners against like Maokai or Vlad - but definitely try to beat them in lane before then.
Don't forget to take a control ward
-B O O T S-
R U N F A S T



Actually one of the most important parts of your builds.
DON'T BE AFRAID TO SWAP BOOTS MIDGAME
Pick the boots to help win your lane first.
Tabi against AD. Merc treads AP.
Once you hit midgame and team fight alot, reevaluate your needs. If they have alot of slows and no HARD cc, you can swap to swifties to help cancel those slows so they can't outrun/kite you.
ie: ashe
-C O R E I T E M-
T R I F O R C E / B L A C K C L E A V E R


The only two items that phage builds into hah.
Triforce is my favorite go-to for everything that it has to offer.
I take Cleaver into tanky matchups/ if they have more than one tank/ if I haven't won lane with just phage.
Don't forget to take a control ward
-S T E R A K S
-
D E A T H ' S D A N C E-
D A M A G E / S U R V I V E


Either one is great. Take steraks for T E N A C I T Y and help against B U R S T
Deaths dance second is great for buying time to Q again or spellvamp with bleed and autos. You also get mixed resistances and which is WONDERFUL since ZZ rot was removed.
Don't forget to take a control ward
-A R M O R-
F O R T H O S E A D C O M P S



I usually end up getting thornmail since I'm sure them doing damage to you will heal you also from conqueror? and also most people take SOME kind of lifesteal/spellvamp by late game anyway.
Frozen heart is great if you took steraks so you'll be BEEFY and can cycle your skills like nothing.
Deadmans WAS the better option, however new ghost changes E V E R Y T H I N G
Don't forget to take a control ward
-M A G I C R E S I S T-
S O M E T H I N G M A G I C A L




Usually you should want to take spirit visage for all your MR needs. Increased spellvamp and lifesteal for Q, conqueror, death's dance. Sometimes i'll even take it into full AD teams just for more lifesteal, HP and CDR.
Adaptive Helm! I've made the mistake a few too many times of not taking this item against singed or teemo or morde or whatever.
QSS for morde ult. He might stop ulting you by late game, IDK lol.
Don't forget to take a control ward
WiP here

Team Fighting
Map Pressure
Trinket Placement
WiP here
I want to go in depth with each rough [or seemingly rough] match-up here.