This build has been archived and is for historical display only
This build has been archived by the author. They are no longer supporting nor updating this build and it may have become outdated. As such, voting and commenting have been disabled and it no longer appears in regular search results.
We recommend you take a look at this author's other builds.
x
Not Updated For Current Season
This guide has not yet been updated for the current season. Please keep this in mind while reading. You can see the most recently updated guides on the browse guides page
x
Pyke Build Guide by The Jhin Cena

Pyke Mid
x
Did this guide help you? If so please give them a vote or leave a comment.
You can even win prizes by doing so!
I liked this Guide

I didn't like this Guide



Commenting is required to vote!

Thank You!
Your votes and comments encourage our guide authors to continue
creating helpful guides for the League of Legends community.
Runes:
Hail of Blades
Domination
Hail of Blades
Cheap Shot
Eyeball Collection
Ultimate Hunter
Resolve
Second Wind
Unflinching
Bonus:
+9 Adaptive (5.4 AD or 9 AP)
+9 Adaptive (5.4 AD or 9 AP)
+8 Magic Resist

Spells:
Ignite Pyke
Flash
Ignite
Ability Order
Gift of the Drowned Ones
(PASSIVE)
Pyke Passive Ability
Threats & Synergies
Threats
Synergies
Extreme
Major
Even
Minor
Tiny
Show All
Extreme Threats
Ideal Synergies
Anivia
A good Anivia, even a decent one, can be an incredibly powerful counter to Pyke mid. Being that her passive can save her from Pyke's ult, you will be left to finish off her egg by essentially just auto attacking it, and you can expect to not be able to kill the egg due to Pyke's burst and back off playstyle which isn't well suited for dealing with it. Additionally, Anivia has incredible amounts of poke damage and CC, both of which are heavily punishing to Pyke. It will be difficult to farm against an Anivia, however being that you're Pyke, this isn't the end of the game for you. My recommended strategy against Anivia is baiting out her abilities, most notably her stun, and then engaging with Q > E or E > Q to slowly chip away at her health. It is even worth ulting her while her passive is up, being that she will have to play much more cautiously against you without her passive, otherwise you can easily kill her while her abilities are on CD. Her lack of mobility makes her an easy target for your Q, and also an easy target for ganks, so if you have a smart jungler, it can be beneficial to camp her. Being that her ult allows for huge wave clear, it can be more difficult to push your wave and roam while facing Anivia. Though if you see a guaranteed kill in say, the bot lane, it isn't worth ignoring just to save your turret from some damage. Roaming for kills may be your only method of getting fed against an Anivia good enough to play safe as opposed to just vomiting out abilities and exposing herself to you. Against Anivia, I always rush a Hexdrinker after Tiamat which is absolutely essential in dealing with her insane amounts of damage. Though Mercury's Treads seem like a good pick against her, I still like to take Boots of Mobility being that they allow for you to roam and return to your lane quicker which will be repeated a lot against Anivia.
Amumu
His Q can be a great setup for your ultimate since you likely won't miss when the enemy is stunned. But what is even more great is when Amumu (ideally an AP Amumu) ults on the enemy team and drops everyone to executable health, setting you up for an easy penta when the enemy team can't move.
Synergies
Amumu
His Q can be a great setup for your ultimate since you likely won't miss when the enemy is stunned. But what is even more great is when Amumu (ideally an AP Amumu) ults on the enemy team and drops everyone to executable health, setting you up for an easy penta when the enemy team can't move.
Champion Build Guide
Hello everyone, my name is Pyke Tyson and I'm

Pyke
mid main. Previously I mained

Pyke
support, however I then realized that when

Pyke
is banned or taken I am forced to play a normal support which isn't as fun, and so I went and continue to go

Pyke
mid. Additionally, Pyke Mid is an excellent roamer which is essential to ranking up as a mid laner, so his kit works surprisingly well in the mid lane. As you can tell by my MOBAfire Username, I haven't always been a

Pyke
main, and have mained several other champions throughout the course I've played League which dates back to 2013 when

Jinx
was released. Some of these include

Jhin
(obviously),

Akali
,

Swain
,

Fizz
,

Urgot
, and even

Vladimir
. After the

Pyke
nerf hit, I was tempted to switch mains (perhaps back to

Akali
which I mained just before

Pyke
) because

Pyke
solo lane was certainly not as easy as pre-nerf. I then realized that this is simply giving Rito a pat on the back for nerfing my champion, that they are getting what they hoped for. And so I desperately searched for a way to bring

Pyke
mid into viability again.

I then came across a video of a Chinese challenger who was messing around with

Pyke
mid, however his playstyle proved to be very efficient for post-nerf. He rushed

Tiamat
, something I was too stupid to even think of grabbing however once I discovered the

Tiamat
build, I realized there was hope. Not only that, but

Hail of Blades
never even came close to mind, and with good reason. It seemed quite counterproductive—

Hail of Blades
on a champion that doesn't fixate on auto attacking? Though after testing

Hail of Blades
out, the damage was far better than

Electrocute
which I previously used. To this day, I main

Pyke
mid, although I have also been practicing with

Viego
mid as a potential alternative main. I will at least continue to main Pyke until Riot nerfs him even more than they already have to the point of being limited to the Support role.
Riot has a habit of nerfing the champions I like to main, and with all the nerfs

Pyke
mid has suffered over the years, I believe the
11.5
nerf was the nail in the coffin. Essentially what they did to

Pyke
is made it so his passive

Gift of the Drowned Ones
now gives substantially less Grey Health when near only one enemy as opposed to two or more. The passive also now scales based off of

Pyke
's
Lethality
. In short, this nerf was Riot's (successful) attempt to force

Pyke
into the support role, while at the same time ruining all off-meta builds for him such as my

Goredrinker
build, because no fun allowed right?
While near 1 enemy champion,

Gift of the Drowned Ones
only stores 10% of damage received as Grey Health + 0.25% per 1
Lethality
. So if you have 20
Lethality
, this only equals to 15% of damage received being stored as Grey Health. For being near multiple champions however,

Pyke
stores 35% of damage received + 0.5% per 1
Lethality
as Grey Health. So if you had 20
Lethality
, then being near multiple champions would store a total of 45% damage received as Grey Health—a substantial increase from 15%.
In conclusion,

Pyke
mid is a garbage role now. He lacks any wave clear, has little sustain, has long cooldowns, cannot gain additional health from items, can hardly get gold pre-6, is practically useless against tanks, is useless in the late game, and is considerably team reliant to make effective plays. With that being said, I would highly advise against playing him in the mid lane. Not only that, but I'd recommend to avoid playing

Pyke
in general.

Pyke
right now doesn't have much of a place in the current meta, so my suggestion is to avoid playing him in hopes that riot will realize he's in desperate need of some buffs. (And not just

Phantom Undertow
scaling CDR, REAL buffs.)
Some Potential Using this Guide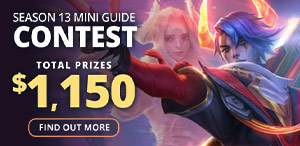 Pyke Mid